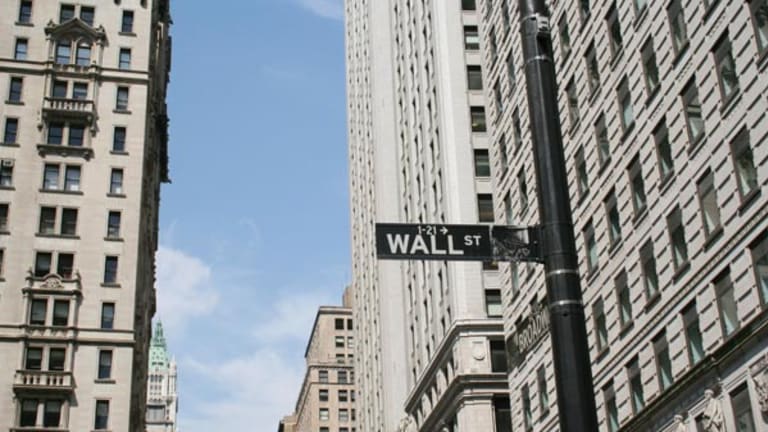 Publish date:
Five Dumbest Things on Wall Street: Dec. 18
Too fat to fly?; SIGA's super sale; Target misses milk mark; Credit Suisse's lost credit; Sanofi skimps on shots.
Too fat to fly?; SIGA's super sale; Target misses milk mark; Credit Suisse's lost credit; Sanofi skimps on shots.
Too Fat To Fly?
You know the old Wall Street maxim, "Bulls make money, bears make money and pigs get slaughtered"? Well, we have a Five Dumbest addendum: "And fat cats don't fly."
Lloyd Blankfein, chairman and chief executive officer of
Goldman Sachs
(GS) - Get Report
, John Mack, CEO of
Morgan Stanley
(MS) - Get Report
, and Richard Parsons, chairman of
Citigroup
(C) - Get Report
, phoned into a meeting with President Obama and the nation's top bankers on Monday after their flights were delayed because of fog in Washington.
Blankfein and Mack were reportedly stuck waiting for
US Airways
(LCC)
flights from New York's LaGuardia and Westchester airports, respectively, while Parsons "was delayed in New York," according to a Citigroup statement.
Come on, guys! Have you never heard of Amtrak? How about hitching a ride on Jamie Dimon's private jet? The
JPMorgan Chase
(JPM) - Get Report
CEO made it to the White House on time, why couldn't you?
"I appreciate you guys calling in," Obama told the no-show bank executives on speaker phone as the session began at the White House. "I'm sorry that the flight got held up."
That was awfully forgiving of the president in our opinion, especially when these same execs arrived with time to spare last year when they were hastily summoned to Washington. Back then, of course, they were picking up TARP checks from former Treasury Secretary Hank Paulson, and neither rain nor sleet nor certainly not a little fog would have kept them from picking up taxpayer billions to save their own hides.
Then again, maybe President Obama felt a tinge of remorse after referring to Wall Street's elite as "fat-cat bankers" on
60 Minutes
the night before the big powwow.
"America's banks received extraordinary assistance from American taxpayers to rebuild their industry, and now that they're back on their feet, we expect an extraordinary commitment from them to help rebuild our economy," Obama said after the meeting.
Wait a second. Could you repeat that, Mr. President? There seems to be a problem on the line and Wall Street can't hear you.
Dumb-o-meter score: 75: Goldman Sachs CEO is smart enough to make billions of dollars trading stocks, but is too dumb to check the weather report? Oh please.
SIGA's Super Sale
Last Friday was not the Black Friday that causes shoppers to fight each other for bargains. But investors who bought discounted shares of
SIGA Technologies
(SIGA) - Get Report
ended up with black eyes.
The biotechnology company, which specializes in the development of pharmaceutical agents to fight biowarfare pathogens like smallpox, offered $20 million in common stock Thursday, raising $18.6 million in net proceeds for "general corporate purposes." All told, SIGA sold more than 2.7 million of its outstanding 38.3 million common shares at $7.35 each, or more than 15% below Wednesday's closing price of $8.66.
A double-digit discount on SIGA shares, now that's one heck of a Black Friday door-buster sale, don't you think? And you didn't have to get trampled at the local mall at 5 a.m. to get it.
Unfortunately, had those supposedly lucky purchasers of SIGA stock at Thursday's offering price waited one more day, they could have done better. A lot better.
You see, the stock sank as low as $5 on Friday and finished the day at $5.24 after the U.S. government changed a request for proposal saying they are contemplating "one or more awards" of a five-year contract for the smallpox treatments provided by biotech companies like SIGA. Prior to the amendment, it was assumed that SIGA was the only company that could fulfill the requirements and therefore was in line to receive the entire $100 million plus contract from Uncle Sam.
On Monday's conference call, SIGA CEO Dr. Eric Rose claimed he had no advance knowledge that the government was changing its plans.
We'll give Dr. Rose the benefit of the doubt. Still, for all those bargain-shoppers out there, what a difference a day makes.
Dumb-o-meter score: 80: SIGA shareholders thought they were getting candy canes on sale. Turns out they were the suckers.
Target Misses Milk Mark
Suck it up,
Target
(TGT) - Get Report
. You know there is no use crying over spilled milk, even if it is soy-based and inorganic.
The Minneapolis-based retail giant fessed up to wrongly advertising soy milk as organic, according to a Nov. 12 letter sent by the USDA to the Wisconsin-based farm policy group called the Cornucopia Institute. As a result, Target said it is changing its procedures to make sure the slip-up never happens again.
The institute, which made the letter public on Monday, originally filed the complaint with the USDA back in October. The group alleged that Target was inaccurately advertising the
Silk
brand soy milk in newspapers with the term "organic" on the carton's label when in fact the soy milk on sale in stores did not come from organically grown soybeans. Target's excuse was that the soy milk on Target shelves was properly labeled, but it mistakenly used an outdated photo in the September advertisement.
Well, at least that's a better excuse than saying it bought a bunch of magic soybeans a la Jack and the beanstalk. (We'd expect that kind of nonsense from Wall Street analysts, not Midwestern discounters.)
Cornucopia Institute co-director Mark Kastel said he didn't believe Target was purposefully trying to defraud people and considered the case closed. Nevertheless, the group is still actively pursuing the maker of Silk, Dallas-based
Dean Foods
(DF) - Get Report
, for pronouncing the product "organic" on its Web site even though it uses conventional soybeans.
To be honest, we here at the Five Dumbest Lab can't tell the difference between organic and inorganic milk. It's not that we are lactose intolerant, just lactose ignorant.
Dumb-o-meter score: 85: How about our new slogan: Got Dumbness?
Credit Suisse's Lost Credit
It may be coming clean for its illegal Iran dealings, but
Credit Suisse
(CS) - Get Report
has still lost a lot of credit in our book.
The investment bank agreed to pay $536 million this week to settle a probe over financial dealings with Iran. The settlement papers reveal Credit Suisse had a long-running business assisting Iranian banks evade sanctions by hiding the identity of their Iranian customers in international money transactions.
"Credit Suisse's internal communications showed a continuous dialogue about evading U.S. sanctions spanning approximately a decade," according to government papers filed in the case.
Credit Suisse said it expects to record a fourth-quarter pretax charge related to the settlement of 445 million Swiss francs ($427.4 million). But in our opinion, it's not about the money. Credit Suisse mints so much of the stuff that even this onerous fine won't really make them flinch.
No, what appalls is how they pounced on this pernicious line of business after
Lloyds
(LYG) - Get Report
decided to stop doing it in 2003. Once the British bank stepped aside, Credit Suisse took over, welcoming its Iranian customers with an empty conscience and an open checkbook. According to the documents, Credit Suisse quadrupled the number of Iranian transactions in dollars from 2002 to 2005, to about 200,000 from about 50,000.
And it wasn't just Iran. Authorities reported that Credit Suisse was also skirting international sanctions by doing business in Libya, Sudan and Burma. In each case, Credit Suisse counted its gains while the oppressed peoples in those respective nations lost their dignity, and the international community lost a weapon to fight social injustice.
No, it's not about the money. It's about the morality, or lack thereof.
Dumb-o-meter score: 90 -- One more black eye for the banking industry.
Sanofi Skimps On Shots
Note to the folks at
Sanofi-Aventis
(SNY) - Get Report
: Just because cash-strapped Americans are no longer super-sizing every purchase, does not mean we intend to cut back on things like our children's swine flu vaccine.
The vaccine maker Sanofi-Aventis announced this week that it is recalling four lots, or 800,000 doses, of its pediatric H1N1 swine flu vaccine because of a lack of potency. The U.S. Centers for Disease Control and Prevention, which discovered the problem as part of a quality assurance program, made it clear on Tuesday that there is no safety concern, and children vaccinated from the lots already will not need to be re-vaccinated. The affected vaccines are prefilled syringes for children under age 3.
"While the antigen content of these lots is now below the specification limit for the product, CDC and FDA are in agreement that the small decrease in antigen content is unlikely to result in a clinically significant reduction in immune response among persons who have received the vaccine," the CDC said.
Come on! We know you have been under pressure to meet the huge demand for the stuff, but that doesn't mean you can get sloppy trying to get it out the door.
The CDC estimates that swine flu has killed 10,000 Americans since it emerged in March and put 200,000 into the hospital. We can only imagine how many parents will rush their kids to the emergency room if they think their child's shot was inadequate.
Or if Sanofi slips up again.
Dumb-o-meter score: 95 -- Right-size the shots, Sanofi. America has seen enough downsizing.
Before joining TheStreet.com, Gregg Greenberg was a writer and segment producer for CNBC's Closing Bell. He previously worked at FleetBoston and Lehman Brothers in their Private Client Services divisions, covering high net-worth individuals and midsize hedge funds. Greenberg attended New York University's School of Business and Economic Reporting. He also has an M.B.A. from Cornell University's Johnson School of Business, and a B.A. in history from Amherst College.