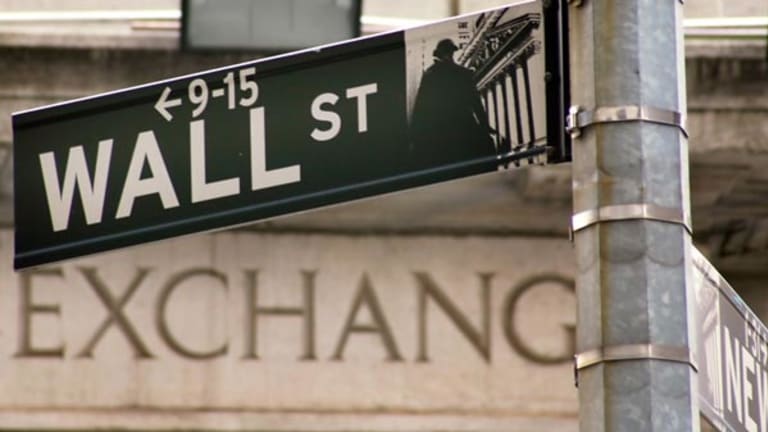 Publish date:
Five Dumbest Things on Wall Street: Dec. 11
Unilever's diet dilemma; Tiger loses his focus; ratings agencies late to the party; Dominos refuses delivery to the Jersey Shore; and the Pay Czar blinks.
Unilever's diet dilemma; Tiger loses his focus; ratings agencies late to the party; Dominos refuses delivery to the Jersey Shore; and the Pay Czar blinks.
5. Unilever's Diet Dilemma
NEW YORK (
) -- Take it from us, when
Unilever
(UL) - Get Report
says its Slim-Fast ready-to-drink products will help you lose weight, they aren't kidding around.
The Anglo-Dutch consumer products giant said this Sunday it is recalling 10 million cans of Slim-Fast in the U.S. and Canada because of a possible bacterial contamination that can cause drinkers to vomit. The company, which did not put a cost on the recall, stressed that the problem is specific to its canned products as opposed to those in powder or snack-bar form.
Unilever said the problem was discovered and the recall ordered after the company conducted a quality test on the canned product. Last Thursday, Unilever's U.S. office said the recall is "due to the possibility of contamination with Bacillus cereus, a micro-organism, which may cause diarrhea and possibly nausea and/or vomiting."
Eureka! It works! After reading that sentence, we've completely lost our appetite.
A Unilever spokeswoman said shipments of the product will resume after the problem has been corrected. In the meantime, weight conscious consumers may want to temporarily try something different for lunch rather than downing a can of Slim-Fast.
Lest they risk losing their lunch entirely.
Dumb-o-meter score: 75 -- No one needs to slim down this fast.
4. Tiger Loses His Focus
Tiger Woods is facing a lot of heat from the media, his fans and -- most importantly -- his wife. If the spotlight's glare has worked up a thirst in him, he'll need a new beverage to quench it.
On Tuesday, Gatorade became the first sponsor to drop a Woods-promoted product since the world's most famous golfer became embroiled in controversy regarding a litany of alleged extramarital affairs.
PepsiCo
(PEP) - Get Report
told
CNBC
that the "Gatorade Tiger Focus" will be phased out.
A Gatorade spokesperson said the decision was not linked to the recent controversy surrounding Woods. The company said the move was a result of a change in strategy that was in the works many weeks ago.
Whether or not that's the complete truth, well, we'll just take the company at its word (Something we doubt Tiger's poor wife will be doing for quite a while). Still, the timing of Gatorade's decision could not have been worse for Woods, who also boasts mega-endorsement deals with the likes of
Nike
(NKE) - Get Report
,
Procter & Gamble's
(PG) - Get Report
Gillette brand and
Electronic Arts
( ERTS).
"We decided several months ago to discontinue Gatorade Tiger Focus along with some other products to make room for our planned series of innovative products in 2010," Gatorade told
CNBC
. "We hope to share more about our 2010 plans soon."
Gatorade introduced "Gatorade Tiger" in March 2008. At the time it was Woods' first deal with a beverage company and his first licensing agreement.
Golfweek
reported that the deal could be worth as much as $100 million. Woods reportedly selected the flavors himself: Cherry blend, citrus blend, grape and brunette.
Dumb-o-meter score: 80 -- Tiger, Tiger, burning bright red.
3. Ratings Agencies Resurgence
After doing nothing for years except taking Wall Street's money in exchange for inflated bond ratings, the rating agencies sure were busy this week.
The big three rating agencies --
Moody's
(MCO) - Get Report
,
McGraw-Hill
( MHP) unit
Standard & Poor's
, and
Fitch
-- shelled out a flurry of negative opinions over the past week, slamming a slew of corporate, state and sovereign debt issues from Illinois to Athens. The trio of credit graders went so far as to question the financial integrity of the U.S., saying the country could "test the Aaa boundaries" in the future.
Wow! Talk about a 180-degree turnaround. Barely a year ago, these guys were testifying in front of Congress for giving triple-A ratings to toxic mortgage bonds. Now they're sticking it to Uncle Sam himself.
Aside from taking it to policymakers in Washington and in the U.K. on Tuesday, Moody's also cut its ratings on six Dubai state-linked companies because it says it cannot assume the government will stand behind their debts. Closer to home, the reinvigorated bond rater sliced its ratings on Illinois general obligation bonds a notch to A2 from A1.
Not to be outdone, S&P said
adios
to Spain's financial standing on Wednesday, when it revised its outlook on the country's debt to negative from stable. And Fitch gave Greece the boot Tuesday, downgrading the long-term issuer default ratings of the country's four largest commercial banks.
To be candid, we here at the Five Dumbest Lab don't mind the bond raters doing their jobs and calling attention to credit threats in the system. In fact, we actually applaud this flurry of activity, however agonizing these downgrades will be to the equity and bond markets.
Nevertheless, we still can't get over the fact that most of these painful steps would not have been necessary had these three blind mice run a little faster -- and straighter -- in the first place.
Dumb-o-meter score: 85 -- Now you downgrade Dubai's debt? Thanks for nothing guys!
2. Dominos Refuses Delivery to Shore
You know something is very wrong -- or very dumb -- when a pizza company refuses to sponsor a show about Italian-Americans living the good life in New Jersey.
Domino's Pizza
(DPZ) - Get Report
pulled out as a sponsor of the new MTV reality series "Jersey Shore" this week, after Italian-Americans protested their portrayal in the program. "Jersey Shore," which debuted last Thursday to middling ratings, follows the lives of eight twenty-something, self-described "guidos" spending their summer in the Garden State.
The pizza chain reportedly informed
TMZ
that after learning what the show was about, they decided that the partnership was not in their best interest. UNICO, an Italian-American advocacy organization, told
TMZ
last Friday that the show was offensive to Italian Americans.
To which we say to Dominos:
Fuhgeddabout it!
You knew exactly what this show was about when you signed up for it, so stop playing stupid now. Next you'll tell us that you thought the "The Sopranos" was a show about opera stars, or that "Growing Up Gotti" was an educational after-school special.
A spokesperson for MTV, which is owned by
Viacom
(VIA) - Get Report
, responded that they "understand" Domino's position.
Too bad Dominos didn't understand it a bit sooner.
Dumb-o-meter score: 90 -- At least Tiger Woods is not alone in scaring sponsors away.
1. Pay Czar Blinks
A group of
AIG
(AIG) - Get Report
execs called U.S. pay czar Ken Feinberg's bluff this week. Guess who won the showdown?
Yep, Feinberg folded.
AIG's government overseer will exempt up to 75 executives at the bailed-out insurer from a $500,000 salary cap after at least five employees threatened to quit because of the limits, according to
Bloomberg
. Two have since retracted the threat now that Ken has reportedly caved.
The government, in case you've forgotten, rescued the company with a package valued at more than $180 billion. Having a controlling stake in AIG, however, clearly doesn't guarantee government control.
The $500,000 compensation ceiling has thus far applied to everyone at AIG except CEO Robert Benmosche, who rakes in a cool $7 million a year. Of course, even that mammoth amount did not stop him from pitching his own little fit not too long ago. Last month, Benmosche set a stellar example for his troops by threatening his own walkout over the government's pay constraints.
In the end, Benmosche came back, but his charges certainly got the hint that the squeaky wheel gets the green.
Dumb-o-meter score: 95 -- Winners never quit. But quitters at AIG get raises.
--
Written by Gregg Greenberg in New York
.
Before joining TheStreet.com, Gregg Greenberg was a writer and segment producer for CNBC's Closing Bell. He previously worked at FleetBoston and Lehman Brothers in their Private Client Services divisions, covering high net-worth individuals and midsize hedge funds. Greenberg attended New York University's School of Business and Economic Reporting. He also has an M.B.A. from Cornell University's Johnson School of Business, and a B.A. in history from Amherst College.