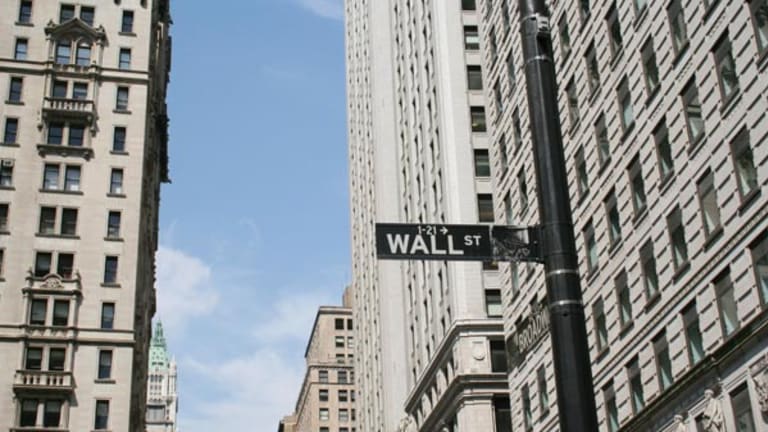 Five Dumbest Things on Wall Street: Aug. 22
A bug in your Apple; temporary Insana-ty; money back for stupidity; as hip as Jerry Seinfeld; time for a reality check, Lehman Brothers.
A Bug in Your Apple
The usually infallible
Apple
(AAPL)
finds its way onto our "Five Dumbest" list again this week, this time thanks to a "bug" in its iPhone 3G.
Apple suddenly became a master of understatement when it quietly slipped out a software update for the iPhone Monday, saying the new 2.0.2 firmware addressed "bug fixes."
No mention of reports about a rash of connection problems, which included losing the lightning-fast 3G connection and dropping a plethora of calls.
When pressed, Apple spokesperson Jennifer Bowcock confirmed by email that "the iPhone 2.0.2 software update improves communication with 3G networks."
Er, isn't communicating with 3G networks what the phone was built to do?
Well, thanks for being so open about the problem, Apple! If you consider losing 3G connections and dropping calls a "bug," we'd hate to see you encounter any major problems for the new iPhone.
Now, it's understandable that Apple doesn't want to look more bruised than it already is, especially after the embarrassment of the MobileMe launch (which Apple boss Steve Jobs called a "mistake" in a purported internal memo circulated around Apple's offices). Given the media's euphoria over the new iPhone 3G, it may have been better to simply admit the problem, address the 3G connection concerns and move on.
What really surprised us at the Five Dumbest lab is the sudden loss of PR prowess at a company that gave "hype" new meaning.
Apple did much better with past blunders, such as when it cut the price on the original iPhone and riled early adopters that shelled out big money for the fashionable device. Back then, Jobs wrote a letter to iPhone owners and offered a gift certificate to Apple retail stores. Problem solved.
On behalf of the next generation of iPhone users, we'd like to know when more gift cards will be coming.
-- Robert Holmes
Dumb-o-Meter score: 100. It's good to know the iPhone 3G's "Twice as Fast, Half the Price" tagline rings truer now.
As Hip as Jerry Seinfeld
One thing Apple apparently doesn't have to worry about is
Microsoft's
(MSFT)
new ad campaign.
To show it's not the square, irrelevant, fogey software leviathan that Apple's ads make it out to be, Microsoft hired a new pitchman: Jerry Seinfeld, the 54-year-old comedian whose TV show hasn't aired a new episode in 10 years.
As
The Wall Street Journal
reported Wednesday, Seinfeld, who will receive $10 million, is slated to appear in a series of Microsoft ads alongside Bill Gates, the company's hilarious, youthful co-founder.
The campaign is part of Microsoft's response to the feisty "Mac vs. PC" campaign, which deployed contemporary funnymen John Hodgman, 38, and Justin Long, 30, to depict Microsoft as a doofy, aging lummox and Apple as a paragon of sleek, modern versatility.
Microsoft's rebuttal campaign may well confirm the doltish obliviousness Hodgman brings to his role as "PC." (Note to Microsoft's ad team: Right click on the word "irony" and use the look-up function).
Microsoft may want to consider a different spokesperson from the Internet generation. Seinfeld is funny -- maybe the funniest comedian of his decade -- but that decade is, well, over.
-- Mike Taylor
Dumb-o-meter score: 95. This ad campaign is gold, Jerry. Gold!
Money Back for Being Stupid
The auction-rate securities debacle has dumb written all over it.
Dumb are the banks that allegedly tried to cover up failing auctions by supporting them with bids. Dumb are the brokers who marketed long-term bonds as having guaranteed short-term liquidity. Dumb are the regulators who waited until the ARS market froze to threaten action against such marketing and sales tactics.
But perhaps dumbest of all are the investors who poured cash into securities they didn't understand. Lucky for them, some $57 billion worth of stupid investments will be unwound by Wall Street firms, thanks to settlements or blunt-force pressure applied by state regulators and the
Securities and Exchange Commission
.
Merrill Lynch
(MER)
,
Goldman Sachs
(GS)
and
Deutsche Bank
(DB)
on Thursday settled with New York Attorney General Andrew Cuomo, agreeing cumulatively to
in securities they had sold to retail investors and pay $162.5 million in fines.
The deals follow earlier agreements by
Citigroup
(C)
,
JPMorgan Chase
(JPM)
,
Morgan Stanley
(MS)
,
UBS
(UBS)
and
Wachovia
(WB)
.
All of this begs the question of who should be responsible for unwise -- or unlucky -- investments. It would be fair to spread the penalties for such wanton stupidity equally, but so far only the banks, institutional investors and high-net-worth individuals have taken a hit.
Smaller investors and charities, however, apparently don't need to be accountable for failing to read the fine print and making bad choices.
Financial firms obviously should have been more careful about their marketing and sales practices, but if their tactics were imprudent -- or illegal -- regulators should have cracked down
before
the ARS market dried up. The accountants
, if only anyone was willing to listen.
Alarm bells also should have gone off in investors' minds when they were told that the securities were cash equivalents. Just because auction-rate securities once traded like cash doesn't mean market conditions will always allow for that liquidity. While banks once provided backup support for the auctions, they are now hemorrhaging cash from the housing mess, tight credit conditions and a lack of investor confidence.
But apparently, state regulators are under the belief that retail investors and charities are incapable of understanding those kinds of risks. So they get bailed out while institutional investors and high-net-worth clients -- who were sold the same bill of goods -- get left holding the bag.
That makes an already dumb situation that much dumber.
-- Lauren LaCapra
Dumb-o-meter score: 90. Whatever happened to "caveat emptor"?
Lehman -- Time for a Reality Check
Lehman Brothers
undefined
is proving that dumbness begets dumbness.
First, Lehman
in June with a double whammy. It gave an unexpected warning that it would report a second-quarter loss -- the first in its history -- due to bad bets on the housing market. Plus, it announced plans to issue $6 billion in new stock, ultimately diluting existing shareholders' stakes by nearly 40% once preferred shares are converted.
Now Lehman is reportedly shopping around its valuable asset-management business, which has grown rapidly in recent years and accounted for nearly 40% of the firm's net revenue gains this year.
Why would Lehman sell one of the few bright spots in its book of business rather than ridding itself of the toxic mortgage assets that are causing the pain?
JPMorgan analyst Kenneth Worthington doesn't see such a sale as something shareholders or ratings agencies would look favorably upon. But Lehman's management has its head in the clouds about the value of its distressed assets -- and its own stock.
As Ladenburg Thalman's Dick Bove notes, Lehman's asset-management crown jewel, Neuberger Berman, is valued somewhere between $9 billion and $13 billion. That would make the rest of the company worth "less than zero" at Lehman's current market value of about $9.4 billion.
Meanwhile, Lehman
to raise new capital from Asian investors because its asking price was too high at 50% above book value, according to the
Financial Times
.
Bove thinks "the stage is set for a hostile bid" if management doesn't get rational about valuations.
CEO Dick Fuld seems to be clinging to an image of the firm and its assets that is out of touch with reality.
Fuld, who has manned the helm through good times and bad since separating Lehman from
American Express
(AXP)
in 1994, needs to stop being so dumb if he wants to keep his job, keep the firm independent, and provide a positive outcome for shareholders.
-- Lauren LaCapra
Dumb-o-meter score: 85. Looks like they've got Lehman by the shorts.
Temporary Insana-ty
Imagine seeing this job posting:
Wanted: Managing Director for High-Powered Global Hedge Fund. Proven long-term success in managing investments not required.
Ha! That'd be the day. So when former CNBC anchor Ron Insana's foray into running his own fund failed, you'd have thought that would be the end of his investment management career.
After all, who in the money-management business would open their door to an unproven hedge-fund manager who missed his own fund-raising target by nearly 90%, timed the stock and credit market about as badly as one can and bailed on his own fund a year later?
SAC Capital's Steve Cohen, that's who.
Never underestimate the whims of a boss who buys a
for $8 million.
Cohen is the hedge fund world's "have" to Insana's "have-not," so we'd like to give his hiring instincts the Five Dumbest benefit of the doubt. But at this point, short of using Insana as the firm's negative tell ("You say you like
Fannie Mae
undefined
here, Ron? Um, OK ... thanks."), his immediate value seems a little, er, nebulous.
Maybe every journalist is entitled to a
"Lou Dobbs moment"
(kudos to Paul Kedrosky): financial journalism legend gets restless, financial journalism legend starts hedge fund, financial journalism legend falls on face.
Of course, even a legend has to eat, and the announcement by Insana suspending his fund's operations was timed with the happy news that he'll climb aboard the fund masthead of pal Cohen. (Insana's own "Dear Investor" letter earlier this month drew some jabs for minimizing the pesky details about fund redemptions).
Still, you've got to admire how Insana rebounded from failure. Too bad investors in his fund weren't so lucky.
-- Mike Goodman
Dumb-o-meter score: 82. "It has been an honor to do business with all of you over the last 14 months," wrote Insana to his investors.