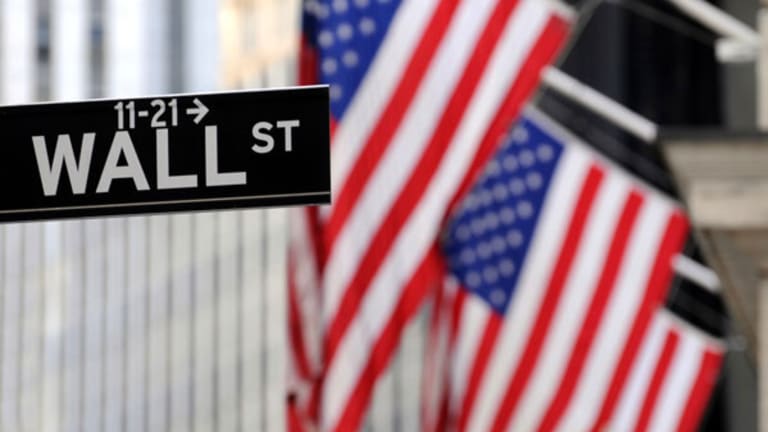 Five Dumbest Things on Wall Street: Aug. 14
Dems get dumb; AIG's non-starter; Volt, schmolt; Continental's flight fright; Atlantic City loses monopoly.
Dems get dumb; AIG's non-starter; Volt, schmolt; Continental's flight fright; Atlantic City loses monopoly.
Dems Get Dumb
From Portsmouth, N.H., to Hillsboro, Mo., to Kinhasa, Congo, the stars of the Democratic Party hit new Dumbest heights this week when faced with financial questions.
President Barack Obama came up with a clunker while answering a health care question in a town hall in Portsmouth, N.H. -- and not the kind of clunker he could trade in for cash.
Explaining why a public option would not crowd out private insurance, Obama said, "My answer is that if the private insurance companies are providing a good bargain, and if the public option has to be self-sustaining ... then I think private insurers should be able to compete. They do it all the time. I mean, if you think about it,
UPS
(UPS) - Get Report
and
FedEx
(FDX) - Get Report
are doing just fine, right? No, they are. It's the Post Office that's always having problems."
Sorry to say, Mr. President, but comparing your plan for a government-sponsored insurance option to the U.S. Postal Service probably hurts your cause more than it helps. The Postal Service announced last week it lost $2.4 billion from April to June, bringing the year's losses so far to $4.7 billion. The Postal Service says it expects to be $7 billion in the red when its fiscal year ends in September.
The president's former primary opponent and now Secretary of State Hillary Clinton had her own moment this week when she snapped at a nervous Congolese university student Monday. The student had mistakenly asked what her husband, former President Bill Clinton, thought about an international financial matter.
"You want me to tell you what my husband thinks?" she asked incredulously about a multibillion-dollar Chinese loan offer to Congo.
"My husband is not secretary of state, I am," she jabbed at the poor kid. "I am not going to be channeling my husband."
No, but she did a very good job of channeling Al "I am in control here!" Haig.
Meanwhile, in a small town 30 miles south of St. Louis, Sen. Claire McCaskill ( D., Mo.) made the biggest mistake of all. In a boisterous town hall meeting assembled to discuss the Democratic Party's health care bill, the senator asked the crowd, "You don't trust me?"
The throng shouted back in unison, "No!"
Who said there is no such thing as a stupid question?
Dumb-o-meter score: 95 -- Dems saying Dumb Things and not a peep from Vice President Joe Biden. Where have you gone, Joltin' Joe?
AIG's Non-Starter
Robert Benmosche is off to a flying start as the new CEO of
AIG
(AIG) - Get Report
-- flying to Croatia that is.
The bailed-out insurer's new chief will be spending much of his first month on the job on vacation in Croatia, not at the company's New York headquarters, according to
Bloomberg
. Benmosche, who started his new gig as CEO and president on Monday, will soon be travellng to his Croatian villa for approximately two weeks of rest and relaxation.
Glad to see he's jumping in with both feet -- into the Adriatic Sea.
Of course, AIG has basically been operating with its CEO in absentia since Hank Greenberg was forced out in March 2005 by then-New York State Attorney General Eliot Spitzer. Benmosche, who previously headed
MetLife
(MET) - Get Report
, is AIG's fifth CEO since Greenberg's departure, following in the footsteps of Ed Liddy.
Liddy, if you remember, left a comfortable retirement to run AIG last September to bring the company back from the brink of collapse. And he did it for the not-so-princely sum of $1. Benmosche's pay package will land between $7 million and $10 million reports,
The Wall Street Journal
.
During his short tenure in command, Liddy oversaw a government rescue that ballooned to $182.5 billion, suffered the wrath of Congress in two special sessions and saw his employees face death threats for bonuses he did not approve.
Now there is a guy who clearly deserves a European holiday!
"I will return to retirement with $1, a few bruises, and a feeling of hard-earned accomplishment,'' Liddy said in a letter last Friday. "I do not intend to linger or second-guess new management or policy-makers.''
No problem, Ed. We're right here to second-guess them for you.
Starting now.
Dumb-o-meter score: 90 -- At least Liddy left on a high note. Last week, AIG posted its first profit in almost two years
.
Volt, Schmolt
The amount of time and energy devoted to the Chevrolet Volt continues to shock us.
General Motors
boasted Tuesday that its Chevrolet Volt rechargeable electric car will get 230 miles per gallon of gasoline in city driving, more than four times better than its rival, the
Toyota
(TM) - Get Report
Prius -- well, its rival on the front page, not the highway.
Even though we've been hearing about the Volt as GM's savior for years now, the company has produced only 30 Volts so far and is making a whopping 10 a week.
Toyota, on the other hand, sold more than 700,000 Prius cars in the U.S. from 2000 through February 2009, over half of the 1.2 million sold worldwide during that period. And just this week the Japan Automotive Dealers Association reported that sales of Toyota's gas/electric hybrid during July 2009 hit 27,712, a 293% rise from the 7,058 sold in July 2008.
The main thing holding back further sales is the shortage of
Panasonic
(PC)
EV Energy battery packs, of which only 500,000 are made each year.
The main thing holding the Volt back is that it virtually doesn't exist outside of GM showrooms, newspaper stories and GM CEO Fritz Henderson's dreams.
"We are confident the highway (mileage) will be a triple-digit composite," said Henderson about the Volt, which is powered by an electric motor and a battery pack with a 40-mile range. After that, a small internal combustion engine kicks in to generate electricity for a total range of 300 miles, according to the company.
The Environmental Protection Agency said in a statement Tuesday that it has not tested a Volt "and therefore cannot confirm the fuel economy values claimed by GM."
Of course, the EPA can't confirm any metric related to the Volt. Such a measure does not exist.
Will somebody please wake us -- and Fritz Henderson -- when it does?
Dumb-o-meter score: 85 -- We could probably buy the Batmobile quicker than the Volt.
Continental's Flight Fright
"It felt like you were trapped in a cave underground," said one passenger about his 12-hour entrapment on
Continental
(CAL) - Get Report
Express Flight 2816.
Typically, the flight from Houston to Minneapolis takes 2.5 hours. This weekend, however, it took half a day for passengers to make that journey, complete with overstuffed toilets and no in-flight service of drinks and pretzels.
How could there be in-flight service? There was barely any flying!
Continental Airlines on Monday deferred most questions to
ExpressJet Airlines
(XJT)
, the regional carrier that operated the flight. Continental did apologize to passengers, calling it "completely unacceptable" and offered refunds and vouchers for future travel. On Tuesday, Transportation Secretary Ray LaHood called for an investigation into the incident, calling it "very troubling."
Yeah, sure. Easy for him to say. He can just hitch a ride on Air Force One when he needs a lift.
Here are the facts, according to the
AP
: Flight 2816 left Houston at 9:23 p.m. Friday, scheduled to arrive in Minneapolis by midnight. Unfortunately, bad weather forced air controllers to divert the plane south to Rochester, Minn., where it landed after midnight. Meanwhile, back in Minneapolis, Continental's dispatchers decided to wait out the storms rather than cancel the flight and bus passengers the remaining 85 miles.
Bad move. A very bad move indeed.
The flight was cleared to take off at 2 a.m., but the storms started up again. And, for that matter, so did the crying babies in the back. At 5 a.m., the flight got clearance again. But by then, its crew had worked more than the legal limit of hours. Another crew had to be flown in.
An hour later at 6 a.m., ExpressJet finally let the passengers off the plane to enter the terminal. Two and a half hours later, the passengers were herded back to the same plane -- stuffed toilet and all -- to complete their journey to Minneapolis where they landed at 9:15 a.m., almost a half-day after leaving Houston.
The real punch line is that news of this nightmare flight arrived on Capitol Hill much faster than it took for the actual plane to reach its destination. Sen. Byron Dorgan (D., N.D.) pushed Tuesday for legislation setting a three-hour limit for an airplane to sit on the tarmac without passengers being allowed off.
The Air Transport Association, a group that lobbies on behalf of airlines, is resisting the legislation, saying it "will ultimately end up inconveniencing passengers rather than helping them."
Tell it to the folks on "Express" Flight 2816.
Dumb-o-meter score: 80 -- Talk about a flight from hell. And that doesn't include the stop-over in Rochester.
Atlantic City Loses Monopoly
Yo, New Jersey! Atlantic City wants your money and wants it now.
Seriously.
Atlantic City's struggling casinos are seeking to spend up to $20 million a year to promote the oceanfront resort, and they are asking New Jersey's cash-strapped state government to chip in, according to the
AP
. The 11 casinos say it would be an investment that would pay for itself through increased tax revenue and contributions to statewide projects.
Imagine that. Atlantic City is promising a big payout if you gamble on its future. Now there's a shocker.
Jeff Vasser, president of the Atlantic City Convention & Visitors Authority, says the casinos want to "change perceptions" of Atlantic City. He added that it takes a minimum of three years "to make an impression and become part of public consciousness."
Excuse us, but change its perception to what? Right now Atlantic City's marketing motto is "Always Turned On." Where exactly do you go from there?
More importantly, will a racy slogan sell in Trenton? New Jersey's state government is mired in a budget crisis of its own, passing a $29 billion spending plan that is $4 billion less than last year's. Ponying up for the casinos after making widespread services cuts is certainly a hard sell for New Jersey governor and former
Goldman Sachs
(GS) - Get Report
CEO Jon Corzine, especially now that he is in the middle of a tough re-election campaign.
The Casino Association of New Jersey says Atlantic City needs to spend at least $20 million a year to promote itself. That's a drop in the bucket compared with the $250 million a year to promote itself.
But Las Vegas is not really the big problem. That's a destination vacation, not a night out to get "turned on." Atlantic City's real competitors are the new slot parlors popping up at racinos all over Pennsylvania and New York.
What happens in Vegas, stays in Vegas. But who is going to stay in Atlantic City when you can just go to the local race track for a night out of gambling?
Dumb-o-meter score: 75 -- Taxpayers bailing out Atlantic City? Wanna bet?
Before joining TheStreet.com, Gregg Greenberg was a writer and segment producer for CNBC's Closing Bell. He previously worked at FleetBoston and Lehman Brothers in their Private Client Services divisions, covering high net-worth individuals and midsize hedge funds. Greenberg attended New York University's School of Business and Economic Reporting. He also has an M.B.A. from Cornell University's Johnson School of Business, and a B.A. in history from Amherst College.