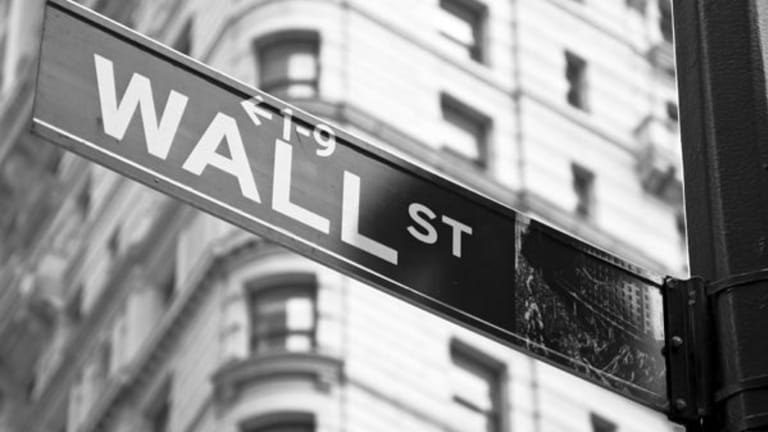 Five Dumbest Things on Wall Street: Aug. 1
Never enough; Thain's bane; space cadets; who are these Yahoos?; financial foolery.
Never Enough
Rex Tillerson,
Exxon Mobil's
(XOM) - Get Exxon Mobil Corporation Report
chief executive, may wonder what he has to do to please Wall Street.
Consider: Exxon Mobil reported the largest profit in U.S. history Thursday, racking up a whopping $11.68 billion in net income in its second quarter. That modest sum works out to about $1,485 a second, according to
CNNMoney.com
.
Even the most vocal pundits of Big Oil would have to give ol' Rex a pat on the proverbial back for raking in that much cash in earnings.
To be so naïve.
Despite posting the largest quarterly profit of any company during the past 232 years of our nation's history, Exxon Mobil missed analyst estimates, and its shares sank $3, or about 3%, in afternoon trading.
Analysts who follow Exxon Mobil had hoped to see $12.1 billion in profit, according to the consensus of estimates compiled by Thomson Reuters. Ingrates!
As if the bullying by analysts wasn't enough, members of Congress piled onto the Tillerson bashing. Galled by Exxon Mobil's earnings, given the stiff price of gas, legislators began discussing ways to eliminate tax breaks to Big Oil.
It appears that Congress and Wall Street have forgotten a basic business maxim: that corporations are in business to make money and return the bucks to their shareholders. Tillerson and crew delivered the dough in that regard as well, doling out some $10.1 billion to shareholders in dividends and share repurchases in the second quarter alone.
Calls to Exxon Mobil went unreturned Thursday afternoon. And here at The Five Dumbest Research Lab, we don't blame Exxon Mobil's brass for keeping mum. Delivering the highest quarterly profit in U.S. history sure has its drawbacks.
In fact, using lingo from Exxon's home state of Texas, we'd put it this way: Tillerson got one undeserved kick to the soft parts.
Dumb-O-Meter Score: 95. Rex, we feel your pain.
-- Dave Morrow, TheStreet.com editor in chief.
Thain's Bane
If this is John Thain's idea of "comfortable," he must have one serious threshold for pain.
The
Merrill Lynch
(MER)
CEO announced plans this week to sell a large chunk of asset-backed securities for pennies on the dollar and go begging for more bucks from a Singaporean investor.
While a multibillion-dollar, credit-related writedown is nothing new for Merrill, stockholders may feel a little hoodwinked considering that just two weeks ago, Thain told them that Merrill was "in a very comfortable spot in terms of our capital."
Thain was repeating the line he fed analysts back in January when he said, "We are very confident we have the capital to go forward in 2008 and beyond." The January "read my lips" moment came on the heels of a $6.6 billion capital infusion from sovereign wealth funds Korean Investment Corp., Kuwait Investment Authority and Mizuho Financial Group. And don't forget the $6.2 billion Merrill raised from Singaporean investment firm Temasek and Davis Selected Advisors late last year.
How much more confident must Thain be now that Temasek agreed to buy $3.4 billion more of Merrill's stock, pending regulatory approval. Nevermind the annoying costs, including about $2.5 billion related to a resent payment to Temasek and $2.4 billion of additional dividends as part of a plan to exchange certain existing mandatory convertible preferred stock for common stock.
Small price to pay for comfort, right?
A little securities housecleaning should also make Merrill more cozy for Thain, who agreed to sell $30.6 billion of U.S. super senior ABS collateralized-debt obligations to an affiliate of Lone Star Funds for $6.7 billion, or 22 cents on the dollar. At the end of the second quarter, the same CDOs were carried at $11.1 billion, or 36 cents. Nothing like a pretax writedown of $4.4 billion to kick off the third quarter.
What happened to the idea about marking assets to market? A 40% haircut in less than a month? Well, a little trip to the barber can be very relaxing.
After all that, Merrill investors could be forgiven for hoping that Thain doesn't get any more comfortable.
Dumb-O-Meter Score: 91. Said the ever-quotable Thain to analysts, "I don't think we want to do dumb things." Why, John? It makes our job so much easier.
-- Gregg Greenberg, TheStreet.com staff writer.
Space Cadets
The merger is finally approved, the licenses are transferred and the $3 billion deal is done. Welcome to the world,
Sirius XM Radio
(SIRI) - Get Sirius XM Holdings, Inc. Report
.
So how did the newly merged company celebrate? By sticking it to long-suffering investors with a stock sale at a 20% discount.
Naturally, shares of the new Sirius XM tumbled 20% Tuesday to the $1.50 price the company put on the new shares. So after 17 months of waiting for a merger billed as a value-creating proposition, loyal shareholders were once again licking their wounds.
"In the last week, in a very ugly market, we raised $1.25 billion. The bad news is that it was ugly raising the money, but the good news is that we got it done," CEO Mel Karmazin assured investors during an interview with
CNBC
Wednesday. "We're optimistic ... investors will start to see the value of this combination."
At the very least, Mel could have served some watered-down champagne to go with those diluted shares.
But honestly, what's another 20% between friends? If you've held the stock since the merger was originally announced in Feb. 2007, your investment has already lost about 60% of its value. If you bought shares in late 2004, when Howard Stern left terrestrial radio for Sirius, you're down close to 80%.
Could it get any worse? Well, yes, actually. The company said it has another 78.7 million shares to sell "from time to time after the fixed price offering at prevailing market or negotiated prices." Hopefully, Sirius won't try to make more friends by offering the shares at another deep discount.
Dumb-O-Meter Score: 90. Wasn't this merger supposed to create value?
--
Rob Holmes, TheStreet.com staff writer.
Who Are These Yahoos?
It's difficult for us here at The Five Dumbest Research Lab to resist bashing billionaires, especially when their judgment redefines the word "idiotic."
Take T. Boone Pickens, for instance.
Following Icahn's lead, the billionaire oil tycoon stepped into a dud investment in
Yahoo!
(YHOO)
during the ill-fated takeover battle with
Microsoft
(MSFT) - Get Microsoft Corporation Report
. Pickens reportedly picked up 10 million shares back in May at between $24 and $28 each.
When asked back in May on
CNBC
why he was wildcatting in the Internet space, Pickens replied, "Because of Carl Icahn I'm a shareholder in Yahoo! ... when I saw what he did, I'll jump in with Carl. He goes in first, I jump in behind him."
That may not have been too smart, but his next move looks even dumber. Pickens sold all of his holdings at a loss, according to the
San Francisco Chronicle
, calling the company's management "pathetic" over the way they handled the sales talks. Yahoo!'s stock price now trades close to $20, meaning he probably lost tens of millions of dollars. Who's pathetic?
As for Icahn, he may be paying the price for his bullheaded battle with Yahoo! for some time to come, since he gained three seats on the Yahoo! board as part of a negotiated settlement.
It's amusing to hear him parroting Yahoo! CEO Jerry Yang's party line these days, saying things like "I share the view that Yahoo!'s valuable collection of assets positions it well to continue expanding its online leadership and enhancing returns to stockholders." Of course he does, considering he's stuck with about 69 million Yahoo! shares that he bought in the $23 to $24 range.
Hey Carl and T. Boone: We have a bridge in Brooklyn to sell you.
Dumb-O-Meter Score: 88. Monkey see, monkey do.
--
Gregg Greenberg, TheStreet.com staff writer.
Financial Foolery
If anyone should have known the trouble brewing for the banking sector and its stock prices, surely it would have been the banks themselves ... right?
Apparently not.
Already reeling from other lapses in judgment epitomized by the subprime mortgage mess, the bad-news banks are also posting writedowns on investments in their own industry as financial-services stocks hemorrhage amid sharp declines in the housing and credit markets.
Many banks haven't been very transparent about their stock holdings, though writedowns on investment portfolios are anything but rare in today's topsy-turvy market. Some have mentioned losses on holdings of mortgage giants
Freddie Mac
undefined
and
Fannie Mae
undefined
.
As investors feared their imminent collapse in mid-July, Freddie and Fannie's share prices plummeted and
Webster Financial
(WBS) - Get Webster Financial Corporation Report
took writedowns of $7.7 million and $6.7 million, respectively, on its holdings. The third quarter may hold more bad news:
E*Trade
(ETFC) - Get E*TRADE Financial Corporation Report
warned of a pretax loss of $83 million because it was forced to liquidate its Fannie and Freddie stock.
A recent
Wall Street Journal
cites
Fulton Financial
(FULT) - Get Fulton Financial Corporation Report
, as a prime example of the dumb investment choices made by some banks.
The regional Pennsylvania bank recently held a $3 billion portfolio, $60 million of which consisted of stocks. The problem? The only stocks it held were bank stocks.
Such investments traditionally contributed to Fulton's bottom line, and it had the foresight to earn profits from the stocks while they were doing well. But it also should have had the foresight to know the financial sector was headed for a downturn as mortgage portfolios soured and consumers started to feel the pain of a slumping economy.
The
Journal
quotes CFO Charles Nugent as saying: "We really feel like we know bank stocks, since we're in the business."
Well, yeah -- exactly.
Dumb-O-Meter Score: 82. These are the people we trust with our money?
--
Lauren Tara LaCapra, TheStreet.com staff writer.