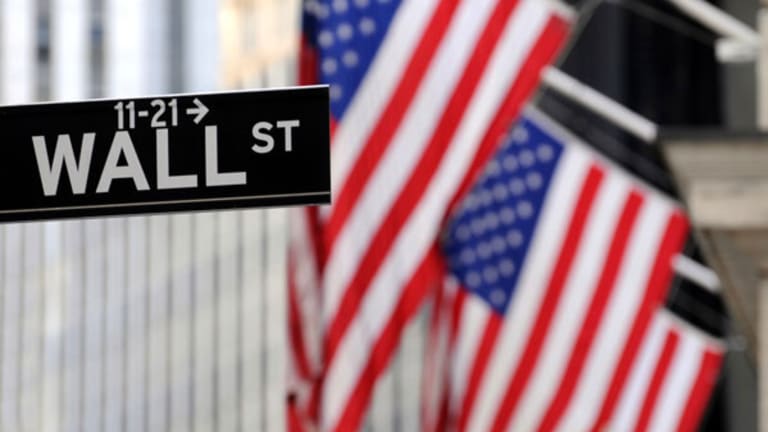 Five Dumbest Things on Wall Street: April 24
Apple's Asinine App; Kellogg Gets Bowled Over; Martha Stewart's CEO "Layer" Cake Collapses; Aubrey's Bailout Package;Stress Test Sham
Apple's Asinine App
Somebody needs to shake some sense into the folks over at
Apple
(AAPL)
.
The iPhone giant didn't have enough sense to yank a 99-cent application, or app, titled
Baby Shaker
from its iTunes store until Wednesday after several child safety groups protested its premise of quieting a crying baby with a violent shake. Baby Shaker was made available Monday to iPhone users before Apple abruptly pulled it from its platform, sans comment or apology.
The app, developed by Sikalosoft, begins by displaying a black-and-white line drawing of a baby on the iPhone screen. The user is then told to shake the device until large red X's cover the baby's eyes. The iTunes description included the line, "See how long you can endure his or her adorable cries before you just have to find a way to quiet the baby down!"
The National Center on Shaken Baby Syndrome and the Sarah Jane Brain Foundation condemned Apple Wednesday for approving the silly game in the first place, blasting their so-called "rigorous" vetting process.
Patrick Donohue, founder of the Sarah Jane Brain Foundation and father of a 3-year old afflicted by Shaken Baby Syndrome, laced into Apple CEO Steve Jobs in an e-mail saying, "You have no idea the number of children your actions have put at risk by your careless, thoughtless and reckless behavior!"
Careless, thoughtless, reckless and -- allow us to add -- just plain stupid.
Let's get this straight. Apple previously rejects apps that enable iPhone users to throw virtual shoes at President George W. Bush or watch
South Park
clips on the grounds that they are too risqué. But abusing an infant is all in good clean fun?
Dumb-o-meter score: 95 -- Oh baby, did Apple screw this one up!
Kellogg Gets Bowled Over
Cereal maker
Kellogg
(K)
needs to stop milking its twisted statistics and move on.
Kellogg agreed to settle federal charges Monday that it misleadingly advertised that eating Frosted Mini-Wheats was "clinically shown to improve kids' attentiveness by nearly 20%." The proposed settlement does not mean that Kellogg admits to violating the law, but it does bar the company from making deceptive health claims about its breakfast and snack foods, according to the Federal Trade Commission.
Kellogg's national TV ads claimed that attentiveness improved nearly 20% in children who ate the cereal, compared with those who skipped breakfast entirely. The FTC arrived at a different conclusion, however. By their un-sugar-coated count, the children who ate Frosted Mini-Wheats for breakfast averaged just under 11% better in attentiveness, and they found relatively few were nearly 20% more attentive.
"We tell consumers that they should deal with trusted national brands," FTC Chairman Jon Leibowitz said in a statement. "So it's especially important that America's leading companies are more attentive to the truthfulness of their ads and don't exaggerate the results of tests or research."
Take that Tony The Tiger! Next time you say your Frosted Flakes are "G-r-r-e-a-t!", they darn well better be.
Despite surrendering to the government's demands for more honest ads, Battle Creek Michigan-based Kellogg remained defiant. In a statement, the company cited its "long history of responsible advertising," and said it continues to stand "behind the validity of our clinical study."
Tough talk from a company that just got squished like a soggy corn flake.
Dumb-o-meter score: 90 - Will Kellogg's next cereal for inattentive kids be "Ritalin Loops?"
Martha's CEO "Layer" Cake Collapses
For a gourmet chef, not to mention a control freak, it sure took Martha Stewart a long time to realize that too many cooks spoil the media company.
Martha Stewart Living Omnimedia
(MSO)
finally figured out it doesn't need an executive chairman, two CEOs and a founder all calling the shots. So Wenda Harris Millard, co-chief executive in charge of media, will be leaving the company to join the New York public relations firm Media Link LLC and won't be replaced, the company announced Tuesday.
Executive Chairman Charles Koppelman will oversee the media segment, which includes publishing, Internet and broadcast operations, according to the company, while founder Martha Stewart will be responsible for all creative and editorial oversight.
The company's other CEO, Robin Marino, will become president and CEO of the merchandising division, and is expected to be named to the board. Millard and Marino were made co-CEOs in June 2008 upon the departure of former CEO Susan Lyne. Lyne was said to have stabilized the company when Stewart was sent to prison in 2004 for an illegal stock sale.
Koppelman called Millard's departure voluntary in an interview and said the real change at the company will be "a simpler organizational chart" for a company that doesn't "need a lot of layers."
Sorry Charlie, but what you really don't need a lot of is CEO-sized salaries for a business that's collapsing faster than an overcooked soufflé.
Martha's company lost $15.7 million in 2008, compared with a profit of $10.3 million in the prior year as slumping ad sales slammed the company's bottom line. Of those losses, $8 million came in the fourth quarter due to write-downs at the publishing unit and the termination of its relationship with
Kmart
, a unit of
Sears
(SHLD)
.
Some of that red ink was spilled on some pretty pricey pay packages for a group of undeserving, in-fighting executives. Millard's 2008 compensation package came to $1.4 million, while Marino's totaled $1.6 million, according to regulatory filings. Koppelman's pay, including options plus bonuses, topped $3.9 million.
Meanwhile, founder Martha Stewart, whose past legal troubles bar her from holding the title of a public-company executive, pocketed $5.4 million last year. Of course, only a trip to club Fed could keep Martha Stewart out of her kitchen, so inevitably somebody else was going get to thrown overboard.
But while Millard's exit may save Martha some dough in the short run, don't expect MSO to make any real bread until she stops mindlessly shuffling expensive executives.
Dumb-o-meter score: 85 -- Note to CEOs who can't stand the heat: Stay out of Martha's kitchen!
Aubrey's Bailout Package
Aubrey McClendon has as much gall as he has natural gas.
The CEO of
Chesapeake Energy
(CHK)
-- who was forced to unload almost his entire equity stake in the company last October to meet a margin loan call -- was given a mammoth incentive award at the end of 2008 that raised his total compensation for the year to $112.5 million, according to the
Associated Press.
McClendon's entire pay package was more than four times his prior year compensation of $25.5 million, despite net income at the company dropping by half in 2008 leading to a 58% decline in Chesapeake's stock price.
The bulk of McClendon's colossal compensation came in the form of a $75 million incentive award granted on Dec. 31, according to data filed late Monday with the
Securities and Exchange Commission
. On top of the $75 million award, McClendon was paid $975,000 in salary last year and received a bonus of almost $2 million in July. His other compensation included $648,096 worth of personal use of company aircraft, $577,113 in company-paid accounting services and $438,750 in matching contributions to Chesapeake's retirement plan, says the AP.
But of course the company says that's all performance based and has nothing to do with McClendon being forced to sell 31.5 million shares, worth nearly $600 million, last October to cover margin calls on his Chesapeake shares. Chesapeake stock fell from a June high of $74 to as low as $9.84 in early December. It now trades just below $20 a share.
The company said in Monday's filing that McClendon's mind-boggling bonus reflects his role "in shaping the vision for the company and growing it into the largest independent producer of U.S. natural gas."
We're sorry, but breathing in all that methane must have damaged their brains. McClendon pocketed plenty for helping build the company only to gamble it away. And the well of shareholder goodwill toward good old Aubrey has long since run dry.
If Chesapeake wants to get into the business of bailing out over-indulgent execs, then they should open up a bank. If they want to make money drilling holes, then they should do it in the ground, not in investor's pockets.
Dumb-o-meter score: 80 -- Aubrey's well ran dry. So his buddies on the board refilled it.
Stress Test Sham
Rumor-monger Hal Turner should be put to his own stress test after a stunt like this.
Turner, the blogger behind the "Turner Radio Network", a Web Site that bills itself as promoting "free speech", spooked the markets Monday morning after he published a report falsely claiming official knowledge that 16 of the 19 banks currently undergoing government stress tests were ruled "technically insolvent." The
U.S. Treasury
dismissed Turner's so-called "leak" as fraudulent, but not before bank stocks sold off nearly 10%. The Obama administration has said the results would be released on May 4.
Bank stocks were already trading lower prior to Turner's shenanigans after
Bank of America
(BAC)
reported a disappointing quarterly result and outlook. Once Turner's post started sweeping across trading desks, financial stocks took another leg down as traders incorrectly associated Turner with communications giant Turner Broadcasting.
The blog, which was picked up by some third-party news services, said "Of the 16 banks that are already technically insolvent, not even one can withstand any disruption of cash flow at all or any further deterioration in nonpaying loans."
Turner added that "five large U.S. banks have credit exposure related to their derivatives trading that exceeds their capital, with four in particular -
JPMorgan Chase
(JPM)
,
Goldman Sachs
(GS)
,
HSBC Bank America
(HBC)
and
Citibank
(C)
- taking especially large risks."
Treasury Spokesman Andrew Williams called Turner's report baseless pointing out that "we do not even have results yet."
And that's not the only area where Turner is way off base. Turner has advocated violence against blacks, Jews and immigrants on his Web site and Internet radio show, according to the Anti- Defamation League, which monitors anti-Semitism.
In a telephone conversation with TheStreet.com, Turner said he plans to "prove himself correct" once the official report comes from the government, which he says "has been caught in a lie." (And as for his many documented anti-semitic comments, Turner responded by calling the ADL "a group of professional whiners.")
"We've ruffled a lot of feathers with this report. Stay tuned for further developments," wrote the blogger in a follow-up posting.
Nah, that's okay Hal. We fell for your stupidity once. If we did it again, we would be as dumb as you are.
Dumb-o-meter score: 75 -- Next time, tune out this turd.
Before joining TheStreet.com, Gregg Greenberg was a writer and segment producer for CNBC's Closing Bell. He previously worked at FleetBoston and Lehman Brothers in their Private Client Services divisions, covering high net-worth individuals and midsize hedge funds. Greenberg attended New York University's School of Business and Economic Reporting. He also has an M.B.A. from Cornell University's Johnson School of Business, and a B.A. in history from Amherst College.