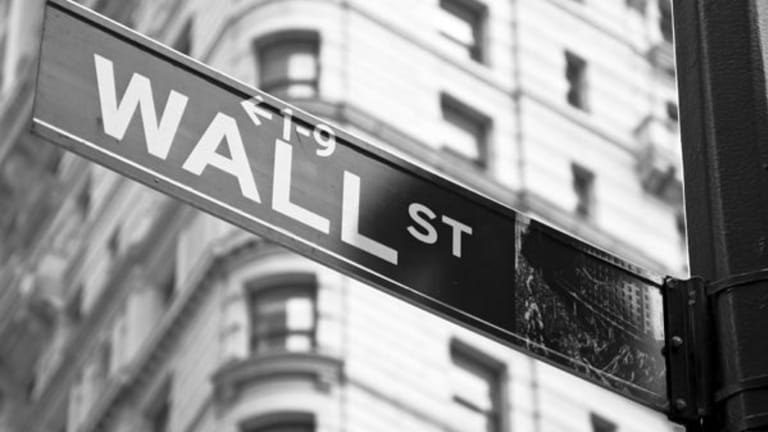 Five Dumbest Things on Wall Street: April 17
Abercrombie & 'Flinch'; no gem from Genworth; Amazon X's out book searches; eBay scrapes off Skype; Bove fails bank stress test.
Abercrombie CEO's Ill-Fitting Raise
Abercrombie & Fitch's
(ANF)
CEO needs to go back to the fitting room. His pay package is many sizes too big for him.
Michael S. Jeffries, the chairman and chief executive of the teen-apparel retailer, received total compensation valued at nearly $23.2 million in 2008, more than twice his pay from the prior year, according to an
Associated Press
analysis of a regulatory filing.
The pay hike reflected a sizable bonus tied to his previous contract as well as stock-appreciation rights related to a new contract, says the
AP
. Jeffries received a base salary of $1.5 million and a performance-based bonus of $6.5 million that more than tripled the $1.9 million reward he received a year earlier.
Sadly, Abercrombie shareholders did not fare as well as their leader over the same period. The stock sank almost 70% in 2008, starting the year near $80 and finishing around $23, close to where the stock trades today. The company's performance doesn't fit the raise either, with net income dropping by almost half in the fiscal year that ended in January.
But don't rush to judgment, says the company in a regulatory filing. There's more to Jeffries than his oversized pay package.
First of all, there's his amazing "vision," which the company says transformed it into "one of the most successful and widely known teen retailers of today." No matter that Abercrombie proved itself blind to reality in March when it posted a 34% drop in same-store sales due to its refusal to slash prices like the rest of the retail world.
Then there is Jeffries' uncanny ability to travel through time like a regular H.G. Wells. Abercrombie claims Jeffries, who joined the company in 1992, plays a role at the company "more akin to founder or lead creative talent than a typical CEO."
Funny, our records show that the company was founded in 1892 by a guy named David Abercrombie. Hence, the name above the door of every store reads "Abercrombie & Fitch," not "Jeffries, Inc."
If the company repeats its dismal performance this year, however, there's only one thing we can say: Watch your back, Fitch.
Dumb-o-meter score: 95 -- Like A&F's clothing, Jeffries' salary should shrink to fit.
Genworth's TARP Tardiness
Pity poor
Genworth Financial
(GNW)
. All the phony banks are getting bailout money except Genworth.
Genworth's stock fell nearly 20% on Monday after the insurer announced it is abandoning an effort to purchase privately held
InterBank
because the Treasury Department deemed it too late for the company to be approved for the government's $700 billion Troubled Asset Relief Program (TARP).
Richmond, Va.-based Genworth announced last November its intention to buy the Minnesota-based bank for an undisclosed sum as a means to apply for status as a savings-and-loan holding company and become TARP-eligible. Genworth, once part of
General Electric
(GE)
, said its deal to buy InterBank hinged on acceptance into the government program.
Treasury broke the news to Genworth last Thursday before the long holiday weekend, saying its application to become a savings-and-loan holding company had missed the cutoff date. Genworth said its application had not been reviewed in time by the Office of Thrift Supervision as required by Treasury and that the deadline will not be extended.
Making Genworth's collapse all the more painful was the surge in insurance industry stock prices last Wednesday after a report that the Treasury was prepared to give some large life insurers an injection of government aid. The rally sent up shares of
MetLife
(MET)
and
Prudential
(PRU)
, mega-insurers that have long had bank holding-company status, as well as
Lincoln National
(LNC)
,
Hartford Financial
(HIG)
and Genworth, which jumped on the bank-buying bandwagon during the height of the credit crisis last year.
Despite the selloff in his company's stock, Genworth CEO Michael Fraizer said he remains confident in the company's financial position and that its plan to access TARP funds via the InterBank acquisition was "only one of the strategic levers Genworth has considered."
Really Mike? If you've got another lever to pull, then by all means please tell us, because right now all you are doing is yanking our chain.
In the last year you've slashed the dividend, streamlined expenses and cut down on your risk, and all that's gotten Genworth is a 90% drop in its stock price. If masquerading as a bank in order to beg for bailout bucks isn't your version of a Hail Mary pass downfield, then you have certainly thrown us for a loss.
If you really didn't need the money, then why go through the whole charade in the first place?
Dumb-o-meter score: 90 -- Genworth is worth much less after its TARP insurance policy got canceled.
Amazon's Glitch
As much delight as we here at The Five Dumbest Lab take in pointing out corporate America's bouts of idiocy, it pleases us to no end when a company owns up to its brain-dead behavior and does our work for us.
Take
Amazon.com's
(AMZN)
absurd episode this week, for example.
The online retailer apologized Monday for an admittedly "embarrassing and ham-fisted cataloging error" that led to the sales ranking being removed from tens of thousands of its books, thus making book searches nearly impossible. Amazon spokesman Andrew Herdener said that 57,310 books in categories ranging from gay and lesbian literature to health and erotica had been affected.
"This problem impacted books not just in the United States but globally," said a very harried Herdener on Monday. "Many books have now been fixed and we're in the process of fixing the remainder as quickly as possible, and we intend to implement new measures to make this kind of accident less likely to occur in the future."
Kudos to CEO Jeff Bezos and company for coming clean and acknowledging the major screw-up. Nevertheless, we would not be doing our job if we didn't highlight Amazon's initial dunderheaded response to the crisis.
On Sunday, Amazon.com said a "glitch" had caused the trouble and promised that the numbers would soon be restored. Sadly, sales numbers were still absent on Monday afternoon for such recent works as Chelsea Handler's
My Horizontal Life
and from such classics as Gore Vidal's
The City and the Pillar
and James Baldwin's
Giovanni's Room
.
"What kind of a childish game is this?" Vidal said Monday. "Why don't they just burn the books? They'd be better off, and it's very visual on television."
Don't joke, Gore. We've seen dumber things happen.
And despite Amazon's
mea culpa
, a slew of angry authors failed to buy their glitch explanation, choosing instead to post emails they received from Amazon.com saying their books had been placed in an unranked -- and unsearchable -- "adult" category. The ire over their pornographic classification grew so heated that a petition to boycott the bookseller attracted 18,000 names by Monday afternoon.
In our estimation, that would qualify Amazon.com as the world's largest porn purveyor in the
Guinness Book of World Records
.
Can't find it? No problem. Just search the adult section.
Dumb-o-meter score: 85 -- Librarians use the Dewey Decimal System. Amazon just rates all its book XXX.
eBay Cuts Internet Phone Cord
Hold the phones! At long last
eBay
(EBAY)
is hanging up on its disastrous Skype acquisition.
The online auction shop announced Tuesday its plan to spin off the Internet calling business in an IPO next year. eBay purchased Skype for $2.4 billion in 2005 over numerous analyst and shareholder objections that the free international calling specialist wasn't a sensible fit in eBay's big auction picture. The critics were quickly proven correct, and in 2007, eBay wrote off $1.4 billion of its Skype investment in addition to shelling out more than $500 million in so-called performance bonuses.
"It's clear that Skype has limited synergies with eBay and PayPal," eBay CEO John Donahoe said in a press release Tuesday.
No kidding, John. Now tell us something we haven't been telling you for years.
Ever since Donahoe's predecessor Meg Whitman overpaid for this online albatross, eBay has defended her doltish move by saying Skype will lead to a better experience and increased trading. What it really led to, however, was a 63% drop in eBay's share price as the company spent more time managing Meg's mess than concentrating on its core business.
And Skype wasn't Whitman's only stinker of a deal undone this week. The announcement about Skype came a day after two founders of StumbleUpon, a Web content recommendation service, said it had repurchased the company from eBay. The price paid to eBay was not disclosed, so most likely it was less than the $75 million eBay paid two years ago.
After leaving eBay in disarray last year, Whitman has set her sights on the governorship of California. Somebody should make a Skype call to Golden State voters in case they haven't stumbled upon the fact that her Midas touch works in reverse.
Dumb-o-meter score: 80 -- eBay's ingenious auction strategy is to buy high, sell low.
Bove's Nonsensical Notes
Dick Bove has been passing bad notes instead of doing his homework.
Rochdale Securities analyst Bove argued in a report issued Saturday that
Goldman Sachs
(GS)
would see greater benefit repaying
Berkshire Hathaway's
(BRK.A)
$5 billion investment in the bank before reimbursing the government for its $10 billion preferred equity stake.
Warren Buffett's deal, signed last September, requires Goldman to pay him 10% annually for the use of Berkshire funds compared with a 5% dividend yield for the government. As part of the deal, Buffett's company also has the right to buy an additional $5 billion in common shares at $115 per share.
But while doing his math, Bove clearly did not do his homework. Under the terms of the government's Troubled Asset Relief Program (TARP), companies must pay back Uncle Sam before anybody else, including preferred shareholders like Buffett.
On Monday, Bove attempted to correct his error in a new note saying "even though it would make more sense to pay back Warren Buffet
sic first, the government will not let Goldman do this." The veteran analyst went on to say that "hysteria has replaced sound thinking" during the financial crisis and that Goldman would be bending to the hysteria if it sold 80 million shares to pay off its TARP obligation.
Sorry, Dick, but sound thinking, like charity, begins at home. And we are only being charitable when we say you need to clean up your act.
Aside from misspelling Warren Buffett's name in two separate notes -- come on, he's the world's greatest investor, not an all-you-can-eat breakfast -- you just don't seem to grasp the mechanics of the TARP program. Before Goldman can repay the $10 billion, the government must first complete a stress test on the bank to determine if it needs additional capital. Those tests are expected to be completed by the end of the month, so all your scribblings are not just incorrect, but premature.
To his credit, Bove was proven correct in warning Goldman against selling additional stock. Goldman's shares sank 9% to around $118 a share on Tuesday in response to its sale of $5 billion worth of stock at $123 per share.
Then again, Bove's record as a long-term prognosticator has been as bad as his spelling. Back on March 20, 2008, after the collapse of Bear Stearns, Bove was close to hysterical when he was hollering about the "once in a generation opportunity" to buy bank stocks.
The
Financial Select Sector SPDR
(XLF)
, which tracks the nation's largest banks, was at $26 a share when Bove made that bold prediction. It now trades at just over $10 a share.
No need for a new note on that blown call, Dick. We can read the writing on the wall.
Dumb-o-meter score: 75 -- See Dick write. See Dick wrong.
Before joining TheStreet.com, Gregg Greenberg was a writer and segment producer for CNBC's Closing Bell. He previously worked at FleetBoston and Lehman Brothers in their Private Client Services divisions, covering high net-worth individuals and midsize hedge funds. Greenberg attended New York University's School of Business and Economic Reporting. He also has an M.B.A. from Cornell University's Johnson School of Business, and a B.A. in history from Amherst College.