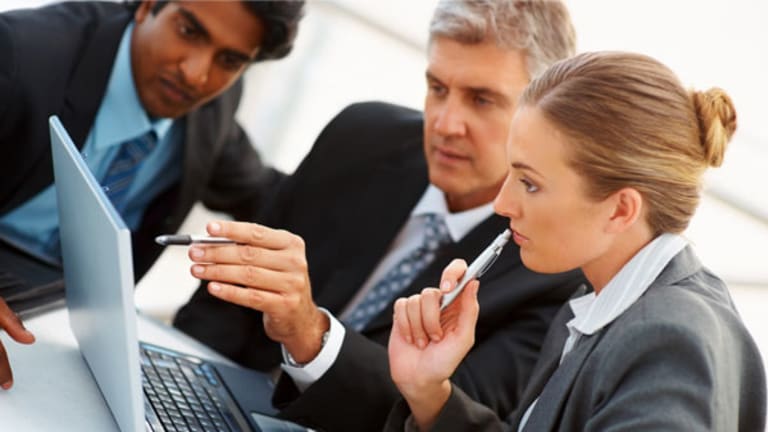 Five Crippling Habits: The Innovators
Many companies are hamstrung by destructive leadership and workforce habits that stifle change and growth.
We all have excuses for not changing, and you'd better believe companies are full of them! Do any of the following phrases sound familiar?
"We've tried that before and it didn't work."
"I didn't make my numbers because . . ."
"Here are all the things that could go wrong."
"I can't get everything done."
"It's not my job. It wasn't my fault."
"I wish management would stop changing their minds."
Excuses signal systemic problems that are deeply embedded in the organization's culture. And while some hostile economic events are unavoidable, many companies suffer from the same five crippling habits that inhibit change, progress and growth.
There is never going to be a "one-size-fits-all" model for corporate success. However, strong leadership not only can overcome each of the crippling habits listed below but also remains at the heart of improved performance and profit.
Crippling Habit 1: Absence of Clear Directives
If you're hearing or saying any of the following, then your company suffers from an absence of clear directives: "I can't get anything done . . . Everything is a priority . . . I wish management would quit changing their minds . . . I didn't know I was supposed to do that."
As a leader, you must make sure everyone who reports to you understands and stays focused on achieving the company's most important objectives -- those things that matter most and must get done. At
General Mills
(GIS) - Get General Mills, Inc. Report
, the goal is to replace good with great. And one method used to accomplish this is to have ALL employees create "Individual Development Plans."
So what about where you work? If your company's objectives are not being met, do you know why? Listen and observe to determine what's keeping people from doing what's important, and then ask:
Have you set goals that are specific and measurable?
Can everyone in your company articulate their goals?
Do they understand how their jobs directly support these goals?
It's easy to discover the answers to these important questions. When working with a company to improve profitability, one of the first things I do is walk around and ask people at all levels about the company's goals. If they can tell me, pull it up on a computer, or point to a sign in their office or a break room and then describe how their work fits into the company's top objectives, my job is going to be much easier.
Like General Mills,
McDonald's
(MCD) - Get McDonald's Corporation Report
also understands the power of clarity and focus and the positive impact it has on business success. At Hamburger University, new managers learn all aspects of running a successful store. Nothing is vague, optional or left to chance.
Unfortunately, many employees, who don't know their employer's top objectives, struggle to directly connect their work to desired outcomes. If you're concerned, simply listen and observe. Are heads down and focused? Are people having action- and goal-oriented conversations, or are they surfing the Internet and reliving their weekends?
To turn things around and refocus your employees, put the objectives front and center on meeting agendas, in ongoing written and verbal communications, and in marketing collateral. Make your company's objectives come to life in everything the company does.
Crippling Habit 2: Lack of Accountability
If you're hearing, "I would have done it but . . ." or "It's not my job," then your business is suffering from a lack of accountability.
When there is a culture of blame, it often points to a lack of clear ownership and a reward system that isn't linked to results. Employees need to know what they're responsible for delivering, and managers need to be direct and unambiguous in explaining expectations. It is equally important to reward results. To do that, you have to measure performance against clearly defined goals.
When I visit a company, I always ask people the same four questions. Try this yourself. Would you be pleased with the answers? What's your role in the organization? Do you know how your job fits into the company's top directives? How well are you performing? How do you know you are performing well?
To be effective, you must measure results against goals -- not just quarterly or at year's end -- but often weekly or daily. Managers, along with everyone else in the company, must be held accountable, and if you don't make your goals, consequences must follow.
At
IBM
(IBM) - Get International Business Machines Corporation Report
, ranked No. 1 among the world's best companies for leaders by
Fortune
magazine, leaders understand the expectations and are held accountable.
Tedd Hoff, vice president for IBM's Center for Learning and Development, said in
Career-Journal.com
, "We are a company that has succeeded in having its leaders take responsibility for assessing talent, engaging talent in 'what's next' conversations and looking at moving talent across lines, businesses, geographies, and functions. We think deeply about our leaders of tomorrow."
When it comes to accountability, the best carrot and the strongest stick are often compensation. I can't believe how frequently I find that workers who don't meet their objectives continue to get pay raises. If there are no consequences for poor performance, you can't expect improvement. What you can expect is a company full of poor performers.
Crippling Habit 3:Rationalizing Inferior Performance
Whenever you hear "they," as in, "If only
they
would do their jobs," and "I work hard, why are
they
complaining?" instead of "I" when discussing meeting goals, you can bet someone is creating a defense mechanism to justify inferior performance.
In any organization, people will occasionally fall short of their goals. However, in an organization committed to results, employees take ownership for shortcoming by communicating not only what's required for future success but also how much it will cost and whose help they will need.
Leaders who remove performance roadblocks and don't accept excuses and rationalization should be held out as role models. Instead of asking why an individual hasn't met a goal, an effective leader will ask what he's doing to get there. Does he need help? What stands in the way of success? During these conversations, individuals maintain ownership and accountability while focusing on actions required to achieve the desired outcome.
Both
Procter & Gamble
(PG) - Get Procter & Gamble Company Report
and
McKinsey
invest significant resources to cultivating employees for leadership. As a result, numerous McKinsey alumni now fill executive suites around the globe, while P&G prides itself on building a corporate structure where employees can plant roots and enjoy long-lasting careers. This would not happen without a solid track record of performance.
Crippling Habit 4: Planning in Lieu of Action
If only I had a nickel for every time I heard one of the following: "That's not in the plan." or "We missed the plan and need a revised forecast."
When companies don't meet their profit objectives quarter after quarter, they eventually blame the plan. Leaders then blame the market or the employees and react by downsizing the company. It's a vicious, disastrous and expensive cycle.
The problem is that companies too often don't invest an equal amount of time, energy and resources on achieving the results the plan targets. Instead, they go through several quarters before acknowledging they're not achieving the results they'd planned for, and then say, "Let's revise the plan again."
The most effective plans are those with specific, measurable goals that are evaluated monthly. Long-range plans covering three to five years are useful for setting and communicating direction and should be restricted to senior management. Short-range plans covering 12 to 18 months are most important for leaders desiring to remain on course and manage results.
Plans and associated measurements must focus on easily articulated goals owned by specific people. The measurement system has to be visible so that everyone knows the results and understands the deviations.
When deviations occur -- and they will -- a company must act immediately to remedy the situation. Problems never get better without action. There are real financial benefits for meeting and beating your earnings plan. Just look at how the market rewarded
Bed Bath & Beyond
(BBY) - Get Best Buy Co., Inc. Report
for their financial performance.
Crippling Habit 5: Aversion to Risk and Change
How do you like this excuse: You're new to a company and have some great ideas for improvements. You share them and get shot down with, "Once you know what we're facing, you'll understand why we do things this way."
In other words, once you become a part of the problem, you won't want to shake things up.
Some believe that if we keep doing those things that produced positive results, then positive outcomes will continue in perpetuity. Of course, that theory is ridiculous because the world around us is in constant flux.
What's even more absurd is that many businesses become experts at rationalization until something dramatic happens to the business. For change to occur, the pain of change must be perceived as less than the pain of maintaining the status quo.
Until this condition is met, little will change. Unfortunately, most companies wait too long, and delay until their choices are limited. We see it every day. Companies take high write-offs, reduce their workforce, cut benefits, dividends, and earnings expectations, and then finally enact change because either their competition has beaten them or they're facing a financial crisis.
General Motors
,
Chrysler
and
Lucent
(LU)
are all prime examples.
People want to work for leaders who have the guts to take risk, make a decision and stick with it. Management must encourage calculated risk taking and demonstrate that people who take risks and occasionally miss the mark will live to try again.
I pledge to you that if you act on these directions, you will achieve extraordinary results you may never have thought possible.
At the beginning of the day, it's all about possibilities. At the end of the day, it's all about en
Written by Bob Prosen in Dallas
Prosen is president and CEO of The Prosen Center for Business Advancement, where he shows current and future leaders how to rapidly increase performance, productivity and profit. The Prosen Center delivers the nation's only leadership and mangement training focused exclusively on business execution. that enable them to convert plans into results. Along with being a frequent guest on MSNBC and FOX News, Prosen is the bestselling author of Kiss Theory Good Bye, which gives leaders the tools and step-by-step directions to achieve extraordinary operating and financial results. Prosen earned his B.S. from Texas Tech University, an M.B.A. from Georgia State University and holds postgraduate certifications from MIT, Duke University and The Wharton School.