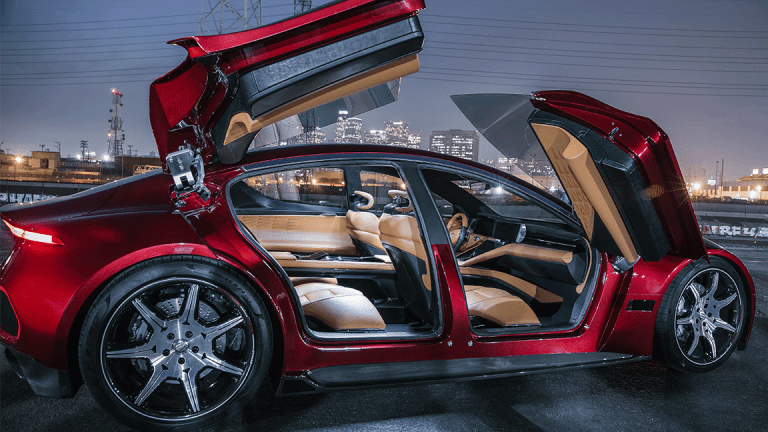 Fisker CEO Makes Bold Promises About His Firm's Battery Tech and Auto Ambitions
During an interview at CES, Henrik Fisker talked about the technology going into the Fisker Emotion, as well as his company's big long-term plans.
As Fisker unveils its first electric car, its founder and CEO is making Tesla  (TSLA) - Get Report Elon Musk-like promises about the company's potential as both an EV maker and a battery technology supplier.
At CES, Fisker Inc. -- not to be confused with Fisker Automotive, which made the Karma EV and sold its assets in 2014 -- unveiled the Emotion, a 775-horsepower luxury EV promised to get 400 miles on a charge with the help of a giant 140 kilowatt-hour (kWh) battery pack. The Emotion seats five, has butterfly doors, makes heavy use of carbon fiber, and sports an impressive-looking three-screen infotainment/instrument cluster system. Deliveries, however, aren't due to start until near the end of 2019.
The Emotion carries a $129,000 base price, but Fisker indicates the car could cost up to $190,000 depending on selected options. Notably, Fisker is promising the car will support Level 4 autonomous driving (can take over in most, though not all, driving situations) with the help of five LIDAR sensors supplied by private Quanergy, along with software from a still-unnamed partner. Compared with some of the LIDAR systems built into self-driving test cars, Fisker's implementation of the Quanergy sensors looked pretty sleek and unobtrusive.
During a brief talk, Quanergy CEO Louay Eldada stressed that the lack of moving parts within Quanergy's sensors was a differentiator relative rivals such as Velodyne, yielding improved performance and reliability. He also claimed Quanergy's LIDAR production line could make 1 million sensors per year and that the company, whose disclosed partners include Daimler and Hyundai, would make several new partnership announcements later this year.
Henrik Fisker, the famed luxury-car designer who founded Fisker Inc. in 2016 (nine years after having founded Fisker Automotive), insists the Emotion is just the beginning for his latest company. He promises that down the line, the Emotion, which relies on traditional lithium-ion batteries supplied by LG Chem, will be succeeded by cars relying on its Flexible Solid State battery tech. Fisker claims the technology has 2.5 times the energy density of lithium ion, is non-flammable, will cost a paltry $65 per kWh and (provided the power source is adequate) could charge a car in minutes.
More of What's Trending on TheStreet:
"Now you have a power source that's better than gasoline," Fisker proclaimed during an interview. He said his company is setting up a "small pilot line" for the battery tech this year, and wants to partner with a larger battery or consumer electronics firm to help achieve mass-production.
Fisker added that while his company is ready to license its battery tech to consumer electronics firms, it's less keen on licensing it to rival automakers. "We could potentially partner up with another automaker and deliver it to them as well, if they're not a direct competitor," he qualified.
Another bold promise: Though the Emotion is meant to be a low-volume vehicle, Fisker says his company will "have the capability to sell hundreds of thousands of cars per year globally" as it pushes ahead with its auto strategy. This strategy includes offering three EVs: The Emotion, an autonomous shuttle called the Orbit and a cheaper, high-volume EV that Fisker is looking to partner with an auto OEM to produce. "We haven't announced any of our bigger partners yet, we'll probably announce that later in the year," he insisted.
But Fisker isn't expecting production to ramp for a couple years. "2019 is like barely starting production, just some pre-production cars," he said. Output is promised to ramp in 2020, with "full production" achieved in 2021. For now, the company is declining to give production targets.
Nonetheless, Fisker insists his company's short-term capital needs are well-addressed, thanks to funding from China's Hakim Unique Group. He added that the Emotion, thanks to its limited tooling investment needs is meant to be profitable or reach breakeven at an annual production volume of just 2,500 units.
Regarding the Emotion's novel touchscreen interface, Fisker (like some others at CES) argues that autonomous driving (by turning drivers into passengers) will fuel greater demand for in-vehicle entertainment. "When you start having autonomous vehicles in certain situations...I think the user interface and what you can do on these screens is very important," he argued.
Fisker also suggested the Emotion's interfaces will become personalized to a driver's preferences over time, and that more will be shared about this closer to the car's launch. "When you get the car, it will not be the same as when you've driven the car for six months or two years," he said.