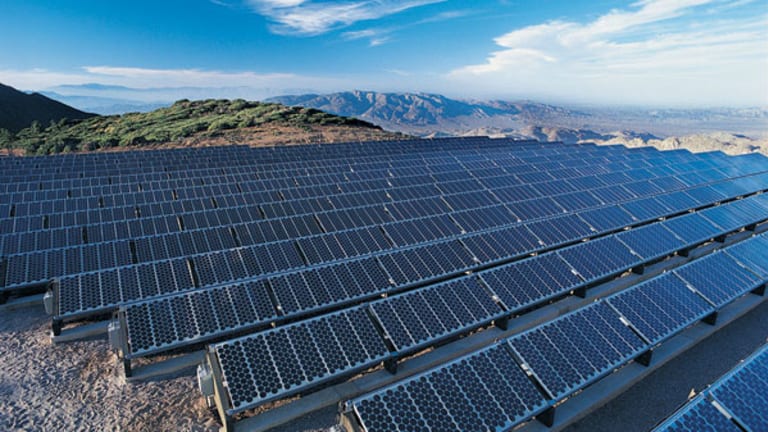 First Solar Still the One to Beat in the Solar Sector
However, it faces more competition.
NEW YORK (TheStreet) -- When investing in the solar market the one to beat is solar panel manufacturer First Solar (FSLR) - Get Free Report, whose shares, at $67, are up nearly 27% for the year to date.
But First Solar is facing increasing competition, starting with SunPower (SPWR) - Get Free Report, which, at $34, is up 16% for the year to date.
Both companies are going to profit as solar power consumption increases in the coming years. The Energy Information Administration estimates U.S solar power consumption is expected to rise by more than 60% in the next couple of years. Despite this staggering projected rise in consumption, First Solar estimates its earnings per share will average at $2.60, which is roughly 30% lower than last year.
First Solar anticipates stronger competition will continue driving down solar panels prices. In the second quarter, First Solar's earnings per share fell to 4 cents a share, although most of this drop in earnings was mostly due to project delays, for which the company expects getting paid in the coming months.
Despite the lack of growth in earnings, the company is still priced relatively low for a solar panel company as its enterprise to earnings before interest, taxes, depreciation and amortization ratio is only at 7.67. SunPower's ratio is at 14.43 and the power sector average is at 9.78. So for now the company's valuation isn't high even when considering its lack of growth in earnings this year.
First Solar has a very low debt burden and over $1.3 billion in cash on hand, which will enable the company to invest in developing its technology to improve the efficiency of its solar panels so it can better convert sun power to electricity.
Case in point, the company announced in the second-quarter report that solar cell efficiency was improved from 20.4% to 21%. The company also expects to increase its capital expenditure from $282 million in 2013 to $325 million in 2014 -- a 15% gain, year over year.
So First Solar's relatively low valuation, high investments and lack of debt make the case for holding on this stock even as the rise in competition is likely to shrink the company's profit margins and thus impede its growth in earnings.
At the time of publication, the author held no positions in any of the stocks mentioned, although positions may change at any time.
This article is commentary by an independent contributor, separate from TheStreet's regular news coverage.