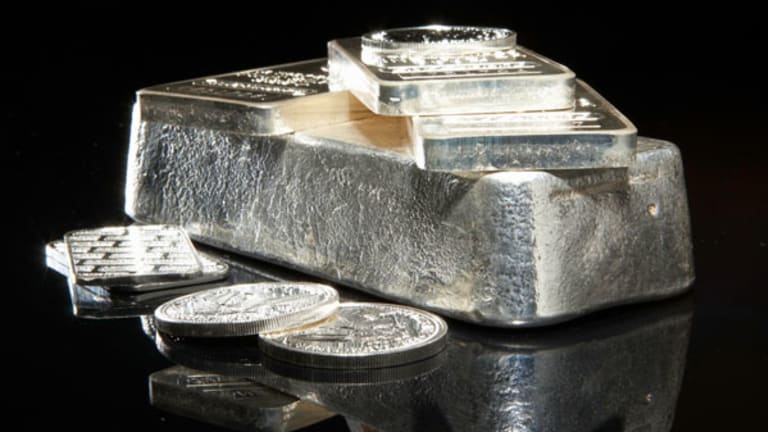 First Majestic Silver: Easy Double in 2014?
Rudimentary analysis suggests the company offers a good risk/reward during a rebound in the precious metals.
NEW YORK (TheStreet) -- With precious metals stocks making a big run off December lows, early indications so far this year of investors rolling out of the S&P 500 and into precious metals mining stocks has many alert traders seeking stocks that offer the best bang for the buck during the anticipated "risk off" cycle.
With the S&P trading at 1.1% below its Dec. 31 close and the Market Vectors Gold Miners ETF (GDX) - Get VanEck Gold Miners ETF Report making gains of 12.3% within the first 15 days of trading, traders sense a decimating 2013 for the mining sector will follow with a strong, maybe equally powerful, rebound in 2014. For sure, traders will try to game the peaks and troughs during the anticipated bull run in the precious metals mining sector in 2014.
But with First Majestic Silver (AG) - Get First Majestic Silver Corp. Report in your portfolio, don't bother. This is a stock to ride for the potential fat, lower-taxing capital gain down the road.
In short, I can see First Majestic soaring to between $17.50 and $26 on the back of a projected average silver price of $25 in 2014. That's a nearly 130% move to the potential peak in the stock, catalyzed by an approximate 25% move back higher (average increase for 2014, from the close of 2013) in the price of silver. AG closed Friday at $10.80 and is up 10.2% for the year to date.
Here's why:
Producers, Not Potentials
Bull markets in the mining sector begin with industry insiders, working their way up the food chain to the fund managers and institutional investors. Money managers want income stream, something to evaluate and project. In short, they want longer-term stakes in producers, not short-term, in-and-out trades back and forth between potential producers and low-cap explorers.
The big money seeking long-time money-makers, leveraged to the silver price, will certainly know of Silver Wheaton (SLW) , Pan American Silver (PAAS) - Get Pan American Silver Corp. Report and First Majestic (AG) - Get First Majestic Silver Corp. Report.

More than 90% of First Majestic's revenue is derived from the sale of silver bullion, making it the no. 1 of "pure plays" in the larger-cap, silver-producing, mining space, with Silver Wheaton's approximately 75% of revenue derived from silver bullion sales and Pan American Silver's approximately 70% ranking second and third place, respectively.
Here are some Key Statistics courtesy of Yahoo! Finance.
Jurisdiction Vital
First Majestic operates five producing mines as well as six exploration and development projects in the country of Mexico, a jurisdiction considered to be one of the more safe in the world.
From the chart (Exhibit A), below, Mexico ranks no. 9 among the 47 countries listed, only three ranks down from the United States. Desperate governments with track records of nationalizing mines is no place to invest during a precious metals bull market.
As recommended reading on this important issue, see a well-done article, Country Risk For Mining Jurisdiction - June Edition.
Source: Country Risk For Mining Jurisdiction - June Edition
How Do I Get to a $26 Potential Stock Price in 2014?
Extrapolated data can be tenuous as the famed author, Nassim Taleb, of the 2007 publication, The Black Swan, reminds us; but, as an exercise in rudimentary stock analysis, consider the following chart as a guide to AG's possible price levels in 2014.
The chart (Exhibit B), above, illustrates First Majestic's past performance and estimated financial metrics for the fiscal years 2013 and 2014, with 2014 as the year of my analysis.

From First Majestic's annual reports, I've reconstructed the critical metrics as the basis of my projection, with the assumption that no negative exogenous events befall the company (i.e, strikes, shutdowns, government intervention, bad weather, significant impairments, et cetera), and other assumptions, as follows (not all inclusive):
1) Revenue in 2014 increases by 4% from 2013 estimate.
2) Cost of Revenue remains constant.
3) Operating Income remains at the same margin as 2013 estimate.
4) Net Income remains at the same margin as 2013 estimate.
5) Shares Outstanding of 117 million, as reported by Yahoo! Finance, is reported correctly.
6) An average price/earnings multiple was accessed, excluding fiscal 2013, as the high multiples in that year were deemed outliers.
7) The company will continue to not hedge its production.
Historical price action indicates First Majestic's stock has traded at stretched multiples of more than 20-times on many occasions during the rally from the March 2009 low, though the fiscal year 2009 was not included in the analysis as the stock's performance in that year would have greatly skewed the P/E estimate and projected price range of AG for 2014.
As indicated from the chart (Exhibit B), the price range of $17.50 and $26+ could be achieved during a silver price rally (averaging $25) in 2014.
Also note, since the spring of 2011, as the price of silver began its drop of approximately 63.5% during the cyclical bear market to $18.17 in June 2013, from its high of $49.82 in April 2011, shares of AG fell at roughly the same percentage off its high (65.5%) of $25.56 in July 2011. Contrast that performance with the broader GDX (comprised of gold and other gold-heavy producers), which dropped 69.2% during the same time period.
Conclusion
Initial indications of a "risk off" rally in the precious metals mining shares have begun to gain momentum as some investors seek refuge from a "toppy" S&P. Historically, large investors take stakes in producers over developers and explorers during the budding stage of a bull market. First Majestic's price action of the past suggests investors are comfortable with management and its ability to produce better-than-average earnings growth. Rudimentary analysis also suggests that AG offers a good risk/reward during a rebound in the precious metals, with a target price range for the stock of $17.50 and $26+.
At the time of publication the author had no position in any of the stocks mentioned.
This article represents the opinion of a contributor and not necessarily that of TheStreet or its editorial staff.