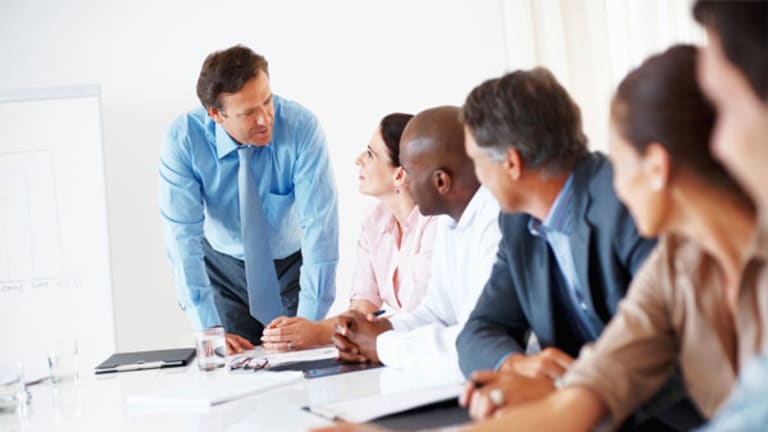 Publish date:
Firms Need to Plan for the Upturn: Innovators
As the economy improves, companies need to identify turnover risks and tackle them before the employees leave.
As the economy improves, companies need to identify turnover risks and tackle them before the employees leave.
Consider the turmoil many have experienced since the recession began in December 2007. It's not just those who lost their jobs, but also those who remained. There have been two years of terminations, pay cuts, longer hours, unpaid vacations and underwater options.
For recent hires, this was not what they expected. For long-tenured employees, the soul of their beloved company seemed lost. Either way, employees had little choice but to accept whatever perceived abuses the company threw at them.
Fortunately, the economy has started to recover. The question now, is, "When the economy improves, will anybody stay?" A recent Deloitte newsletter asserts that high performer turnover is common as an economy begins to recover. Deloitte is forecasting a "resume tsunami" in 2010. Ron Porter, a partner at CT Partners in New York, is seeing its first signs: "Corporate loyalty has been significantly weakened. Top employees are returning recruiter calls more than in the past."
Challenger Gray & Christmas, a premier outplacement firm, closely monitors turnover. In a recent newsletter, it stated, "... it can be assured that the first inkling of a job market turnaround will probably bring a rapid surge in turnover at organizations throughout the country." John Reyes, Challenger Gray's general manager in New York said, "The pattern is clear. Companies coming out of a recession experience a large increase in high-performer turnover. This recession was deeper and longer than any in the recent past and is expected to produce similar increases in turnover."
Reducing Your Risk
For many companies their greatest assets walk out the door every night with the hope that they will return the following day. Theft of corporate assets may be frightening, but loss of human assets can be far more damaging to company value. Here's how to reduce that risk.
First, identify the turnover risks. Determining where turnover will hit is not at all difficult. Observant individuals will be able to predict, with a high degree of certainty, which employees will stay and which will go. In most cases, managers, colleagues or HR professionals will notice cries for help well before the resignation.
For a more systematic approach, identify high performers and talk to them to find out their belief that employees are considered a valued asset, confidence in senior leadership, satisfaction with their jobs, satisfaction with their supervisor, pride in the company and confidence in future personal growth.
Second, build risk-mitigation plans. Create talent pools for key positions. For example, find out how many product managers you have, where they live and what how well they perform their job. Draw from these pools to backfill product managers who leave. Succession plans make sense for senior executives. Talent pools are more appropriate for those in key positions.
Third, strengthen staffing and training capabilities. For many companies, staffing and training departments have lost muscle through budget cut and staff terminations. Rather than rebuild these organizations, consider outsourcing and maintain flexibility for the rollercoaster economy ahead. Make contingency plans for various recovery scenarios. And design learning paths now. Learning paths are week-by-week prescriptive plans for systematically growing employee capabilities from new hire to full productivity.
Fourth, Renew relationships. Re-energizing your workforce may require a "new deal" - a renewed employer-employee agreement. This may be an opportune time for reestablishing what it means to work at the company.
Fifth, Reset corporate values. Culture change is outside the comfort zone for many general managers. Some might worry that culture cannot be changed - perhaps your company is too big. Others are concerned that the company has a long history and value change would be difficult; if not impossible.
IBM
(IBM) - Get Report
reestablished its culture in 2003. IBM is pretty old (founded in 1896) and pretty big (400,000 employees). IBM reset its corporate culture through a process called Values Jam.
Using IBM-proprietary software, direct reports to Sam Palmisano led on-line discussions with 50,000 employees for three days and nights. An IBM software program called e-Classifier mined all discussions and came up with three values: dedication to every client's success, innovation that matters for our company and the world, and trust and personal responsibility in all relationships.
In 2004, IBM hosted a second 72-hour Jam session where employees produced actionable ideas to produce real behavioral changes towards the new values. Using technology to engage all employees simultaneously may be ideal, but such sophisticated methods are not required to reset corporate values.
Sixth, create a governance structure. In 2005, Lenovo, a domestic Chinese company, made a large acquisition that, almost overnight, doubled revenue and added operations in 161 countries. Pundits predicted that cultural challenges would doom the company. Steve Ward, Lenovo's new CEO, knew that getting the new culture right would make or break the company.
As a former senior vice president at IBM, Ward's culture change methodology was similar to IBM's Values Jam, but without technology support. Project managers assembled focus groups of high potentials in China and in the U.S. and asked them to describe what Lenovo will look like in 10 years -- what Lenovo will sell, how it will operate and how it will feel to work. Focus group participants then contrasted that future scenario with the current situation and identified cultural gaps.
Once Lenovo's new culture was defined, Ward created a "Transition and Transformation Team" of 30 executives that would be accountable for building a comprehensive one-year plan to close gaps between current- and future cultures. The result was over 300% organic increase in operating profits for the new Lenovo's first 12 months.
As we emerge from the recession, prepare for the "resume tsunami." Do your best to identify individual turnover risks and re-engage them before they emotionally check-out. Next, build talent pools from which replacements will be made. Finally, consider pushing the reset button on your corporate culture and employee value proposition -- out with the old and in with the new.
Hall is managing director of Human Capital Systems (www.humancapitalsystems.com), a firm that designs systems for improving workforce performance. He is also an instructor in Duke Corporate Education's teaching network and author of The New Human Capital Strategy. Hall was formerly a senior vice president at ABN AMRO Bank in Amsterdam and IBM Asia-Pacific's executive in charge of executive leadership and organization effectiveness. During his tenure, IBM was twice ranked No. 1 in the world in Hewitt/Chief Executive magazine's "Top Company for Leaders." Hall completed his Ph.D in industrial-organizational psychology at Tulane University, with a dissertation on people management practices of Japanese corporations.