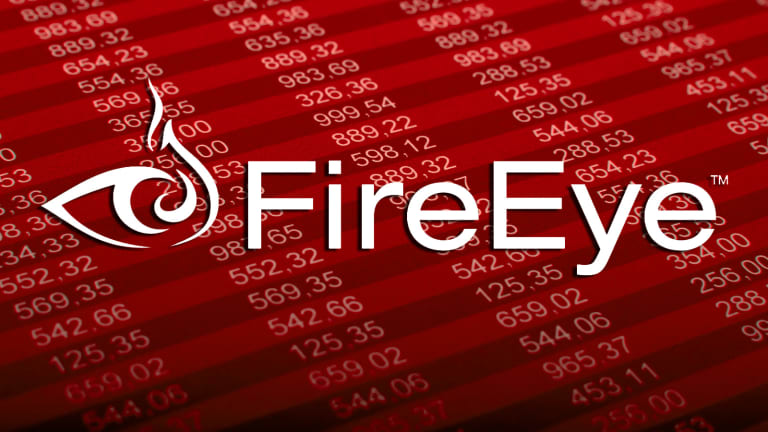 FireEye Can Stop Cyber Crime But Not A Takeover
The cybersecurity products provider looks increasingly like the target of bigger tech enterprises.
The cybersecurity products provider looks increasingly like the target of bigger tech enterprises.
Donald Trump bids Russia to hack Hillary Clinton's email server ... and stocks of cybersecurity companies get another bump higher.
FireEye (FEYE) - Get Report may be climbing for other than organic reasons. The stock has been the subject of takeover rumors since at least May. That's when Symantec (SYMC) - Get Report bought Blue Coat for $4.65 billion, and launched a new season of cybersecurity merry-go-round takeover talks. Though, really, FireEye has been a source of speculation for some time well before that deal.
And for good reason.
The stock has climbed 4% Thursday on rumors of a takeover bid. Cisco (CSCO) - Get Report and IBM (IBM) - Get Report are hinted at as the big deal suitors to take over the cybersecurity firm.
Cisco - a company that looks increasingly like a mutual fund rather than a straight technology provider - has bought a host of cybersecurity assets that would make FireEye look like a natural fit: Cloudlock, Lancope, OpenDNS.
A linkup with a cybersecurity company of only slightly larger size than FireEye itself couldn't be ruled out, either.
There are compelling reasons to argue for a FireEye takeover. For one thing, right now, it's cheap. Even with Thursday's price bump, it's still trading at about $17 a share. That's a huge discount to last June's $50 a share price tag. (Of course, there's some fundamental reasons for the pullback.) It trades at something on the order of four times sales. On a free cash flow basis - a good way to value companies without those nasty things like earnings - it looks even cheaper.
The company has pursued a new business model, looking to transition from an appliance based business to a cloud-based software model. That would generate the kind of revenue predictability that encourages confidence in the business's enterprise model. Plus, it would argue that there's some upside to the business model for a new owner.
Meanwhile, FireEye anointed a new chief executive recently, having named Kevin Mandia its CEO back in May. (A lot happened in cybersecurity right before summer.) New management often augurs a company's willingness to consider a new operating model. Keep in mind that when Symantec, which had been questing for new management since some revenue shortfalls, struck the Blue Coat deal, it not only acquired an asset, it got new management, installing Blue Coat's chief exec as the head of Symantec overall.
That's not to say that FireEye goes that route. Because, in fact, it already went that route. Kevin Mandia came to FireEye via its 2014 acquisition of the nearly eponymous Mandiant in 2014. It was a deal that gave FireEye an incident response provider that complement its malware breach technology. And it was also a deal that ultimately gave the company a new CEO.
And one who knows the ways of M&A.
There are a couple of stumbling blocks that could trip up a takeover. One is that FireEye may be overvaluing itself. Prevalent thinking is that FireEye - trading at about $17 a share, even with Thursday's bump in price - considers itself something like a $30 a share target. Either Cisco or IBM could absorb a FireEye without having to increase the prices in the corporate cafeteria. But when what's now a slightly less than $3 billion market cap goes to something closer to something like $6 billion, it is going to make some investors howl.
FireEye isn't an investors' dream on its fundamentals. It's projected to lose 55 cents a share in fiscal 2017. It will report results August 4. Given FireEye's projected losses, it would be dilutive to an acquirer's balance sheet.
There's also some shinier bubbles on the market. Intel (INTC) - Get Report is trying to offload its MacAfee asset, a much bigger software security asset.
But it's not the same asset as FireEye. Without an exogenous event, cybersecurity is a 20% a year growth industry. Does Cisco figure to command that kind of growth in its core server business? Fraud, as we've learned from crime novels and the political conventions, is a pretty good business.