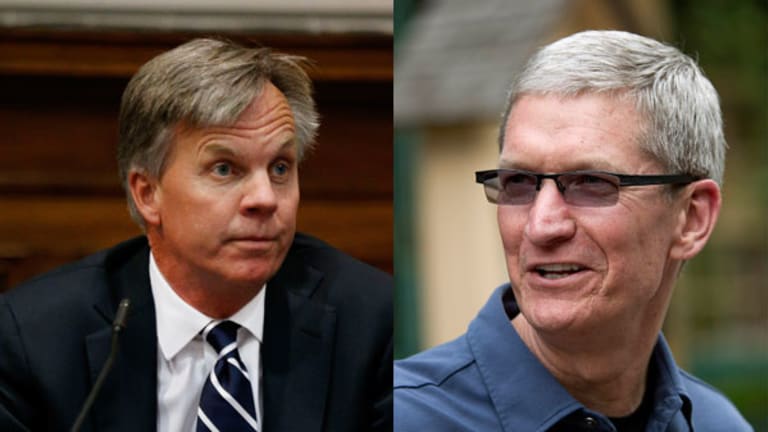 Fire Tim Cook: Too Little, Too Late, Too Stupid
It no longer makes sense to oust the Apple CEO. He's finally coming into his own.
It no longer makes sense to oust the Apple CEO. He's finally coming into his own.
NEW YORK (TheStreet) -- The most popular words uttered last week in the financial media:
The honeymoon for Tim Cook is over.
Even one of my favorite Apple (AAPL) - Get Report contributors for TheStreet, Jason Schwarz, ended his list of all the things Apple (apparently) does wrong with that proclamation.
So, in the media at least, the guy's job is on the line.
In late 2012 and early 2013 when I was calling for Tim Cook's head, I told you the media would pull its pitchforks from its pants sooner or later. That the things I was being ridiculed for saying would suddenly become not only commonplace, but socially and journalistically acceptable.
So here we are with the media in full reactive, regurgitation mode.
But I'm no longer on the Fire Tim Cook bandwagon. I hopped off many months ago. What we're seeing now is reactionary and misguided. It illustrates the folly of a financial media that doesn't know its rear end from a hole in the ground. It beats the hell out of Tim Cook when it's safe to do so, rather than staking unpopular ground at a time when the notion of ousting Steve Jobs's replacement might have actually made sense.
Here's the deal in easy-to-understand bullet points (the financial media requires these for comprehension purposes):
Apple never should have hired Tim Cook in the first place. While not quite as brash or delusional as Ron Johnson, Cook suffers from some form of Ron Johnson syndrome, in that it's easy to look good riding shotgun with Steve Jobs. It's a different ballgame when you roll into the nightclub without Jobs at your side.
But that wasn't possible because Apple's Board went all-in -- too far, too fast. Crazy amounts of stock. Votes of confidence. And maybe that's because I'm wrong and Cook actually was the right guy for the gig. I don't know. It probably depends on how you look at these things.
I look at it this way ... Cook wasn't the guy, but he grew into being the guy. Apple's bigger than Cook (or any one man, except maybe Jobs), therefore it overcame/can continue to overcome his shortcomings (relative to Jobs and similar leaders). Cook weathered the storm of the first year in the impossible job of replacing Steve Jobs as Apple CEO. Behind the scenes he undoubtedly set up corporate structures that would help him -- and Apple -- succeed.
So it could have been that Apple found that special person who picked up where Steve Jobs and his once-in-a-generation dynamism left off. But it didn't. It went with an MBA-type who needed to transition more than many of us would have liked to see. If there was a time to balk at Tim Cook as CEO of Apple it was during the early meat of that transition.
At this point, he's merely the guy who leads a company that sold 51 million freaking smartphones last quarter. 51 million. I don't care if Apple didn't sell one 5c. That's damn impressive. And renders everybody else in the space inferior. For goodness sake, why fire Cook after he had the chance and took the opportunity to come into his own?
That's pure inanity with a dash of insanity. 
One look at Tim Cook reveals he's a thoughtful guy.
There's no doubt he learned from his mistakes. As such, don't expect anything that even resembles cheap from Apple. Ever again. Don't expect Cook to pay attention to self-interested twigs such as Carl Icahn anymore.
Expect him to refocus in the areas where Apple probably requires it. Image and attention to detail come immediately to mind. For instance, Cook probably lost it when he saw my report on body odor issues at the Apple Store in Santa Monica. It -- and more wide-ranging image-related issues -- will be taken care of.
But, beyond that, there's one thing almost every critic overlooks as they come late to the party that seeks Cook's head on a platter with toothpicks and pineapple slices.
Nobody outside of Apple has any real idea what Apple is up to. That's why it's unfiltered absurdity to measure Apple against estimates (on unit sales, revenue, EPS, whatever) that come from stinking Wall Street analysts. The most unreliable and gutless people in all of Manhattan and environs. 
Cook has provided nothing but lip service on everything from wearables to the living room. He's merely being polite to the handful of jock sniffers he does interviews for. They know nothing. I know nothing. You know nothing about the inner workings at Apple that matter.
As TheStreet contributor John Martellaro noted last week, Cook rankles investors because he doesn't operate in step with their concurrent timelines and wholesale misunderstandings of Apple's business:
For example, if Apple were to lower the cost and value of its iPhones to increase unit share, several bad things would happen ...
Read John's article for details because it truly plays it as it lays with gems such as ...
Sitting on the early, growth part of the Gaussian curve means that more growth, exponential growth, is in the offing, and that's what investors should be fundamentally interested in because it reflects the long-term health and prosperity of Apple.
Like I have said several times in recent weeks ... there's one thing that did not die at Apple with Steve Jobs (despite the dividend/buyback, image dings, etc.) and that's the ever present reality that ... Apple Will Disrupt And Destroy When It's Ready.
Mark my words. Apple, along with Amazon.com (AMZN) - Get Report, will be the last company and stock standing because, despite the hysteria, it still has the most going for it.  
--Written by Rocco Pendola in Santa Monica, Calif.
Disclosure: TheStreet's editorial policy prohibits staff editors, reporters and analysts from holding positions in any individual stocks. Rocco Pendola is a columnist for
TheStreet
. Whenever possible, Pendola uses hockey, Springsteen or Southern California references in his work. He lives in Santa Monica.