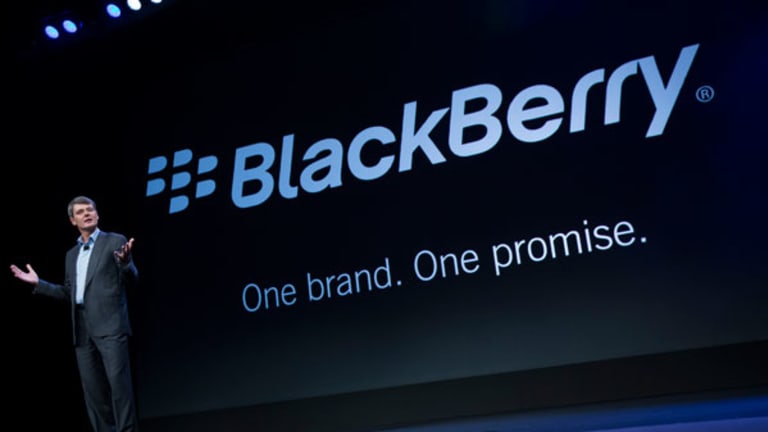 Fire Thorsten Heins: Opinion
BlackBerry might have more problems than it cares to admit, but it shouldn't make it worse by lying.
NEW YORK (TheStreet) -- BlackBerry (BBRY) CEO Thorsten Heins should be fired after he declared that tablets would be irrelevant five years from now. How absurd.
Taking it one step further, he also announced, during the company's first-quarter earnings results last week, that there would not be an update for the current BlackBerry Playbook's operating system. Okay,
now
he should be fired.
Before we assume that Heins is either right or wrong, let's look at some numbers. According to a report by Gartner, tablet growth for 2013
alone
will be nearly 70%, with shipped devices growing to 197 million, from 116 million in 2012.
Let's take it one step further: By 2017, tablet sales are expected to outpace PC sales, which shipped over 340 million units in 2012. tablet sales in 2017 are expected to be around 467 million units, according to Gartner. This represents an increase of approximately 350 million units from 2012's levels, or about 303%.
So let me get this straight, Thorsten Heins thinks a market that is set to triple in five years should be ignored because tablets will be irrelevant?
You've gotta be kidding me.
I understand that Heins is in the midst of trying to turn around one of the largest collapses that we've ever seen, when BlackBerry's stock dropped from $145 in May 2008 to $6 in the fall of 2012. I also understand the company has a lot of restructuring efforts ahead and is still trying to figure where to make its money.
Clearly, management's focus is going to be on smartphones. While this is understandably a strong market to be in, is it really necessary to come out and say that tablets will be dead in five years? If so, that essentially makes
Apple
(AAPL) - Get Report
a failure five years from now.
As PC markets continue to dissolve, you have to assume the money is going somewhere. It's obvious consumers aren't moving backwards in time. No, they're becoming more connected to technology and the Internet than ever before. So if they're not buying PCs, what are they buying?
Obviously, tablets.
Heins might just be bitter about the 1.15 million Playbooks that BlackBerry was able to sell in 2012. Compare that to Apple's 76 million iPads or
Google's
(GOOG) - Get Report
52 million tablets and maybe he just feels left out, with an underwhelming 0.98% of tablet market share.
Since the first quarter of 2012 through June 1, 2013, BlackBerry has only managed to sell a measly 2.46 million Playbooks. To put this figure in perspective, BlackBerry's tablet sales over the 18 months are about 12.5% of Apple's iPad sales
last quarter
.
Confusion has swirled around the company this year with rumors of a "Playbook 2," and Heins was all about the great cross-integration between his company's smartphones and tablet. Now, it looks as though the tablet has already dug its own grave. With only 100,000 units sold in the first quarter of fiscal 2014 and apparently no update on the way, I'm sure this has really won over those rare BlackBerry loyalists still out there, somewhere.
I would respect Heins and BlackBerry a lot more if they'd just be honest. Instead of telling us that tablets will be dead in five years, why not just say you can't compete with Apple and Google, so you're going to stop trying and only focus on smartphones?
Seriously, doesn't that sound so much better than saying something that is a complete fallacy? It would be like Vikings running back Adrian Peterson saying he's retiring from the National Football League today because he doesn't think the running game will exist five years from now. It's just ridiculous.
It's not just the fact that Heins and BlackBerry are all but through with their tablet. The Playbook was never a game changer, just like these new phones likely won't be either. But don't lie about it. Just say, "Our product sucked, we couldn't take market share and we're pulling the plug."
At least that would show management has some competence. Instead, Heins has left investors and the rest of Wall Street thinking that there's a boardroom full of morons (or liars) believing tablets will be a nothing but a tumbleweed in 2017.
Heins was quoted as saying, "I want to gain as much market share as I can, but not by being a copycat."
Well, maybe he should be just that, if he wants any chance at succeeding.
At the time of publication, the author was long shares of AAPL.
This article was written by an independent contributor, separate from TheStreet's regular news coverage.
Bret Kenwell currently writes, blogs and also contributes to Robert Weinstein's Weekly Options Newsletter. Focuses on short-to-intermediate-term trading opportunities that can be exposed via options. He prefers to use debit trades on momentum setups and credit trades on support/resistance setups. He also focuses on building long-term wealth by searching for consistent, quality dividend paying companies and long-term growth companies. He considers himself the surfer, not the wave, in relation to the market and himself. He has no allegiance to either the bull side or the bear side.