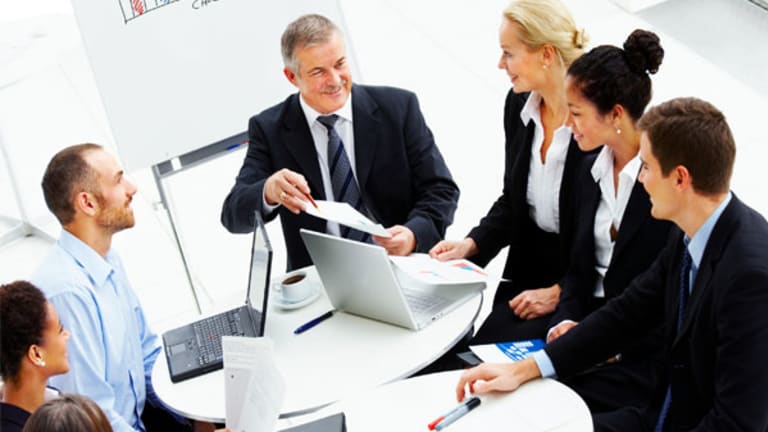 Bad CEO: Let's Fire Bernanke
The Federal Reserve Chairman says inflation is under control, but on Main Street, the cost of living is rising.
NEW YORK (TheStreet) -- When I was the U.S. Treasury bond trader at Prudential Bache from 1978 into 1981, Paul Volcker was the Federal Reserve chairman and he certainly performed as a great CEO of the U.S. economy. He saved the country from inflation and set the tone for the huge stock market rally that began under his watch.
Following Volcker as Fed chief and CEO of the U.S. economy was Alan Greenspan. Since then the economy has had to deal with a monetary policy that was conducive to forming bubbles, then having bubbles pop. Under CEO Greenspan, we experienced the stock market crash of 1987 and the hype of Y2K, which proved to be Y2 hoax. This policy provided the stimulus that inflated the tech bubble, which popped in March 2000.
A CEO should have the savvy to realize when his policies are causing financial bubbles. Under Greenspan the seeds were planted for the oil bubble, the gold bubble, the real estate bubble and associated debt bubble.
The succession plan from CEO Greenspan to CEO Ben Bernanke was the decision of President George W Bush on Feb. 1, 2006. This transition proved to be a status quo as Bernanke continued to raise the federal funds rate the next three FOMC meetings to a peak of 5.25% on June 29, 2006, which is when the housing bubble reached its peak.
As CEO of the U.S. economy, Bernanke thought the subprime mortgage problems would be contained and not hurt the real economy. Even though this proved to be drastically wrong, President Barack Obama, who promised change, reappointed Bernanke on Jan. 28, 2010.
While Wall Street has thrived though the financial stress of bubbles inflating and popping, Bernanke's zero rate monetary policy and quantitative easing parts 3 and 4 have inflated the major equity averages into an overvalued and overbought bubbles. None of these policies have helped Main Street.
>>Also see: Mortgage REIT Selloff Overdone on Rate Fears: KBW, RBC >>
Here's what I see happening on Main Street:
I live in Tampa Bay, Fla., where home prices were up 2.6% sequentially in March and up 11.8% year-over-year. We bought the
Standard & Pacific
(SPF)
model home in mid-2009. I thought we were buying at the low in a completed community of 960 homes. The current appraised value of our home puts me underwater. Many homes in my community were purchased between 2004 and 2007, and the majority of these owners remain underwater on their mortgages.
A planned community called Connerton just north of us is trying to come back to life after being dormant since the crunch began. By this time 6,300 homes would have been built; fewer than 300 were completed when the project stalled. Four builders have built model homes and four to six homes on spec. The builders are
West Bay
,
Taylor Morrison
(TMHC) - Get Report
,
Ryland Homes
(RYL)
and
M/I Homes
(MHO) - Get Report
.
While this is promising, the models seem to be priced above what Tampa Bay families can afford. Tampa Bay has been gaining jobs, but these jobs are lower-paying than the ones lost during the recession. In addition, real home buyers are being outbid at the last minute by investors building pools of homes for renters. A real estate agent told me about one family going to contract that was outbid three times by investors at the last minute. This family gave up and rented a home instead of buying.
Small businesses, particularly eateries, are having difficulties staying in business. One local restaurant had three different owners since we moved to the area in June 2009. This one is closed again.
I received an email from one of our favorite seafood restaurants on Tuesday, saying it is closed for business. This restaurant has been a flourishing small business for 12 years and has been voted Tampa Bay's best seafood restaurant several times over the years. The owner blamed constantly increasing costs and wages as the reason for closing. This week 40 people are looking for new jobs.
>>Also see: 'Go Solar' With No Money Down? Maybe, If You Play It Right >>
The policies of CEO Bernanke have reduced incomes for savers, forced folks to settle for lower-paying jobs or fewer hours worked, and are making the purchase of a home more difficult on the Main Streets I am familiar with in Tampa Bay. Bernanke says that inflation is under control, but on Main Street, the cost of living is on the rise.
I can only hope that the next Fed chief and CEO for the U.S. economy agrees with former CEO Paul Volcker, who explained in a speech this week the effect of the various forms of quantitative easing has been "limited and diminishing."
At the time of publication the author had no position in any of the stocks mentioned.
This article was written by an independent contributor, separate from TheStreet's regular news coverage.
Richard Suttmeier has an engineering degree from Georgia Tech and a master of science from Brooklyn Poly. He began his career in the financial services industry in 1972 trading U.S. Treasury securities in the primary dealer community. In 1981 he formed the Government Bond Department at LF Rothschild and helped establish that firm as a primary dealer in 1986. Richard began writing market research in 1984 and held positions as market strategist at firms such as Smith Barney, William R Hough, Joseph Stevens, and Rightside Advisors. He joined
in 2008 producing newsletters covering the U.S. capital markets, and a universe of more than 7,000 stocks. Richard employs
a "buy and trade" investment strategy
and can be reached at
.