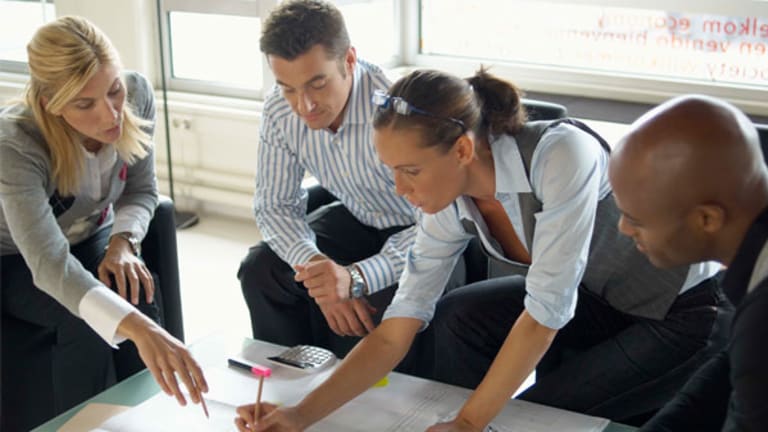 'Finra: The Farce' Is the Newest Wall Street Tragicomedy
The self-regulatory group belatedly files a complaint against a broker who's already sitting in prison.
NEW YORK (
) -- You know that stockbroker who hoodwinked the producers of the Broadway play "Rebecca: The Musical" into thinking he had millions of dollars of financing for the show, which was folded before there was ever a performance? Well, the securities regulators are on the case.
Yesterday, the Financial Industry Regulatory Authority, the self-regulatory group that is paid by Wall Street to police stockbrokers, filed a 47-page complaint against Mark C. Hotton, who worked at Oppenheimer & Co. and Ladenburg Thalmann & Co., among other brokers, over a 19-year brokerage career that ended in May. Among 14 causes of action in the
Finra complaint against Hotton
were forgery, securities fraud and failure to tell his Wall Street employers about his extracurricular businesses.
The problem is, Finra -- which is overseen by the Securities and Exchange Commission -- had to send the complaint to Hotton at his new digs in the Queens Private Correctional Facility. In other words, the outfit that touts its goal of "Investor Protection" in big letters at the top of its home page is a little late.
Stephen Wexler, a Garden City, N.Y., lawyer who says he first saw a copy of the complaint today, said he can't comment on the allegations until he hears from Hotton. "I sent a copy of the complaint to him where he is being incarcerated, asking him to contact me and let me know if he wants me to represent him," Wexler said.
Hotton was arrested on Oct. 15 on two counts of fraud. The Manhattan U.S. attorney said Hotton had fabricated a story about having $4.5 million in financing for "Rebecca: The Musical," but that it was all a sham that allowed Hotton to pocket $60,000 in fees.
The Hotton case makes a mockery of securities regulation and law enforcement. For starters, Hotton got a license to be a broker in 1993 even though Finra knew he'd been convicted of criminal possession of stolen property only three years before. In fact, to pull off his stolen-property caper, he forged a document that purportedly was signed by a bank official. Think of his new brokerage license as Wall Street's version of a work-release program.
While investors were losing millions as his customers, Hotton filed for bankruptcy, was the subject of a lien, and was named in 16 customer disputes. In its complaint Nov. 5, Finra said investors lost at least $5.9 million as a result of his schemes. Is anyone supposed to be surprised by that? Would you hire a broker who'd filed for bankruptcy or had a stolen-property rap?
The Finra complaint is one of those don't-know-whether-to-laugh-or-cry documents. Many of the details about how he allegedly fleeced customers have been kicking around in lawsuits filed as many as six years ago. Finra says Hotton "willfully" failed to disclose civil lawsuits against him, but does a financial regulator really need a broker to confess that he's been sued? Unlike Finra arbitrations, which are cloaked in secrecy, lawsuits can actually be found in public databases.
Speaking of arbitrations, though, Finra said in that complaint that Hotton did not disclose he had been named in a proceeding in which two investors said they'd lost $5.1 million due to his "conscious decision to intentionally defraud" them. But, according to the Finra complaint, the two investors had filed "a statement of Claim and Demand for Arbitration" with Finra itself. I couldn't immediately reach a Finra spokeswoman to get Finra's explanation as to whether the arbitration division is supposed to refer serious allegations like that to the enforcement side.
Finra did send Hotton a "letter of caution" about his failure to disclose all of his business affiliations on March 1, 2007. By that time, he'd already reported three customer complaints to Finra (two had been denied by his employers), had been fired by one firm (he said he resigned) and had that stolen-property conviction from before he was ever a broker. Those weren't enough red flags to crack down on this guy and refer him to a job at the local car wash?
Instead, we get a too-late complaint after millions have been lost by investors and a bad broker is already behind bars. On its Web page, Finra says its BrokerCheck database is part of its "ongoing efforts to help investors make informed choices." Next time you see some guy with that many red flags, don't trust that he still has a license because regulators have been doing their jobs.