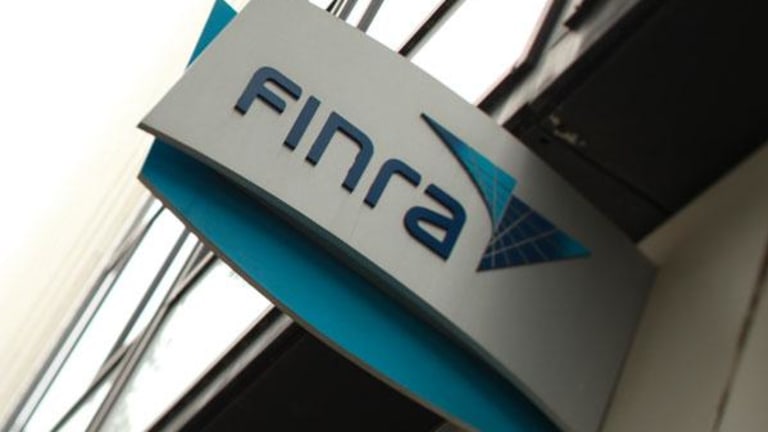 Finra Arbitrators Not Keen on Disclosing Conflicts in Private Court Proceedings
If you're an investor with a beef about your broker, you're stuck using a private court run by the securities industry instead of a normal court of law.
Investor Jake Mendel was baffled when a panel of three Financial Industry Regulatory Authority arbitrators awarded him only a fraction of the $4 million he lost at the hands of Memphis-based brokerage Morgan Keegan. And so was his lawyer, Richard Frankowski.
"When we got only seven cents on the dollar, I went nuts," Frankowski said in an interview. "And I personally started looking these arbitrators up."
What Frankowski found was troubling, but not unprecedented in the private court proceedings known as arbitration. Lead arbitrator John Allgood, who had disclosed that he was a non-partner "of counsel" to Atlanta-based law firm FordHarrison since 2001, had failed to mention that defendant Morgan Keegan did business with his firm. Morgan Keegan is now a unit of Raymond James Financial (RJF) - Get Report .
"It's the most absurd thing I've ever seen in my life" that the arbitrator didn't disclose the relationship, said Frankowski.
For three years, Mendel has been fighting to have that 2013 award vacated, but on Oct. 31, the Supreme Court said it had declined to review a federal appeals court ruling rejecting his request. (An earlier district court ruling to vacate was overturned). The case is back in the hands of a federal district court judge in Alabama, who said today, Nov. 8, that he will hear oral arguments later this month as to how the case should proceed.
Allgood told me via email that he had not been aware of the relationship with Morgan Keegan when the case was ongoing. He declined to answer when I asked if he'd requested the law firm to run a conflicts check. But his apparent failure to do so led to years of additional litigation and questions about the integrity of the panel.
Picking your judges in a securities arbitration case can be tricky business. Like the FordHarrison lawyer, some arbitrators don't thoroughly investigate and disclose whether their firms have potential conflicts with the litigants.
Others fail to tell about problems in their past or lie about their qualifications. I wrote last year about a Finra arbitrator who had been charged with a misdemeanor trespass for voyeurism, but never disclosed it. (The charge was dropped after he underwent counseling). 
Other Finra embarrassments have included an arbitrator who fibbed about the terms of his indictment and another who said he was a lawyer, but wasn't. In the latter case, a federal appeals court in Pasadena on Friday vacated an award in which the non-lawyer had been lead arbitrator. The court said the customer's right to a fair hearing had been prejudiced after the fellow impersonated another California man who was a real lawyer and had the same name.
At a conference last month, an association of lawyers who represent investors swapped stories about the research they're forced to do given the problems that aren't always apparent in an arbitrator's official Finra profile.
Miami lawyer Jeffrey Kaplan told me in an interview that he takes the time to comb through social media and other websites looking for clues on possible arbitrator bias. "It's pretty amazing what people expose about themselves and how they think," he said. "The big message is 'Don't rely solely on the arbitrator's disclosure.'"
Sometimes that research reveals information that, in Kaplan's view, might bode well for the investor. In one case, Kaplan checked student reviews of a university professor who was on a list of potential arbitrators and discovered that she was considered a "flaming liberal." Another arbitrator revealed a liberal bent in his posts on Twitter, where he slammed the National Rifle Association.
Along with online research, Kaplan and other lawyers at last month's annual meeting of the Public Investors Arbitration Bar Association keep each other informed about red flags that come up in their personal experiences with arbitrators. Kaplan, for example, has warned colleagues about a problematic arbitrator he met at a bar association event in South Florida several years ago.
When Kaplan struck up a conversation with the man, who was serving as an arbitrator on several Finra panels evaluating investor complaints about losses in Puerto Rican bond funds, Kaplan was stunned to hear his take on the investors bringing the cases.
"He told me that claimants in these cases need to be beaten down with low awards so that they start getting more reasonable in settlement talks," Kaplan recalled. "I was blown away."
The man had been assigned to one of Kaplan's cases, so he moved to disqualify him. "He ended up withdrawing from the panel and I now strike him from every list" of potential arbitrators, Kaplan said. "He'd shown to me that he prejudges in a very horrendous way, so he will never be on a panel of mine again."
And then there was the arbitrator who learned that Kaplan's co-counsel in a case was the son of a famous National Basketball Association coach. "In the hallways during breaks, he said to the other arbitrators 'I love that guy's dad -- I can't believe I'm getting to talk to him,'" Kaplan recalled. He even told Kaplan's colleague that he'd take him out to dinner if he'd pick up some "great tickets" for him.
He got kicked off the panel.
New York lawyer Adam Gana said that he had to file an emergency motion with Finra on the eve of an arbitration last year asking that arbitrator Cirino Bruno be removed from a case against brokerage firm Rockwell Global Capital. Cirino was associated with the law firm Gusrae Kaplan & Nusbaum from 1977 to 2013, Gana said, and Gusrae had represented the defendant firm in several arbitrations and a court case.
Martin H. Kaplan, managing member at Gusrae, said that Bruno hadn't been associated with the firm since 2008, but did remain "of counsel" to Gusrae through 2013. Kaplan said the first he'd heard about the issue was when he received my email last week.
Cirino recused himself after Gana's objections. He did not respond to inquiries via LinkedIn.
Finra in September published an article citing the Mendel case as a cautionary tale for "of counsel" and all lawyers serving as arbitrators to use their firms' conflict check systems to find and disclose potential problems.
"We constantly remind arbitrators about the importance of disclosure," said Finra spokeswoman Michelle Ong.
It's not a good sign that some of those arbitrators aren't very good listeners.