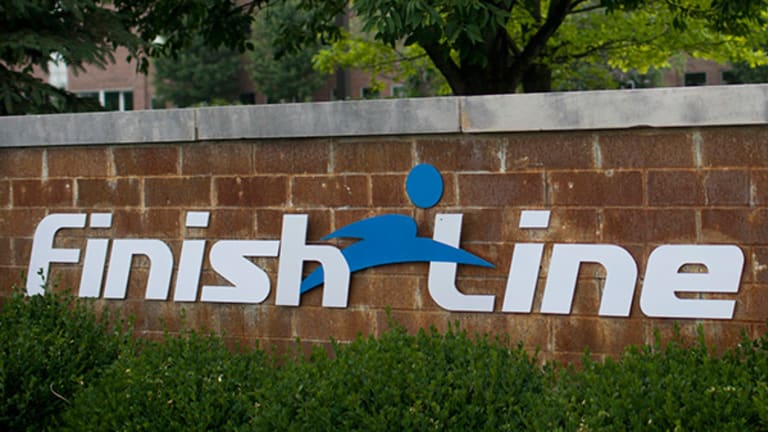 Finish Line Running to Runners as a New Super Loyal Customer Base
Finish Line gets 89% of sales from footwear and 70% from the Nike brand. Here's why new diversification and nearly 60 more retail outlets will help going forward.
NEW YORK (TheStreet) -- Finish Line (FINL) has long targeted the footwear needs of consumers across America via its hundreds of mall location stores. Now, the specialty footwear company is focusing on one of the most loyal footwear shopper demographics, runners.
A 2011 partnership that began with Finish Line and Gart Companies is turning into a full time deal for Finish Line. The companies announced that Finish Line increased its ownership stake in Running Specialty Group. This chain has 57 running stores in 12 states and Washington D.C., operating under names like The Running Company, Run On, Blue Mile, and Boulder Running Company. The company also owns the Web site run.com.
With an increased ownership stake in Running Specialty Group, Finish Line believes it can do a better job of in-store service and inventory, and in return increase sales. Early sales ambitions are very optimistic. In 2013, The Running Specialty Group had annual sales of $50.2 million. Finish Line sees that number soon rising to $300 million to $400 million.
For Finish Line and its investors, this deal is incredibly worthwhile. Finish Line is expected to post full year sales of $1.8 billion in fiscal 2015, an increase of nearly 10%. The additional revenue from the Running Specialty Group and the growing sales from an in-store partnership with Macy's (M) - Get Macy's, Inc. Report is taking Finish Line past the $2 billion mark sooner than expected.
Finish Line is incredibly reliant on footwear, specifically from Nike (NKE) - Get Nike Inc. Report to operate its business. The new deal should help diversify some business operations. In fiscal 2014, footwear made up 89% of total sales for Finish Line. Specifically, Nike branded footwear and items made up 70% of total sales. At Running Specialty stores, footwear made up 63% of annual sales, as the stores also sell merchandise and other run related apparel.
Finish Line believes the specialty stores cater to an older, more diverse customer base. The deal will also help running shoe brands like New Balance, Oasics, and Saucony. Runners are incredibly loyal to their shoes and willing to pay extra money for comfort and technology. This bodes well for The Finish Line and its operating margins.
Finish Line should see a huge sales improvement from its stake in Running Specialty Group. The company has placed Bill Kirkendall as president and runner of day to day operations. Kirkendall served on the Finish Line board of directors from 2001 to 2014. Kirkendall also has been a CEO of several companies and has experience with brands like Puma.
Running Specialty Group doesn't have the scale of the 850 mall based Finish Line stores. The segment won't be able to put up $1.5 billion in sales anytime soon. However, the specialty segment will continue to see growth and strong margins, that bring future revenue and earnings growth to this footwear and retail company.
Finish Line trades with a market capitalization of $1.4 billion. This is well under annual sales that are approaching $2 billion. Shares have increased 5% in 2014, but are up 38% from a year ago.
>>Read More: What's New at This Year's Taipei Computer Show? Nothing
>>Read More: This Housing Play May Be Overlooked
>>Read More: Here Are the Big Video Games That Will Unveil at E3
At the time of publication, the author held no positions in any of the stocks mentioned.
Follow Chris on Twitter @chriskatje
This article represents the opinion of a contributor and not necessarily that of TheStreet or its editorial staff.