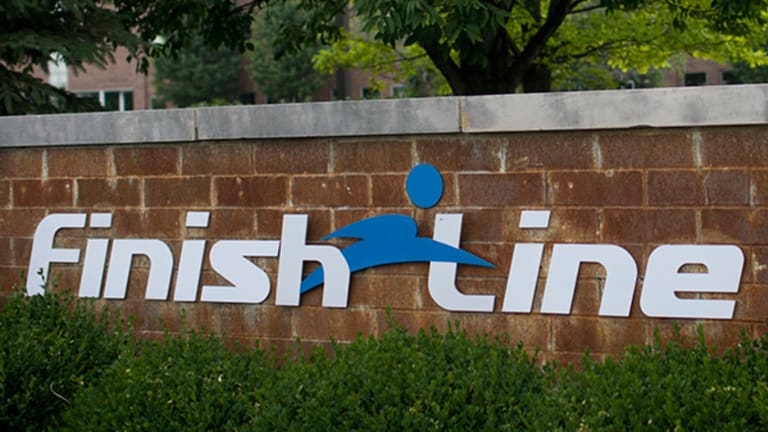 Finish Line One of Four Stocks Crushing This 'Ben Graham Screen'
Four stocks the late legend would love are trouncing the S&P 500.
Editor's Note: This article was originally published on Real Money on March 28.
The four stocks that my Ben Graham screen uncovered back in November are all in positive territory and up about 11% on average -- way better than the roughly 2% drop that the S&P 500 has seen since then.
Graham, a late legend among value investors, developed his "Stock Selection Criteria for the Defensive Investor" before I was even born. But while some consider his theories antiquated, I believe they not only remain relevant but can actually deliver solid stock picks today.
By way of a refresher, below are the criteria that my "Ben Graham" screen uses. Some diverge from Graham's original criteria due to data limitations and/or changes in the U.S. dollar's value since 1973. However, I've successfully used this version of the screen for many years:
Adequate size. A company must have at least $500 million in sales on a trailing 12-month basis. (Graham used a $100 million minimum and at least $50 million in total assets.)
Strong financial condition. A firm must have a "current ratio" (current assets divided by current liabilities) of at least 2.0. It must also have less long-term debt less than working capital.
Earnings stability. A business has to have had positive earnings for the past seven years. (Graham used a 10-year minimum.)
Dividend record. The company must have paid a dividend for the past seven years. (Graham required 20 years.)
Earnings growth. Earnings must have expanded by at least 3% compounded annually over the past seven years. (Graham mandated a one-third gain in earnings per share over the latest 10 years.)
Moderate price-to-earnings ratio. A stock must have had a 15 or lower average P/E over the past three years.
Moderate ratio of price to assets. The price-to-earnings ratio times the price-to-book ratio must be less than 22.5.
No utilities. Utility stocks are out.
While this screen revealed just four names back in November, that small group is handily beating the S&P 500. Let's check them out:
Finish Line (FINL)
This sporting-goods retailer has been the strongest of the screen's four names, rising 23% since November. However, Wall Street isn't particularly enamored with FINL, as the stock is still down some 34% from last summer.
Finish Line last week announced better-than-expected fourth-quarter earnings of 83 cents per share vs. the 80 cents that analysts had expected. Quarterly revenues also beat forecasts, coming in at $580.3 million vs. the $567.8 million analysts had called for.
However, FINL disappointed investors by lowering fiscal 2017 earnings guidance to $1.50 to $1.56 a share compared to the $1.70 consensus that analysts had been predicting.
The Rest of the Portfolio

As for the screen's three other names, Corning (GLW) - Get Corning Incorporated Report is up about 10%, while Helmerich & Payne (HP) - Get Helmerich & Payne Inc. Report has risen about 7% and Joy Global (JOY) is up 4%.
That's not bad so far.
The Bottom Line

I'm somewhat pleased with this screen's results to date, but we'll need more time -- at least a full year -- before declaring victory or defeat.
Until then, I'll continue to monitor these four stocks going forward. I'll also reveal some new Graham-like "contenders" in one of my upcoming columns.
At the time of publication, Heller was long GLW, although positions may change at any time.