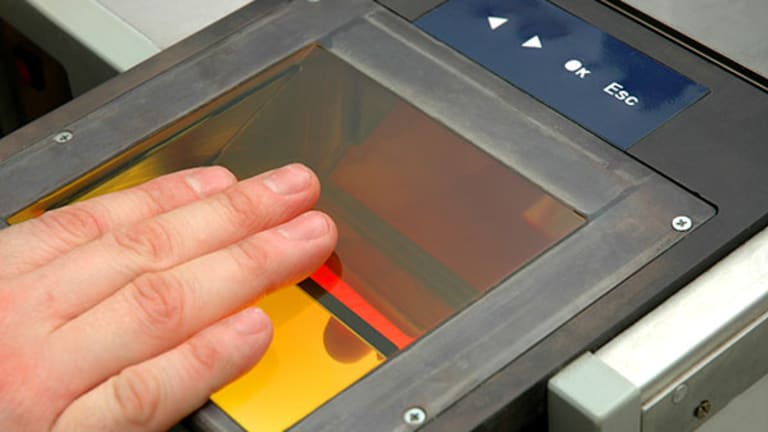 The 5 Best Ways to Protect Your Financial Data From Crooks
A host of other biometrics are competing to become the dominant security method in the financial-services industry.

NEW YORK (TheStreet) -- Fingerprint authentication has become the go-to technology for Apple (AAPL) - Get Apple Inc. (AAPL) Report and Samsung (SSNLF) devices. But there are a host of other biometrics -- from eyeball scans to voice and facial recognition -- that are competing to become the dominant security method in the financial-services industry.
"It's premature to declare fingerprints the winner," said Gil Mermelstein, a managing director with technology-focused consulting firm West Monroe Partners.
Security experts agree that biometrics will play a crucial role in replacing passwords in everything from brokerages to bank accounts. The question is which technology will prove to be the best. 
 "Fingerprints are the easiest method today, but all of these methods will grow as banks utilize multiple authentication techniques to achieve higher levels of security," said John Gunn, a vice president at Vasco Data Security in Chicago.
Why not just crown fingerprints the winner? Experts acknowledge that swiping a finger is straightforward and easy to do. The downside: There just are many times when fingerprints will fail. Perspiration on a finger usually produces false readings. Ditto for when a finger is cold. The durability of fingerprint readers, too, is an unknown, experts said. No one is urging that fingerprints be ignored, just that other approaches warrant investigation.
Which will win? Most experts think there will be a combination of technologies.
"The next winners in biometrics will be multiple biometrics," predicted John Zurawski, vice president at Authentify, a Chicago-based authentication company.
Here's a look at some of the alternatives.
A host of startups and small companies are flocking into voice authentication. One reason: Accuracy is way up, said Pat Carroll, executive chairman of ValidSoft, a London-based voice-authentication company.
"Even two years ago, we wouldn't be having this conversation," said Carroll who claimed accuracy of voice prints has jumped from 98% to 99.9% accuracy during the past couple years. Carroll said an ideal use case for voice is a call into a customer-service center at a bank.
"Rather than asking security questions -- your mother's maiden name -- we can ask ordinary questions and authenticate the caller that way."
Voice prints also can be gathered passively -- without conscious user involvement, which cannot be said of fingerprints at this point -- and that's another reason voice is getting trials, especially in financial services.
There's also at least one big player in voice: Nuance Communications (NUAN) - Get Nuance Communications, Inc. Report , which has said it has 45 million enrolled voice-authentication users at companies such as Barclays (BCS) - Get Barclays PLC Sponsored ADR Report and T-Mobile.
Facial recognition
A flock of smaller companies have targeted using facing recognition tools to authenticate. One leader is FacePhi Biometrics. The idea behind facial recognition is that, when logging in, a user can deploy a smartphone camera to do a fast facial scan that is matched up with the face on record. FacePhi has lined up Grupo Mutual, a Costa Rica bank, as an initial deployer.
Also in the race is Shelton Conn.-based NXT-ID with its MobileBio face match. The argument is that users -- at banks, for instance -- can be passively enrolled and, then, authenticated without much active involvement.
Eyes
Samsung, Sprint (S) - Get SENTINELONE, INC. Report and Wells Fargo (WFC) - Get Wells Fargo & Company Report are early investors in Kansas City, Kansas-based EyeVerify, a company that has created technology that uses the blood vessels in a person's eye to authenticate identity.
A few years ago, EyeVerify's technology required holding a smartphone and its camera in a particular place and positioning the eye appropriately. No more. With the so-called EyePrint 2.0, "you simply look at the phone," said Toby Rush, the company's CEO.
"We can authenticate a user passively," he added. "You can't do that with a fingerprint."
Rush also said that fingerprint reader technology is pricey -- numbers as high as $10 per unit are thrown around with the iPhone 6, although no exact number is confirmed. With EyeVerify, however, the user simply uses the camera on his phone.
"This is a huge cost savings to a bank," Rush said. Isn't there a creepiness factor with imaging the eyeball? Certainly there had been, but Rush said, "Selfies are helping us so much. People are getting used to photographing themselves. They think it's fun."
User behavior
Each of us interacts with devices in a way that is as distinctive as voice or fingerprint--perhaps more so.
That's the thinking that underlies BioCatch, a Boston-based startup that claims a number of top global banks as customers, although it declined to name names.
Len Crosson, vice president of sales, said BioCatch profiles hundreds of ways in which we interact with devices. How we click a mouse, for instance, or where we click a log in button. Typing speed, methods for paging forward, and other markers all are grist for BioCatch.
The company claims its tools can detect when a robot is masquerading as a user. It also claims big drops in fraudulent account access by criminals. A plus: user behavioral data is collected passively and authentication occurs behind the scenes.
At the time of publication, the author held no positions in any of the stocks mentioned.
This article is commentary by an independent contributor, separate from TheStreet's regular news coverage.