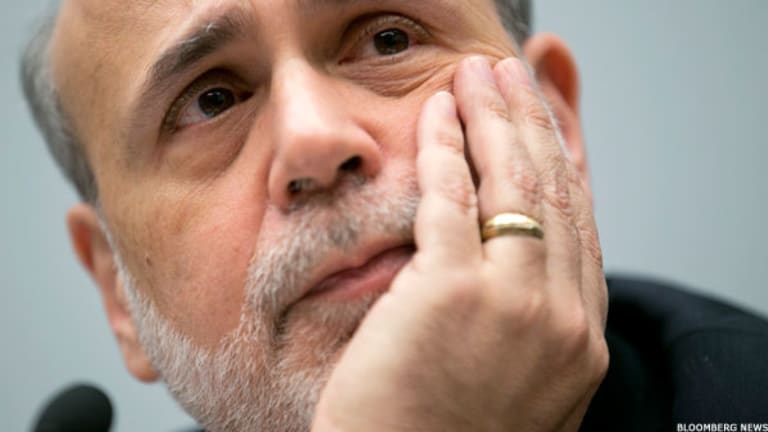 Finding the Next Procter & Gamble
The Fed's words or any unexpected bad news overseas could trigger a market correction. It might be time to move into other sectors including insurance and technology.
NEW YORK (TheStreet) -- In the category of "Things That Go Bump in the Night," I'm beginning to sense an opportunistic shift happening in the stock market right now under our noses and under the radar".
There's been plenty of media hype about the possibility of interest rates rising as investors continue to dump bonds and buy stocks with good dividends. That's driven companies like
Procter & Gamble
(PG) - Get Procter & Gamble Company Report
up to new 52-week highs.
Investors have been chasing yield and that's partly why the blue-chip stock dividend payers including PG and
Johnson & Johnson
(JNJ) - Get Johnson & Johnson (JNJ) Report
have been driven upward to unsustainably high price levels.
The
Federal Reserve
and Chairman Ben Bernanke will factor into this equation beginning Wednesday. That's when he'll make yet another policy announcement after the Federal Open Market Committee meeting.
The wording of this announcement might trigger a short-term stock market correction, especially if the Fed injects any uncertainty about interest rates.
The Fed told investors repeatedly it'll keep the federal funds rate at 0% until the U.S. unemployment rates falls to 6.5% from its current level at 7.7%. Even a hint of waffling on that promise could cause a selloff in what I call the "Dividend Dynasty Stocks," or DDS. If you're an investor you probably own some of them.
So I'm suggesting the possibility of a temporary sector rotation out of the high-flying DDS-type equities and into sectors where stock prices haven't gone ballistic yet. On his TV show "Mad Money", Jim Cramer referred to this possibility as well and identified some sectors that may benefit from such a sector shift.
Jim Cramer and Stephanie Link actively manage a real money portfolio for his charitable trust --enjoy advance notice of every trade, full access to the portfolio, and deep coverage of the latest economic events and market movements.
Jim mentioned the financials, the insurance companies and even the transportation sector. It may be true the next PG-style investment opportunity may be in a laggard such as
Prudential Financial
(PRU) - Get Prudential Financial, Inc. Report
. PRU provides a range of insurance, investment management and other financial products and services to both individual and institutional customers in the United States and internationally. (By the way, PRU wasn't on Jim's list during his telecast.)
PRU is selling at a little less than seven times its forward (one-year) expected earnings and has a price-to-earnings-to-growth (PEG) ratio of only 0.58, which usually indicates undervaluation. If an overall stock market correction brought PRU's stock price down to its March 1, 2013, intraday low of $54.29, the dividend yield-to-price would rise to nearly 3%.
When you consider that PRU is selling for less than book value and that its last quarter revenue growth was a stellar year-over-year 293% increase, the following one-year price chart looks very promising.
data by
Another sector that is looking undervalued is technology. When an investor looks at legacy companies like
Microsoft
(MSFT) - Get Microsoft Corporation (MSFT) Report
with its nearly 3.3% dividend and trading at just nine times forward earnings, one could envision a one-year total return of 25 to 30%.
MSFT will report its current quarterly earnings on April 18, less than a month from now. Did you know the analysts' consensus average earnings estimate is anticipating an EPS increase of around 28%? The same group of around 30 analysts expect sales growth and revenue to increase by over 19%.
As the one-year chart suggests, there is plenty of upside potential for Microsoft's share price. If it was to exceed the analysts' estimates then we may see a prettier picture than the one below.
data by
Yet another technology company that could be investors "next PG" is also a
Nasdaq 100
stock that short-sellers like to short.
KLA-Tencor
(KLAC) - Get KLA Corporation (KLAC) Report
designs, manufactures, and markets process control and yield management solutions for the semiconductor and related nano-electronics industries.
KLAC also serves the light emitting diode (LED), data storage and photovoltaic industries, as well as cutting-edge materials research for the microprocessor industry. It pays a sustainable (37% payout ratio) dividend of 3.12% based on a share price of $51.35. A quick and unexpected market correction may see KLAC's stock price temporarily drop below $49, which would increase the yield-to-price.
The following one-year chart illustrates how far this productive company has rebounded. Over the past few weeks the share price has been correcting, making for favorable buying conditions.
data by
This major player in the semiconductor industry had, as of the end of 2012, $2.58 billion in total cash and operating cash flow (TTM) of over $858 billion. KLAC management guided conservatively for 2013 and if it can surprise to the upside on revenues and EPS (as it did three out of four quarters in 2012) the stock may surge. This would be accelerated by the potential of a short-covering squeeze.
So be listening carefully to Ben Bernanke's Fed policy statement after the FOMC meeting ends on Wednesday. His words or any unexpected bad news overseas could trigger a market correction. The DDS equities may go down along with any stocks trading at high multiples to earnings.
To find the next Procter & Gamble, an investor has to think outside the box and have a prescient, analytical approach. Very few saw the potential for PG to trade above $77 during the first quarter of 2013. Those who look for the inconspicuous among the sectors that have lagged may find the next one.
If you own high-flying dividend-payers like JNJ or PG, let me offer a cautionary word to the wise. Whether you own shares of a stock that trades for $770 or for $77 a share, you'll want to remember rule #1 of investing
Don't lose money"
. Using a stealth trailing stop loss alert system can help you manage downside risk while striving to let your winners run.
It behooves all traders and investors to know what a trailing stop loss is and how to use one that the Market Makers can't see or pick off. This way you have more control over your investing results, and my experience has taught me that it lets us invest hoping to find the next PG yet keeps us focused on rule #1.
At the time of publication the author was long MSFT.
This article was written by an independent contributor, separate from TheStreet's regular news coverage.
Most large-cap stocks were once small- and mid-cap stocks. Bryan Ashenberg is here to help you find the cream of the crop amongst the market chaos.