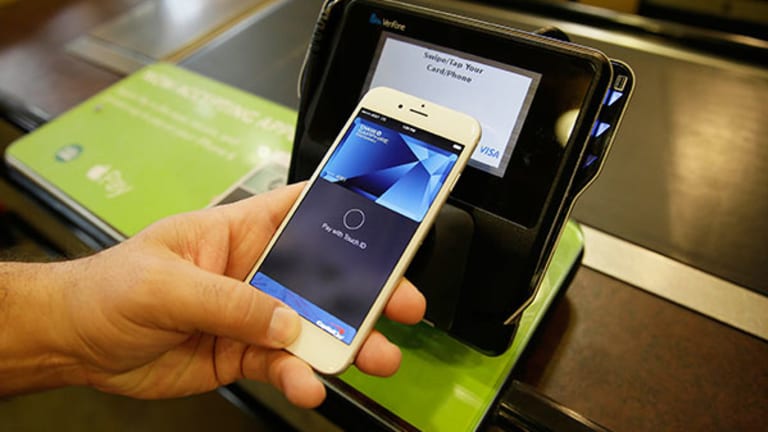 Financial Services Technology (FinTech) Has a Lot of Room to Run -- Invest Now
Apple Pay has spurred the latest round of growth in this important area.
NEW YORK (TheStreet) -- Financial services has been a laggard in integrating information technology profitably with operations. As such, it currently offers great investment opportunities. New developments in how people interact with money and technology are spurring these opportunities. 
Major companies have now made commitments to the field of financial services. Take Apple (AAPL) - Get Apple Inc. Report, with Apple Pay, along with all the other players that have jumped on board show that interest is really growing.
Over the past year plans were put in place to split PayPal from eBay (EBAY) - Get eBay Inc. Report in order to better compete in this area and just recently Facebook (FB) - Get Meta Platforms Inc. Class A Reportannounced that it was getting into the money transfer business.
It is not insignificant that one hears that Larry Summers, former Secretary of the U.S. Treasury, John Mack, former head of Morgan Stanley (MS) - Get Morgan Stanley Report, Mary Meeker, of Kleiner Perkins, Vikram Pandit, former CEO of Citigroup (C) - Get Citigroup Inc. Report, and Mohamed El-Erian, former CEO of Pimco, among other well know names have gotten heavily involved in this space.
Investment is growing. It was just noted this week in the Financial Times that in 2014 investment in financial technology firms tripled in size from 2013. In the earlier year, according to Accenture, a little over $4 billion went into "FinTech," as it's known, but last year the total was over $12 billion.
Accenture included companies that offer technology for banking and corporate finance, capital markets, financial data analytics, payments, and personal financial management as members of the FinTech group.
Investment in this space could double this year to somewhere near $24 billion. This is not insignificant. And, the growth will continue on from there.
More information is coming out that customers are actually using the new technology. The payments business started to explode once Apple Pay was introduced. Although PayPal and others had kicked things off, there was not a rush to use these tool until Apple entered the market. The split off of PayPal and the fact that Facebook is entering the fray just underscores the growth taking place in this area.
Peer-to-peer lenders, like Lending Club (LC) - Get LendingClub Corp Report, are setting the pace for new opportunities for borrowers to raise money. More high-level technological types are seeing major openings for new companies and are entering the field.
And, as general knowledge and use of these areas grow, bank customers are beginning to open up and use other tools that have been available, but had not caught on. The Wall Street Journalreports on the pickup in the use of smartphones to complete banking transactions.
This will continue to increase and the growth will be substantial.
What's going on here is typical of how the use of information technology has expanded in other areas.
In teaching a graduate-level course called "Emerging Topics in Information Science" in the engineering department at Penn State University, I learned that even those who are younger and more in-touch, like my twenty-something students, could sometimes be skeptical of the very latest changes in technology happening all around them. 
I told them to look at what the teenagers they knew were doing. These teenagers were soon going to be the twenty-somethings in the marketplace and that their behavior would inform new systems being developed more so than the trends among their peers.
Many of those teenagers have never been into a bank. To them, information technology is ubiquitous. The current banking system is never going to satisfy them. And, then look at the next group that will follow them. Their older siblings and friends will be the digital natives who are totally fluent with a completely digital banking system.
This is what the financial services industry is going to have to deal with. And, it is here that we need to look for new investment opportunities. We need to look not only to those that are creating the new technology, itself, but to those that are looking to change the business model for financial services.
This article is commentary by an independent contributor. At the time of publication, the author held no positions in the stocks mentioned.