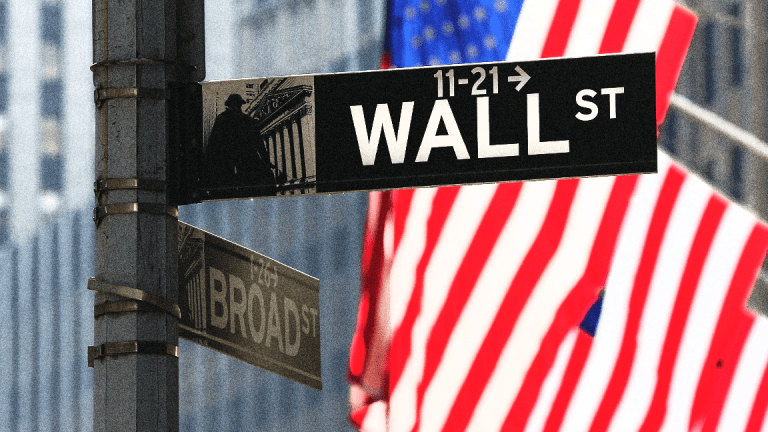 Financial Dip Could be Opportunity; Vitamin Shoppe Poised to Sell Assets--ICYMI
Here's what you need to know now for Tuesday, Feb. 27.
Well, thanks Jerome. The Dow tumbled more almost 300 points after newly minted Fed Chair Jerome "Jay" Powell hinted that the central bank would stick with gradual interest rate increases, though he also hinted that there may more rate hikes than initially anticipated.
While the rate hike discussion dragged down all 12 major sectors, the positioning from the Fed could make that 1% decline in the financial sector an attractive dip to check out Action Alerts PLUS names JPMorgan (JPM)  , Citigroup (C)  and Goldman Sachs (GS)  .
But the big boys aren't the only ones that should enjoy gains as the economy continues to improve and rates move higher.
In talking to an analyst today on a relatively small California bank deal, the windfall from both tax cuts and increases to interest rates may be even more pronounced for smaller regional banks like PacWest (PACW)  or CVB (CVBF)  , which just did the deal I referred to earlier, and the super regionals in BB&T (BBT)  or Regions Financial Corp. (RF)  .
Elsewhere, the retail sector enjoyed a rare bright spot, as shares of Macy's Inc. (M)  ticked higher after the retailer released strong fourth-quarter earnings. A surprising quarter, I'd say, for a retailer that many had left for dead.
What shouldn't have been a surprise is the stinker of a quarter that Vitamin Shoppe (VSI)  posted this morning, a quarter that pushed the company's stock down more than 10%.
Again, that shouldn't have been a surprise for you savvy investors who watched the company's peer GNC (GNC)  be placed on CreditWatch by S&P a few weeks ago amid sales declines. GNC did sign a life line with a Chinese pharma company that could help things along, and Vitamin Shoppe has vowed to sell some assets to help address liquidity issues. What these maneuverings don't address is slumping sales as consumers pay less attention to typical supplements sold at GNC and Vitamin Shoppe and move toward healthier habits overall.
The need for a brick-and-mortar presence in clothing, also, makes a bit more sense than that of a supplement slinger. Just ask Herbalife (HLF) .
Before I let you go for the day, if you're looking to better understand the machinations of the cryptocurrency markets TheStreet has just the thing for you. On Feb. 28 at 1 pm ET, we are holding a webinar featuring a slew of experts designed to make "crypto just a little less cryptic." Shouts to our social media department for that zinger, but really, sign up here.
This is an excerpt from "In Case You Missed It," a daily newsletter brought to you by TheStreet. Sign up here.
Photo of the day: The team that inspired "Cool Runnings"
Sure, the Winter Olympics are over but that doesn't mean we need to stop celebrating the games. Tuesday, Feb. 27, marks the 30th anniversary of the debut of the Jamaican bobsled team. The team, made up of sprinters, would go on to inspire the 1993 movie "Cool Runnings," which grossed close to $100 million for Walt Disney (DIS) . Speaking of Disney, with the bidding for Sky now expanding to include Comcast (CMCSA) , one has to wonder what strings Disney might pull to help Fox (FOXA) seal the deal for Sky or if Disney would enter the bidding altogether. As we've said before here, content is king, and Comcast, Disney and Fox are all looking for more content. Read more
Read more from "In Case You Missed It." Sign up here.