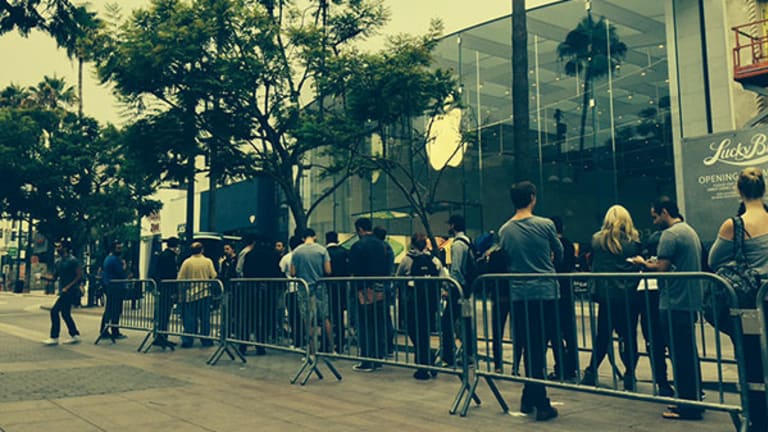 Filter This Out If You Love Apple and Like Losing Money
Investors must pay attention past the obvious as they assess Apple's current state and questionable future.
NEW YORK (TheStreet) -- Some of the comments I received to Thursday's Does Your Apple Store Smell Like Body Odor? were simultaneously troubling and telling.
They illustrate the psychological filtering that costs traders and investors money in the stock market. In fact, there's no better illustration of this than Apple (AAPL) - Get Apple Inc. Report, the ultimate emotion-driven battleground stock.
Although they represent a tiny fraction (way less than 1%) of total readership, I don't completely discount article comments because, while sometimes disturbing, they're often telling.
Go read them. Scroll to the bottom and watch grown men and women portray themselves as buffoons.
Something I wrote last summer -- in an article that, suddenly, proves prescient -- applies to the present dustup:
... most people who complain about outrageous headlines don't actually have a problem with the outrageous headline. They just use the spectacle of the headline to project annoyance with an argument their psychological filters keep them from considering.
But the "body odor" article takes it a step farther.
A handful of intellectually handicapped souls can't get past the discussion of body odor in a public forum. They don't expect to see it on a financial media Website so they're immediately offended.
If it's not a case of outrage or, in some instances the giggles, that got them, it's just that the article was written about Apple. Had I used the notion of a stinky retail store as a springboard to trash Microsoft (MSFT) - Get Microsoft Corporation Report, it would have been all good. Fist pumps and chest bumps all around.
To set the record straight ... I published the story because Apple Store employees in Santa Monica confirmed the stench indeed exists and is a problem. One they're aware of and would like to see fixed.
Who wouldn't?
If you don't think the story applies to AAPL as an investment, you're not proceeding critically or with caution.
To reiterate a few points ...

Walk through one of the nicer Vegas casinos. It's not like it was 10-20 years ago. You can barely smell the smoke and whatever else permeates that scene. To turn the other cheek to an odor problem at Apple ignores the very real concern that the company is not what it once was. A concern that directly informs the notion of AAPL as an investment in the near- and/or long-term.
Of course, some of the stores stunk under Steve Jobs. But that's not the point. The point is that if you learn from the past and, more importantly in Apple's case, really do take pride in attention to detail, prominence as a tech company and control over your brand, you would pull out every stop to ensure the best possible atmosphere/environment in your retail stores, especially brand new ones in affluent enclaves such as Santa Monica.
It's just beyond comprehension that Apple, of all retailers, would allow something like this to fester. And that its supporters would act as if it's an immaterial issue. This is freaking Apple! Not Best Buy (BBY) - Get Best Buy Co., Inc. Report, a store you would expect this type of thing from.
And don't blame it on the Santa Monica homeless. They're hardly a problem at this part of The Third Street Promenade where Apple moved. Plus, it's not a homeless smell. It's standard fare B.O. that's not being properly filtered by Apple, the world's leader in tech and innovation.
In its brief editorial comment to a reposting of my article, MacDailyNews said it best:
Browettized.
Many Apple scribes and talking heads spent the entire 18 months Apple went with either John Browett or his identical twin, Nobody, as the head of retail lamenting how incredible it was that Tim Cook dropped the ball on replacing Ron Johnson. So now you're going to tell me that something that went down, by and large, during that 18-month period, is inconsequential?
That I shouldn't bring it up. That it somehow doesn't matter as we ponder Apple's uncertain future.
Step out of the mindset of here's what I expect to see from 'TheStreet' or elsewhere in the financial media and consider how real world -- often messy, tense or otherwise uncomfortable stuff -- impacts companies and, in turn, investments.
The best comment I received to this came via email from a person who knows Apple quite well, but must remain nameless:
In any case, from my experience, your article is going to force heads to roll at 1 Infinite Loop.
And they absolutely should. If Apple wants to know who talked at the Santa Monica Store, I'll tell them. But only with the written guarantee that these employees will receive raises for breaking the Apple handbook. It's the people in corporate who deserve heat for something there's no excuse for.
First it's the antithesis of what we expect from Apple -- expressly because of the image Apple creates for itself.
Second, and maybe more importantly, with a little more attention to detail and obsessiveness over that image, it could have been easily avoided.
For the record, I have reached out to Apple for comment. They have not replied. If they do, I'll let you know.
And, for the record-squared, I'm not an Apple "basher," particularly post-earnings ... just check my article history.
There's meaningful nuance between being critical, being negative and flat out bashing -- it's important to discern the differences as you consume (and filter) pieces of information to do a whole host of things, not the least of which is make investment decisions or comment on something you saw on the Internet.
--Written by Rocco Pendola in Santa Monica, Calif.
Disclosure: TheStreet's editorial policy prohibits staff editors, reporters and analysts from holding positions in any individual stocks. Rocco Pendola is a columnist for
TheStreet
. Whenever possible, Pendola uses hockey, Springsteen or Southern California references in his work. He lives in Santa Monica.