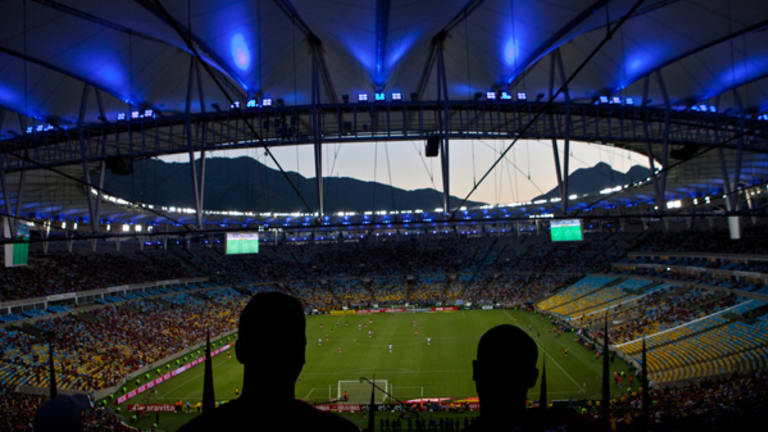 FIFA World Cup Still a Huge Draw Without U.S. Team
Until this year, the most-watched World Cup broadcast in U.S. history didn't feature the U.S. men's national team. Soccer's young U.S. audience is getting more worldly.
PORTLAND, Ore. (TheStreet) -- Now that the U.S. has lost to its hated nemesis Belgium despite goalkeeper Tim Howard doing everything short of building a wall in front of the net, U.S. viewers are done with the World Cup, right?
No, and this year's surge in interest has little to do with it -- but doesn't hurt.
ESPN, owned as a joint venture between Disney (DIS) - Get Walt Disney Company Report and Hearst, averaged 3.54 million viewers through the first 48 matches of the 2014 World Cup in Brazil, up 46% from the 2010 World Cup and more than double the audience for the early rounds in 2006. Univision, meanwhile, averaged a network-best 2.9 million viewers for each of those same 48 matches. The U.S. men's national team, meanwhile, averaged nearly 18.3 million on ESPN and Univision combined for its three opening-round matches, with the 24.7 million audience for its match against Portugal making it the most-watched opening-round World Cup match in U.S. history. Aided by a 0-0 draw through regulation, the heroics of Howard and a late goal by 19-year-old Julian Green, even the U.S. loss to Belgium in the Round of 16 drew 16.5 million viewers to ESPN alone and 21.6 million to ESPN and Univision combined. Throw in ESPN and Univision's digital audiences and that viewership soars to 28.2 million, which would be the largest viewership for soccer in U.S. television history.
U.S. World Cup Is An Iffy Investment
5 Biggest Countries Missing The World Cup
Money Talks In Spanish During U.S.-Televised World Cup
As ESPN, Univision and ABC have discovered, however, their combined $425 million investment in the U.S. broadcast rights for the 2010 and 2014 World Cup have paid dividends far beyond what the U.S. men's national team could produce. Until this year, the most-watched World Cup match in U.S. history was the 2010 World Cup final between Spain and The Netherlands on ABC and Univision. That combined television audience was the largest ever for a U.S. soccer broadcast and easily overshadowed the 19.4 million who watched the Round of 16 matchup between the U.S. and Ghana that year -- which was the most-watched U.S. national team match to that point.
It was a viewership so large that it outperformed ABC's broadcast Ohio State/Oregon Rose Bowl (24.04 million) that year. It also outdrew the 2010 men's college basketball national championship game between Duke and Butler (23.99 million) on CBS (CBS) - Get CBS Corporation Class B Report, the Winter Olympics closing ceremony on NBC (21.4 million) and a whole lot of prime-time Winter Olympics coverage including the he U.S./Canada men's hockey gold medal game on NBC (18.3 million). It was an audience 10 million viewers larger than that year's average viewership for Major League Baseball's World Series (14.3 million) and easily larger than the average draw for both the National Basketball Association and National Hockey League finals.
That's a huge number, but it isn't unprecedented. As early as the U.S.-hosted World Cup in 1994, 18.1 million viewers tuned in to watch the final matchup between Brazil and Italy. At the time, that was still a smaller audience than the average for the 1993 World Series (24.7 million), but it was still unprecedented for soccer. The 17 million U.S. viewers who tuned in for 2006 World Cup final between Italy and France didn't set any records, but they were the first U.S. World Cup audience to outdraw the World Series average. That year's matchup between the St. Louis Cardinals and Detroit Tigers pulled in only 15.8 million viewers, on average.

This year's numbers have only solidified the World Cup's star status regardless of which teams take the pitch. A combined 9.5 million viewers watched host nation Brazil's opening match against Croatia on ESPN and Univision, falling just short of the 12.6 million viewers who tuned in to Game 4 of the NBA Finals later that night on ABC. ESPN's opening-match viewership was 49% greater than its audience for the 2010 World Cup and a bigger crowd than any World Cup opener in the last 20 years. Univision, meanwhile drew nearly triple the amount of viewers that NBC did with the early rounds of golf's U.S. Open that same day. The combined ESPN/Univision World Cup opening match coverage nearly doubled the 5.5 million viewership of the second most-watched prime-time show on Thursday night -- CBS' Two and A Half Men.
Later in the tournament, a whopping 11 million U.S. viewers would tune in on a Tuesday to watch Mexico play Brazil to a draw. That's an audience not only considerably larger than the 5.8 million the National Hockey League averaged per game for its Stanley Cup finals, but it's equal to the number of viewers who watched the 2013 Major League Baseball All-Star Game on Fox (FOXA) - Get Fox Corporation Class A Report. When Mexico made it to the Round of 16 and narrowly lost to The Netherlands, 17 million U.S. viewers tuned in. Again, for perspective, that's the same number of U.S. viewers that watched the World Cup final in 2006 and larger than the crowd of 16.5 million that watched the U.S. team's final group stage match against Germany.
It's no fluke, and U.S. broadcasters know it. The $425 million Fox paid for the English-language rights to the 2018 and 2022 World Cup is equal to the value of the English- and Spanish-language World Cup broadcasts in 2010 and this year combined. Comcast-owned Telemundo had to pay $600 million just to wrest the Spanish-language rights for those same events away form Univision.
Why, because the U.S. soccer audience is not only growing, but worldly. Major League Soccer's television ratings are on par with WNBA broadcast and TBS reruns, but NBC's broadcasts of English Premier League matchups on Saturday morning have managed 438,000 viewers per match this season. That's up from 220,000 on Fox and ESPN in 2012 and includes 1.2 million for a Cardiff-Swansea match, 1.1 million for a tilt between Swansea and Manchester United, and 1 million for Man U-Crystal Palace matchup. In total, 4.9 million U.S. viewers tuned in for the last day of EPL matches and averaged 1.8 million per match, up from 869,000 last year.
Those big matches regularly outpace Fox's Saturday baseball game of the week, which is why NBC had no problem shelling out $250 million for just two seasons of EPL action. Fox struck back by securing rights to UEFA Champions League and CONCACAF Gold Cup matches through 2015, while ESPN invested in both the European Championship and in Liga MX matches out of Mexico. Al-Jazeera'sbeIN, meanwhile, holds both the Spanish- and English-language rights to Spain's La Liga and put in a competing bid for the Premier League rights.
Why? Because the kids are watching. Children 17 and younger made up 4.6% of the 2013 World Series audience on Fox -- which had an average age of roughly 54. NBC's 2013 coverage of English Premier League soccer drew 11% of its audience from that age group. That generation is a big reason why sales of Electronic Arts' FIFA Soccer video game series in North America have soared from 1.52 million copies in 2010 to 2.36 million last year. They're not only fans of the game, but get more regular exposure to global stars like Lionel Messi, Neymar, Arjen Robben and Wayne Rooney through the game than they currently do through U.S. television outlets.
With Messi, Neymar, Robben, Patrice Evra, Miroslav Klose and Romelu Lukaku all advancing further in the World Cup than their U.S. counterparts, young fans and older die-hards still have plenty of reason to watch. For them, it's not over until the trophy presentation.
-- Written by Jason Notte in Portland, Ore.
>To contact the writer of this article, click here: Jason Notte.
>To follow the writer on Twitter, go to http://twitter.com/notteham.
>To submit a news tip, send an email to: tips@thestreet.com.
-- Written by Jason Notte in Portland, Ore.
>To contact the writer of this article, click here: Jason Notte.
>To follow the writer on Twitter, go to http://twitter.com/notteham.
>To submit a news tip, send an email to: tips@thestreet.com.
Jason Notte is a reporter for TheStreet. His writing has appeared in The New York Times, The Huffington Post, Esquire.com, Time Out New York, the Boston Herald, the Boston Phoenix, the Metro newspaper and the Colorado Springs Independent. He previously served as the political and global affairs editor for Metro U.S., layout editor for Boston Now, assistant news editor for the Herald News of West Paterson, N.J., editor of Go Out! Magazine in Hoboken, N.J., and copy editor and lifestyle editor at the Jersey Journal in Jersey City, N.J.