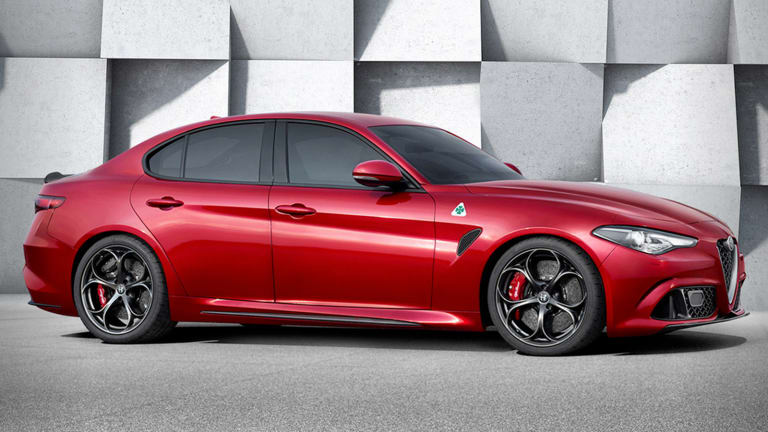 Publish date:
Fiat Chrysler Unveils New Alfa Romeo Sedan as It Spruces Up for Possible Merger
Fiat Chrysler is trying to make itself a more tempting M&A target, and the recently revealed Alfa Romeo Giulia luxury sedan is just one piece of its makeover.
Fiat Chrysler is trying to make itself a more tempting M&A target, and the recently revealed Alfa Romeo Giulia luxury sedan is just one piece of its makeover.
NEW YORK (TheStreet) -- As the world waits to see if Fiat Chrysler  (FCAU) - Get Report can find a marriage partner -- be it General Motors (GM) - Get Report or another -- the automaker is sprucing itself up to be as attractive a bride as possible. 
This week in Italy, CEO Sergio Marchionne unveiled the Alfa Romeo Giulia, a sedan designed to compete with BMW's vaunted 3 series. Marchionne outlined a 5 billion euro ($5.6 billion) capital outlay plan to develop new vehicles for Alfa Romeo, including the Giulia and seven other new models. 
By 2018, Marchionne has projected Alfa Romeo sales at 400,000 vehicles a year, including about 150,000 in North America. 
Over the past month, investors have shown relative indifference to the conversation about FCA's future. Since May, FCA shares have lost 1.7% in value, roughly in line with the Dow Jones Industrial Average. 
To the extent his forecast is deemed credible, it could prove powerful catnip to lure another automaker into a deal. Luxury automotive franchises are regarded as extremely valuable in the industry because they often generate outsize profit, compared to mainstream brands. 
Until now, Alfa Romeo joining the ranks of the BMWs and Lexuses of the world has looked more like a pipe dream. Last year, FCA fired the first salvo in the brand's offensive, the 4C coupe. The 4C, which starts at $66,000, won plaudits and strong reviews, but only 2,500 of the hand-built cars will be produced in Modena, Italy -- a number too small to make a difference on FCA's financial statement. 
The Giulia, however, could make a difference, if it's built in large numbers, shows up at dealerships on time, and commands a premium price.
Analysts are bullish about the growth prospects in the luxury category. Dealers around the world, moreover, might be willing to order a lot of them and to invest more in the retailing operations. Likewise, an automaker wishing to add a luxury franchise might decide to acquire Fiat Chrysler to get Alfa Romeo, along with Jeep, Ram pickup trucks and a few other valuable assets. 
Earlier this month, GM rejected FCA's overtures to discuss a possible merger or collaboration, saying that it wished to pursue its own strategy. GM's Cadillac luxury franchise is in a rebuilding phase, and is gaining strength in China. But the French automaker PSA Peugeot-Citroen, for example, lacks a luxury franchise; so far, it has responded coolly to speculation that it might be interested in joining forces with Fiat Chrysler, calling it "premature." 
The solution to Fiat Chrysler's problems may lie in the East, in China or perhaps in India. Automakers in those two countries have grown sophisticated and well-capitalized, with an eye toward expanding in the West. A key to that expansion is to own brands that are well-known to Western consumers. China's privately owned Zhejiang Geely Holding Groupbought Volvo in 2010 from Ford (F) - Get Report , and has invested substantially to revive the upscale Swedish brand. 
Likewise, in 2008, India's Tata Motors bought Jaguar and Land Rover from Ford, the two luxury car brands conferring international stature on what previously had been mainly a local enterprise.
Must Read:
Why Auto Recalls Are at Record Highs, and What That Means for Consumers
This article is commentary by an independent contributor. At the time of publication, the author held no positions in the stocks mentioned.