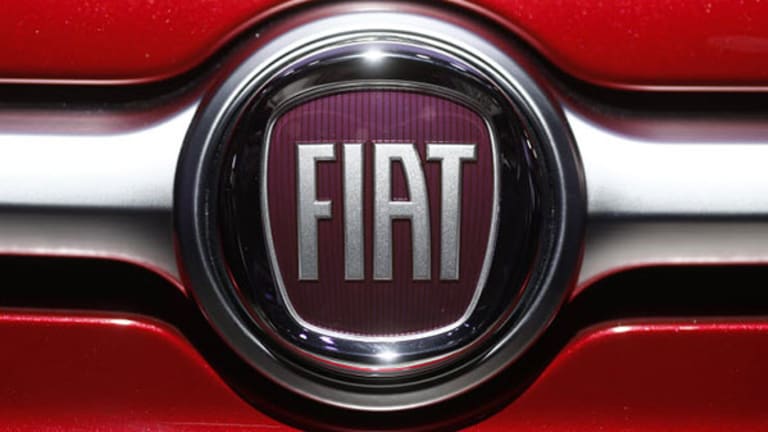 Publish date:
Fiat Chrysler, Despite Some Ugly Warts, Could Be an Attractive Merger Partner
With FCA's market capitalization at only $8 billion, the company could make a meal for another global automaker.
With FCA's market capitalization at only $8 billion, the company could make a meal for another global automaker.
Editors' Pick: Originally published Feb. 22.
Shareholders of Fiat Chrysler Automobiles (FCAU) - Get Report might very much welcome a buyout or merger offer from another global automaker as FCA's shares have fallen to less than half the $16 they traded at in mid-October. With FCA's market capitalization at only $8 billion, the company could make a meal for another global automaker. But how easily could that meal be digested? 
Scale matters in the capital intensive business of automaking. Bigger almost always is better, as FCA has argued, with costs per vehicle plummeting once a certain number of vehicles has been produced, the enormous one-time costs of engineering redesign and new technology spread over a greater number. But what type of vehicles being built matters as well.
Hyundai is one up-and-coming global automaker that needs more truck and crossover models, as opposed to sedans, especially a highly profitable full-size pickup that could compete with Ford's (F) - Get Report F Series and General Motors' (GM) - Get Report Chevrolet Silverado/GMC Sierra models. With a $30 billion market capitalization, Hyundai has the financial strength to undertake an acquisition of FCA's size. 
Another automaking giant that could derive benefit from Fiat Chrysler's Ram, which holds about 18% of the North American market, and its popular Jeep assets is the global alliance of Nissan (NSANY) and Renault.
Nissan and Hyundai each explored a tie-up with Ram, unsuccessfully, years ago during the global financial crisis.
About a year ago, Sergio Marchionne, FCA's CEO, sought a merger or alliance with GM, only to be rebuffed by GM CEO Mary Barra. The clock is ticking on the North American automotive market, with many analysts believing that incentives will have to rise, profits are going to be weaker and, eventually, production will have to slowed.
Since his abortive attempt to join with GM, Marchionne has had to alter FCA's five-year operating plan and extend some goals further into the future. He recently decided to juggle production, sending all North American car production to Mexico, where costs are lower. The move has antagonized the United Auto Workers union. Marchionne also has said he won't be investing more into two car models, Dodge Dart and Chrysler 300.
FCA's tense relationship with the UAW is one prominent reason why Hyundai or Nissan/Renault would be wary of merging with FCA, regardless of the attractiveness of Jeep or the potential to increase the share of the North American truck market. No foreign automaker wants to find itself paying above-premium manufacturing wages in the U.S., as GM, Ford and Chrysler must, under their union contracts. Nissan, in particular, has beaten back UAW efforts to organise its plant in Smyrna, Tenn.
Another reason for caution is the weakness of the Chrysler and Fiat brands, which can endure during a robust economic expansion but likely will suffer losses otherwise. Closing Chrysler plants in the U.S. and Fiat plants in Italy would likely cause a political firestorm in the respective countries, require huge one-time costs and possibly could be blocked altogether.
A third is the billions FCA hasn't invested -- and must -- to enable new technology. While most automakers have extensive offerings of battery-powered vehicles, gas-electric hybrids and even hydrogen-powered fuel cell electrics, Chrysler has very little, having been forced to spend its limited capital on redesigning models. Presumably, some merger candidates would bring technology innovations with them into a merger.
Marchionne has proven himself to be one of the ablest, most imaginative leaders in the auto industry. He surely is considering ways to mothball and streamline FCA's unproductive brands, factories and relationships to make it more attractive. If so, he could attract the right merger partner, or in the best case hit on a way for FCA to stay independent.
Doron Levin is the host of "In the Driver Seat," broadcast on SiriusXM Insight 121, Saturday at noon, encore Sunday at 9 a.m.
This article is commentary by an independent contributor. At the time of publication, the author held no positions in the stocks mentioned.