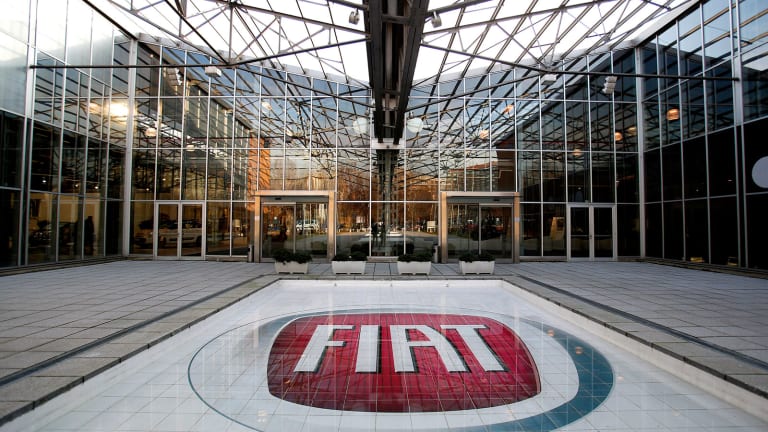 Publish date:
Fiat Chrysler CEO Marchionne Tweaks Automaker's 5-Year Plan
Fiat Chrysler Automobiles adjusts projections to its five-year plan first unveiled in 2014.
Fiat Chrysler Automobiles adjusts projections to its five-year plan first unveiled in 2014.
Fiat Chrysler Automobiles (FCAU) - Get Report , buffeted by global competition and striving to accomplish an ambitious growth plan, on Wednesday adjusted projections to a five-year plan it unveiled in 2014. 
CEO Sergio Marchionne said the automaker -- created following the bankruptcy of Chrysler in 2009 -- will shift production toward more Jeeps and Ram pickups by the end of 2017. 
Marchionne, since the merger seven years ago of Fiat and Chrysler, two of the world's weakest automakers, has continued to surprise and confound skeptics who have said the combined entity lacks enough capital and scale to be successful. Last year, he openly suggested joining forces with General Motors (GM) - Get Report , a proposal that GM rebuffed. 
FCA's ability to fulfill its newly tweaked five-year plan anf financial targets could depend on the continued strength of the U.S. market, as well as a possible rebound in Brazil, a Fiat Chrysler stronghold where the economy and demand have been weak. 
In a presentation on its Web site, FCA explained that the spin off its Ferrari subsidiary as a separate public company last fall, debt reduction and favorable currency exchange rates were working in its favor. 
"'Ambitious' is not really an adequate word to describe (FCA's plan) - 'fantasyland' might be more appropriate," Sanford Bernstein's Max Warburton told Reuters. Warburton has an "underperform" rating on FCA stock. 
FCA will rely less in the short term on the launch and expansion of the Alfa Romeo and Maserati luxury brands, stretching to 2020 new-model introductions that were to have been achieved by 2018. Under the previous plan, FCA said it would invest $52 billion through 2018 to increase annual global vehicle sales to 7 million from 4.6 million. 
Marchionne announced plans to offer alternative-fuel drivetrains on several models built by FCA in order to move toward compliance of tightening federal and state standards regarding emissions and fuel efficiency. Analysts had expressed concerns that FCA was lagging behind competitors in the introduction of gas-electric, pure electric and plug-in hybrid technologies. 
Surprising analysts, many of whom doubt FCA could reach its goals, Marchionne raised his financial projections for 2018. He now projects 2018 revenue rising to $148 billion (136 billion euros), 3% higher than the earlier projection. Profit margins are expected to remain as projected. 
In September, several media outlets reported that FCA intended to realign manufacturing in North America, moving most production of cars to Mexico while consolidating assembly of pickups and SUVs in the U.S. The automaker confirmed those reports on Wednesday. 
FCA, earlier Wednesday, posted 2015 earnings before interest and taxes of 5.3 billion euros, up 40% from 3.8 billion euros in 2014, with all regions of the world profitable in the fourth quarter. Fourth-quarter profit fell, however, in part due to a charge taken for the cost of realigning manufacturing locations. 
Doron Levin is the host of "In the Driver Seat," broadcast on SiriusXM Insight 121, Saturday at noon, encore Sunday at 9 a.m.
This article is commentary by an independent contributor. At the time of publication, the author held no positions in the stocks mentioned.