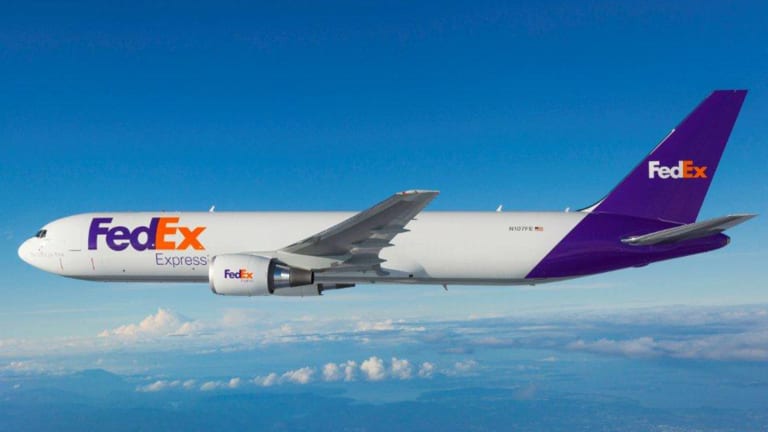 Publish date:
FedEx Will 'Absolutely, Positively' Be a Growth Stock Winner
While the rest of corporate America delivers limp earnings reports, FedEx is on track to deliver strong quarterly profit growth and a one-year stock gain of 25%.
While the rest of corporate America delivers limp earnings reports, FedEx is on track to deliver strong quarterly profit growth and a one-year stock gain of 25%.
To borrow a phrase from FedEx's erstwhile but still famous advertising slogan, it's "absolutely, positively" no surprise that FedEx Corp. (FDX) - Get FedEx Corporation Report , operator of the world's largest cargo airline, is enjoying tailwinds.
But before we get to FedEx's outsized growth prospects this year, let's first take a hard look at the lousy earnings performance of the rest of corporate America.
Earnings reports so far this season have been disappointing, to say the least. With 95% of companies in the S&P 500 reporting earnings to date for this quarter, the blended earnings decline has been negative 6.8%.
Just how terrible are those report cards? This quarter marked the first time the index has recorded four consecutive quarters of year-over-year declines in earnings since the nadir of the Great Recession (fourth quarter of 2008 through the third quarter of 2009).
But at least one blue chip is bucking this trend: FedEx, which is scheduled to report earnings on June 21. FedEx's expected earnings growth isn't just good news for the company (and those who invest in the stock now). It's also a hopeful sign for the overall market.
Another catalyst that should drive up the company's stock is FedEx's planned $4.8 billion takeover of Dutch parcel company TNT Express (TNTEY) , which is slated to settle on May 25.
FedEx encompasses four segments managed collaboratively under the aegis of its universally recognizable brand: FedEx Express, the world's largest overnight delivery company, offers time-certain delivery within one to three business days; FedEx Ground provides low-cost, small-package ground delivery service to every business address in the U.S. and Canada, as well as residential delivery to nearly 100% of U.S. residences; FedEx Freight handles less-than-truckload freight services; and FedEx Services provides other companies with sales, marketing and technology support.
A leading component of the Dow Jones Transportation Average, FedEx is viewed as a barometer of the wider economy. For the same reasons that investors studied railroad stocks in the 19th and 20th centuries, investors increasingly focus on companies such as FedEx to understand economic trends in this century.
The second-largest package delivery company in the world, behind United Parcel Service, FedEx will be an important brand name to watch, especially as Europe (a major market for the company) moves to stimulate economic growth.
FedEx boasts strengths that elude "Big Brown," such as a non-unionized workforce and greater operational efficiencies. FedEx stock year to date has outperformed both the SPDR S&P Transportation ETF (2.03%) and UPS (6.16%). The FedEx-TNT merger should prove a huge competitive blow against UPS.
If you're looking for growth stock winners in a year that's expected to be lackluster at best for the overall markets, FedEx will deliver the goods.
---
As we've just explained, FedEx is on track for a 25% gain this year. We've also found an 85% Accurate Trader who gives this Personal Guarantee: "Give Me 9 Minutes a Week and I Guarantee You $67,548 a Year." He turned $50,000 into $5 million trading this way and for a limited time, he's guaranteeing you at least $67,548 per year in profitable trades if you follow this simple step-by-step process. Click here now to see how easy it is to collect thousands of dollars in "Free Money" every month.
John Persinos is editorial manager and investment analyst at Investing Daily. At the time of publication, the author held no positions in the stocks mentioned.