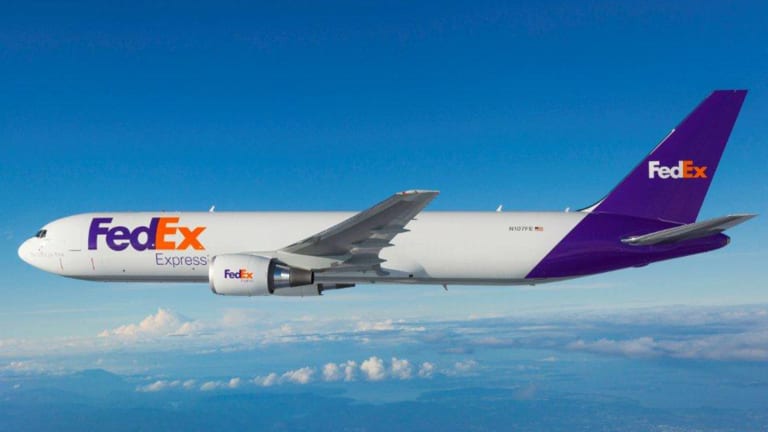 FedEx Goes a Long Way to Beef Up Its Bottom Line
The holiday shipping season should be good for FedEx's bottom line, with the company projecting record shipping volume this season, up 12.4%.
The holiday shipping season should be good for FedEx's (FDX) - Get FedEx Corporation Report bottom line, with the company projecting record volume this year. FedEx expects to ship 317 million packages between Black Friday and Christmas Eve, which represents a 12.4% increase in volume over last year. It will also boost its workforce during the peak season, adding 55,000 employees this year, about a 10% increase from the prior year. 
FedEx will likely see volume spikes on the first two Mondays in December, and on this Cyber Monday, when 121 million people are planning to shop online, according to the National Retail Federation. 
"E-commerce is really driving it," said Patrick Fitzgerald, senior vice president of FedEx Services. If you look back just eight years ago, compare our busiest days during the holidays then to the busiest days this season, we're expecting to be twice as busy, and that's directly attributed to the rise in e-commerce.
FedEx begins preparing for the volume surge early in the year. For example, Amazon (AMZN) - Get Amazon.com, Inc. Report is one of the online retailers that maintains a dialog with FedEx.
"It's a relatively small number of retailers and e-tailers that drive this surge, so we work with them year-round to understand what they're expecting. And that can be the types of products they'll be shipping, the timing within the peak season, so if they're expecting a major promotion or new product launch that last week before Christmas, we need to know that."
"One of the great things about FedEx and our season hiring is we are growing year-round, so many of those positions will turn into full-time positions for those seasonal workers who can start with us during the peak season and then stay and potentially start a career," said Fitzgerald. Fifteen meteorologists work year-round for FedEx to track storm systems that could impact shipping routes.