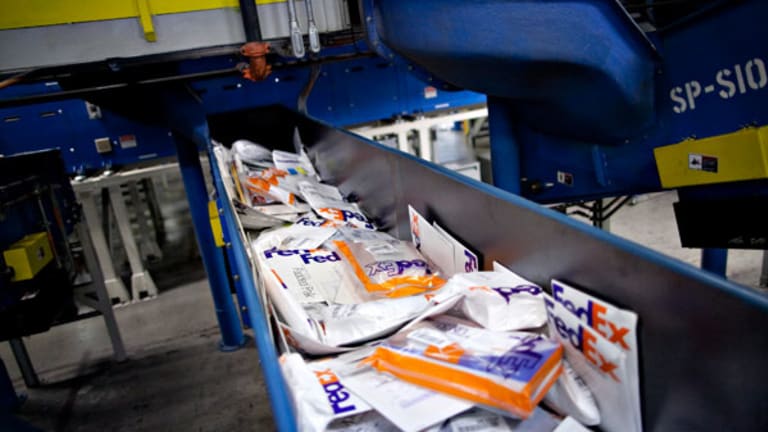 FedEx Earnings Preview: Long-Term Value Remains, Spurred By TNT Express
With TNT in the mix, FedEx may explode to upside, just as it has done in the past five years, delivering gains of 130%.
With TNT in the mix, FedEx may explode to upside, just as it has done in the past five years, delivering gains of 130%.
NEW YORK (TheStreet) -- Since hitting its 2015 low of $164.51 on March 27, shares of global transportation giant FedEx (FDX) - Get Report have delivered more than 11% gains to its shareholders, culminating in a 52-week high of $183.03 on June 5. And if you're thinking about taking some profits now, you're likely to regret it in the months and quarters ahead.
The Memphis-based shipping specialist, which competes with UPS (UPS) - Get Report, reports fourth-quarter and full-year results Wednesday before the opening bell. FedEx appears eager to convinced an already jittery market that it can grow both revenue and profits despite a global economic slowdown, which has hampered its Express shipping business -- it's largest segment.
With the help of its recent $4.8 billion acquisition of Dutch shipping competitor TNT Express (TNTEY) , FedEx looks poised to grow its global package-delivery position -- particularly in Europe.
TheStreet's Jim Cramer, portfolio manager of the Action Alerts PLUS Charitable Trust Portfolio says, "FedEx gets that Europe's coming back strong because the CEO, Fred Smith, is an economist and one of the greats."
This is assuming the TNT deal passes regulatory approval. UPS went after TNT two years ago, offering some $7 billion. But UPS couldn't seal the deal, which fell apart due to antitrust concerns. In that vein, just from a competitive and -- perhaps minor -- psychological position against its bitter rival UPS, TNT can become an explosive asset for FedEX. That is, of course, if the deal gets done.
From my vantage point, FedEX wouldn't have gone after TNT without taking full inventory of the regulatory obstacles UPS went through. Nor would FedEX have introduced these M&A efforts, which require re-allocating resources, if the company didn't truly think it could close.
The cost of the deal, which is 31% below what UPS offered, is -- in my opinion -- a non-factor. Plus, considering TNT posted 6.7 billion euro for fiscal year 2014, FedEx is paying on 0.6 times last year's sales. For some context, FedEx is valued at 1.08 times sales, while UPS is valued at 1.53.
In other words, FedEX is paying a relatively small price to acquire TNT, which generates 80% of its revenue in Europe. As Jim Cramer notes, that's what this deal is about -- growing scale in Europe. And to the extent FedEx can extract long-term cost and strategic benefits from TNT, while also applying pressure on UPS, FedEX shares -- regardless of what the company says Wednesday -- are poised to keep climbing.
For the quarter that ended May, the average earnings estimate calls for $2.68 per share on revenue of $12.32 billion, translating to year-over-year increases of 9% and 4%, respectively. For the full year, earnings are projected to climb 32% year over year to $8.94, while revenue of $47.66 billion calls for a year-over-year increase of 4.6%.
In short, with shares trading at around $180 and at just 20 times earnings, FDX stock looks cheap, especially based on a fiscal 2016 earnings projection of $10.87, which drops the P/E to 16, or one point below the S&P 500.
Plus, with the company projected to grow earnings in the next five years at an annual rate of 14% (excluding TNT), imagine what FedEx can do with TNT. The stock may -- quietly -- explode to upside, just as it has done in the past five years, delivering gains of 130%, against 80% gains for the Dow Jones Industrial Average (DJI) .
This article is commentary by an independent contributor. At the time of publication, the author held no shares in any of the stocks mentioned.