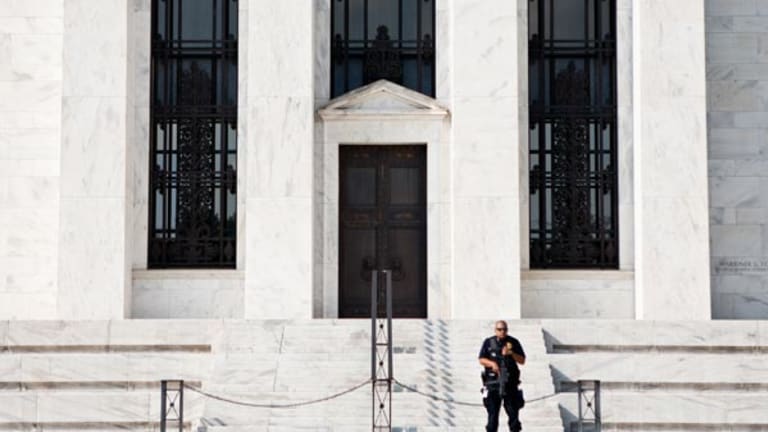 Fed Stress Tests Reveal European Bank Bombshell
As Citigroup and Bank of America prepare a case for bigger dividends, European peers are paying out big sums without getting their house in order.
NEW YORK (
) -- Come March, U.S. bank investors will be praying that bailed-out lenders
Bank of America
(BAC) - Get Bank of America Corp Report
and
Citigroup
(C) - Get Citigroup Inc. Report
can win the
Federal Reserve's
approval to improve on their puny dividends after years of building up capital reserves, selling divisions and posting inconsistent profits.
In Europe, however, lenders such as
Banco Santander
(SAN) - Get Banco Santander SA Report
,
Banco Bilbao Vizcaya Argentaria
(BBVA) - Get Banco Bilbao Vizcaya Argentaria SA Report
,
Intesa Sanpaolo
and
Deutsche Bank
(DB) - Get Deutsche Bank AG Report
are
without doing any hard work.
Struggling investment banks such as
Societe Generale
(SCGLY)
,
UBS
(UBS) - Get UBS Group AG Report
,
Credit Suisse
(CS) - Get Credit Suisse Group AG Report
and
Barclays
(BCS) - Get Barclays Plc Report
, meanwhile, are in the process of either reinstating high-yielding payouts or forecasting big dividend increases to shareholders.
Some are even paying out special dividends.
French investment bank
Natixis
, which needed a 35 billion-euro toxic-asset guarantee from conglomerate
BPCE
in 2009, said this month it would sell a 12 billion-euro stake in BCPE and deliver a 2 billion-euro special dividend. The bank now targets a 50% payout ratio.
At a time when eurozone banks are gorging on emergency
European Central Bank
loans as a way to handle asset sales, writedowns, rising non-performing loans, messy politics in countries such as Italy and France, and an overall economy that's expected to contract in coming years, the dividend payouts of lenders across Europe are a reminder of what put banks into a state of crisis five years ago.
Thankfully, in the U.S., a mix of public pitchforks and a central bank with control over the purse strings of large banks is preventing what could be a contagion of reckless management in Europe from spreading to our shores.
Consider a comparable hypothetical to Banco Santander's 10%-plus dividend using
AIG
(AIG) - Get American International Group, Inc. Report
. In 2012, the insurer repaid government loans and the
Federal Reserve's
sold most of the toxic assets it bought from the company at the peak of the crisis.
While AIG said in its fourth-quarter earnings that a return to profitability and its repayment of bailout loans isn't cause for a dividend or share repurchase, Santander continues to cling to billion of euros in emergency ECB loans, which help to stabilize its balance sheet, as the bank pays an industry-leading dividend.
Societe Generale, which is contemplating what would equate to a 4%-plus dividend yield at current prices, is also just beginning to consider repaying ECB loans starting this year.
With all megabanks in the EU holding capital ratios below U.S. peers, according to February
Standard & Poor's
calculations, as loan-loss provisions rise at the likes of Santander, profits evaporate at Barclays and UBS and balance sheets
, dividend payouts appear unsustainable by comparison.
European banks have the widest credit default swap spreads, according to
Bloomberg
data, with lenders such as Santander and BBVA perceived as twice the risk of Citigroup or Bank of America. (Those spreads price risk according to market prices.)
EU dividends also provide the context that's likely to best serve U.S. bank investors, who are hungry for dividend increases when the Federal Reserve releases its so-called stress test results, formally called a Comprehensive Capital Analysis and Review, or CCAR.
While investors in the likes of
Wells Fargo
(WFC) - Get Wells Fargo & Company Report
,
JPMorgan
(JPM) - Get JPMorgan Chase & Co. Report
and
Goldman Sachs
(GS) - Get Goldman Sachs Group, Inc. Report
may be salivating over the prospect of improving on the mid-1% to mid-2% annual payouts of those banks, they're likely years away from meaningful increases or anything that resembles the 4%, 5% and even 10% payouts seen across the Atlantic.
Bank of America and Citigroup, meanwhile, aren't likely to make meaningful dividend payouts for years, according to Christopher Mutascio, a banking analyst at
Keefe, Bruyette & Woods
.
"Banks will have their day on capital redeployment, it's just not that time yet," Mutascio said in an interview. He expects the payout ratios of well-capitalized lenders like Wells Fargo and JPMorgan to peak at 30% of profits this year -- a ratio far below the guidance of most European banks.
An expected conservative approach to dividend payouts, administered by the Federal Reserve, comes with good reason.
It was the Fed, after all, that pumped over $7 trillion in emergency liquidity through banks between 2008 and 2009 to help the U.S. financial system survive the crisis.
Meanwhile, allowing big dividends as the Fed continues to hold interest rates near zero and supports asset prices with up to $1 trillion in purchases would reek of hypocrisy, according to Mutascio.
Left on their own, banks may simply revert to the poor judgement that led them into the crisis -- and which continues to make the eurozone a prominent risk for the global financial system.
On Tuesday, EU authorities imposed a short-selling ban on the shares of Intesa Sanpaolo, as fears reemerged with a split election in Italy that puts the country's credibility with investors in jeopardy. According to Intesa Sanpaolo's most recent quarterly report, the bank paid out about $1 billion in cash dividends last year, as its ratio of total equity to assets fell.
The ban should remind U.S. investors of similar restrictions in short-selling
Lehman Brothers
and
Merrill Lynch
in 2008. It wasn't short sellers of stock that led to the collapse of both banks; it was bad management of balance sheets and poor judgement when it came to dividend payouts.
Consider that in 2010, Boston Fed President Eric Rosengren calculated banks currently undergoing stress tests could have retained $80 billion in capital had they slashed their dividends in 2007. That amount was roughly half of the bailout funds given by the U.S. Treasury to "too-big-to-fail" lenders during the financial crisis.
A 2011 study highlights that, aside from increasing the solvency and liquidity of banks, retaining capital by minimizing dividends or share repurchases is the best way to ensure a bank doesn't fall into a state of crisis. It was published by David Greenlaw of Morgan Stanley, Anil Kashyap of the University of Chicago Booth School of Business, Kermit Schoenholtz of New York University Leonard N. Stern School of Business and Hyun Song Shin of Princeton University.
The review also sharply criticizes the testing of banks by European regulators and questions the region's reliance on improving capital ratios, instead of overall capital, as a means to recover from the financial crisis.
"
Supervisors should mandate dollar amounts for capital additions, rather than focusing on the restoration of capital ratios. The objective is to maintain the balance sheet capacity of the banking system as a whole rather than inducing banks to meet capital ratios by shedding assets and exacerbating the degradation of financial intermediation," the authors wrote.
"In sharp contrast to this principle, European banks subject to the 2010 stress test were allowed to pay out over 28 billion euros to their shareholders that year, despite the shortfall capital in the banking system."
EU officials have since bailed out several countries, the ECB enacted a near 1 trillion-euro injection into banks to support area-wide balance sheets and most lenders have mapped out recapitalization plans that include risk asset reductions, but few actual capital increases.
Since the study's early 2011 findings, some European banks reduced large post-crisis payouts, but only after record losses and severe balance sheet pressure.
After paying out up to 50% of earnings in post-crisis years,
Unicredit
scrapped its dividend in 2011 on the heels of a record 10 billion euro loss from asset writedowns, which caused the Italian lender to raise billions in equity.
Similarly, struggling French lender
Credit Agricole
cut its billion-euro annual dividend, which represented just under a 50% payout ratio, after reporting an annual loss in 2011. Credit Agricole didn't reinstate its dividend in 2012 after posting a 6 billion-euro loss tied to a string of asset writedowns, including losses on the sale of an investment in Intesa Sanpaolo, the revaluation of a 20% stake in Portuguese lender
Banco Espirito Santo
, and a 706 million euro charge tied to the sale of Greek subsidiary
Emporiki
a year ago.
"It would make no sense to draw on its reserves at a time when banks need to strengthen their capital base," Credit Agricole said in its
, when justifying the elimination of its 45-cent dividend.
Credit Agricole, after all, calls itself "the bank of common sense."
While dividend craziness may show up on stock screens in Europe, pedestrian payouts that are likely to come from Fed stress tests in March may be a blessing in disguise.
U.S. Banks appear to be targeting dividend increases over share buybacks in capital plans submitted to the Fed, according to a Feb. 4 analysis by Oppenheimer analyst Chris Kotowski.
If the Fed takes a cautious stance on dividends but allows for increasing buybacks -- given their natural flexibility as evinced by JPMorgan's reversal of course in 2012 after a trading loss -- it may play to the benefit of shareholders.
Meanwhile, contrast the post-crisis share performance of high-yielding banks such as Santander, Deutsche Bank and Societe Generale to U.S. counterparts JPMorgan, Wells Fargo and Goldman Sachs, and investors might get a sense of the benefits of the Federal Reserve's influence.
While bank dividends in Europe appear stretched given risks in the region and the unfinished work of balance-sheet repair, a slowly rising tide of Fed-administered payouts may be a savior for U.S. investors.
-- Written by Antoine Gara in New York