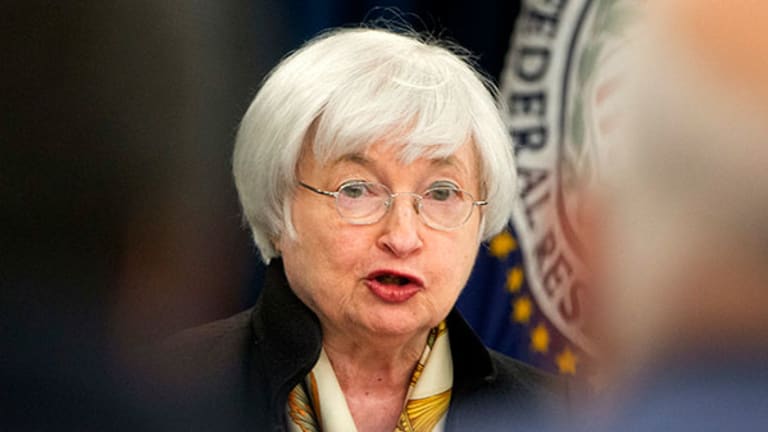 Think Before You Act, Fed: Market Recon
Janet Yellen shows a disturbing willingness to act on interest rates in December, despite lack of clarity current inflationary drivers.
"I used to go away for weeks in a state of confusion."
-- Albert Einstein
"Weeks? Watch this."  
-- Could be said at any FOMC policy meeting
Dazed and Confused
The probability of an announced rate hike at the conclusion of the December FOMC meeting -- as priced in by futures markets according to the CME's website -- is running at about 83% this morning. That's up from the mid 70s, where it landed after Fed Chair Janet Yellen's address from Cleveland yesterday. The Fed Chair's speech is being painted as cautiously hawkish, which is indeed how it reads. I listened to Yellen speak yesterday, and I will tell you this -- I was struck by the lack of confidence that I heard in her voice. Though she waffled on this point, she spoke of maintaining the trajectory for the Fed Funds Rate already set forth by the committee. She sounded to me like someone looking for answers, herself. That's not good.
The Fed Chair referred to the FOMC's understanding of inflation as "imperfect." Okay, we get that. That's been clear for five years now. She also referred to the Fed's lack of ability to produce consumer level inflation reflecting expectations as a "mystery." Hmm. There's more. Much more. Our central bank's leader went on "We should be wary of raising rates too gradually," and "an inflationary problem down the road that might be difficult to overcome without triggering a recession." Guess she's not from Missouri. 
I once told CNBC's audience way back in the early days of quantitative easing to prepare to pay $7 for a loaf of bread, so my understanding of inflation can also be imperfect. What I can do, what most of you can do, which the Fed Chair seems to have difficulty with, is to evolve our understanding.
It should be plain for all to see by now that today's market conditions are far too complex for the simplistic Phillips Curve model that those at the Fed have relied upon. It should be plain to see that both automation and the rise of part-time labor as a structural part of the way some firms do business has put downward pressure on consumer prices away from healthcare and shelter.
It is discretionary spending that has suffered, along with wage growth. Most people do not ramp up spending when the text book says that they should. Text books bear no emotional scars. People do. Nobody at the Fed has had to skip dinner so that their kids could eat in the wake of the financial crisis. They can't understand this.
Whoa...
Still, it is not the lack of understanding of inflationary pressures that must be guarded against. What is alarming is the willingness to act while admitting this lack of understanding. To paraphrase what our chief central banker said yesterday -- she basically told us that she does not know what she is doing, but she might as well raise rates anyway. Whoa. 
Impact
While it is easy to poke fun, the speech did have some impact on the marketplace, and that was likely the intent. I think it obvious that for some reason, those at the FOMC feel a dire need to get another rate hike on the scoreboard this December, despite the warnings of their own Neel Kashkari, Charles Evans, and Lael Brainard. If Janet Yellen's sole intent was to raise market expectations of the potential for that rate hike, then mission accomplished. I do get that pulling back from a hawkish position at the end of the year would be far less disruptive than ramping up from a dovish one.
The negative side of this is that while the euro has suddenly weakened in the wake of a shaky, at best, reelection of Angela Merkel in Germany, this kind of talk adds to dollar strength. You want to put a halt to our run of earnings expansion? The same earnings expansion that has driven the Dow Jones Industrials, the top half of the S&P 500, and the top half of the Nasdaq Composite to where they have gone? Well, adding inappropriate strength to U.S. dollar valuations is the way to go then. Congratulations. The U.S. economy is nowhere near a recession in my humble opinion, but this would be a first step, especially if implemented while balance sheet management was still in it's infancy. 
The present administration has been overt in it's weak dollar policy. The saving grace here may be the success or lack of success regarding the tax cut plan that we await word on today. Markets may end up pegging their hopes more on fiscal policy than on monetary policy after all this time. Normal? No, kids. We're still a long way from normal.
The Tax Plan Cometh
My gut instinct tells me that we may be disappointed in what we hear today from Washington regarding a tax plan. I am not trying to say that the plan itself will disappoint. I simply think that in order to pass a tax plan, which will likely require passage through reconciliation (allowing for majority rule), leaders in both the House and the Senate know that they must first pass a budget for next year. There is going to be a fight (many fights) over the budget. Then there are also going to be many fights over any tax plan. 
To reveal a highly detailed outline of a tax plan well ahead of any budget fight, would, in my humble opinion, be politically unwise. Then again, acting in a politically unwise fashion has become a specialty with this Congress. Still, the President will discuss this plan today when he speaks from Indiana, while Paul Ryan and Kevin Brady lead the pep rally in Washington. Expect to hear what you want to hear.
Muffin Tops
A lot of folks like to eat the top half of a muffin. Many like the skin off of a rotisserie chicken, or the outer rim of a nicely done prime rib. That's what you'll hear today. You'll hear about the simplification of the tax code (three, no four tax brackets). Would love to see Mel Brooks deliver that line. You will hear that those at the top of the food chain will no longer see much of a cut in the highest Federal tax bracket, now 39.6%. Corporate taxes will be key. Expectations are for this plan to target a 20% headline rate, down from 35%. The President has asked for 15%. This should be highly focused on if Janet Yellen is going to (intentionally or not) inflate dollar valuations.
You will also probably hear something on the repeal of estate taxes, and on a one-time, low-rate repatriation holiday aimed at bringing some of the $2.5 trillion to $3 trillion in cash now held abroad by U.S. corporations back home. Most of these items are "the good stuff" that everyone on both side iof the aisle can agree on.
The fight will come when the full text is someday released, and certain deductions that many have relied on for so long start coming under fire. This is where the blue states will take issue. This is the fight that is best left for another day.
Macro
08:30 - Durable Goods Orders (August): Expecting +1.2%, July -6.8% m/m.
08:30 - ex-Transportation (August): Expecting +0.3%, July +0.5% m/m.
08:30 - ex-Defense (August): Expecting +1.0%, July -7.8% m/m.
08:30 - Core Capital Goods (August): Expecting +0.3%, July +0.4% m/m. This is one tough series for most folks to follow and to understand. The headline number is extremely dependent upon aircraft purchases -- both military and civilian. This makes that item an unreliable indicator of economic strength. The core rate, however, and especially orders for Core Capital Goods, are fairly accurate measures of both business spending and economic growth. Some high-level economists follow these items more closely than they do headline GDP.
09:15 - Fed Speaker: Minneapolis Fed Pres. Neel Kashkari will speak on higher education from Minneapolis. Kashkari, who does vote on policy this year, reiterated his stance yesterday that raising rates prior to seeing higher inflation would be a mistake. I tend to agree with him at this time.
10:00 - Pending Home Sales (August): Expecting -0.4%, July -0.8% m/m. Pending Home Sales for August are expected to show weakness again, as have almost all of our recent statistics regarding housing. This series has printed in outright contraction on a month-over-month basis in six of the last nine months. Seven of 10 on deck.
10:30 - Oil Inventories (Weekly): API -761K, Last Week +4.6M barrels.
10:30 - Gasoline Stocks (Weekly): API +1.5M, Last Week -2.1M barrels. Oil markets reacted well in after hours trading to the surprise headline draw posted by the American Petroleum Institute last night. This morning's data will have a lot to do with whether or not this commodity can stick at these levels above $51.75. Yesterday's action was truly impressive, given the strength seen in the U.S. dollar versus its competitors.
13:30 - Fed Speaker: St. Louis Fed Pres. James Bullard will be in Kirksville, Missouri to speak on the economy, as well as monetary policy. Bullard, who does not vote this year, has been dovish of late, and has warned against raising rates again in 2017. Bullard can be a wildcard, as almost anything might come out of his mouth when speaking publicly. Keep your ears open for this one.
14:00 - Fed Speaker: Federal Reserve Gov. Lael Brainard will speak from Kansas City this afternoon on labor market disparities. Yesterday, in Washington, she indicated that she felt that this condition may be hurting consumer spending. Three weeks ago, she cautioned against raising rates without first seeing higher inflation. Brainard is a permanent voting member of the FOMC.
19:00 - Fed Speaker: Boston Fed Pres. Eric Rosengren is set to speak from New York City tonight. Rosengren sounded extremely hawkish back in August. We have not heard much from him in recent weeks. He does not vote on policy this year.
Sarge's Trading Levels
These are my levels to watch today for where I think that the S&P 500, and the Russell 2000 might either pause or turn.
SPX: 2513, 2504, 2497, 2489, 2482, 2471
RUT: 1472, 1465, 1460, 1452, 1446, 1440
Today's Earnings Highlights (Consensus EPS Expectations)
Before the Open: WOR (0.82)
After the Close: JBL (0.62), PIR (-0.06), THO (1.94)
Get Morning Recon delivered directly to your inbox each market day. Click here to sign up for e-mail delivery of Stephen "Sarge" Guilfoyle's Morning Recon, Jim Cramer's Daily Booyah! or other great free newsletters from TheStreet.
More of What's Trending on TheStreet:
At the time of publication, Guilfoyle had no positions in the stocks mentioned.