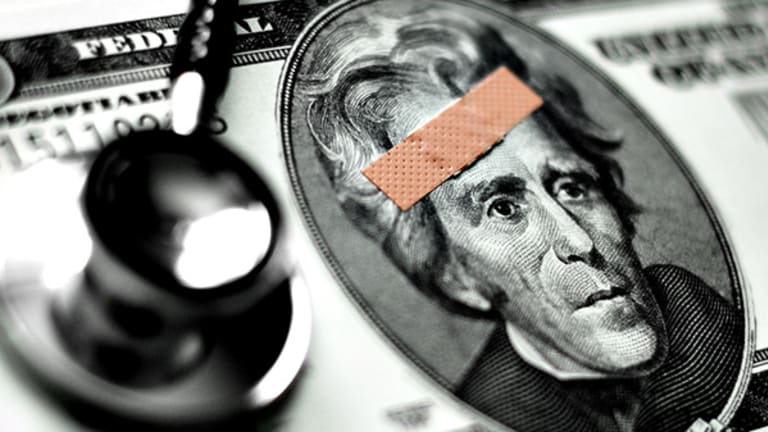 Fed Rate Hike Could Be Pushed to September Despite Improving Economy
The Fed dropped waiting 'a considerable time' to raise interest rates, but a slowing global economy and plunging oil prices could delay any action to September from June.
NEW YORK (TheStreet) -- The best way to read the Federal Reserve's latest policy statement on interest rates: Europe + Oil = September.
The U.S. central bank wrapped up its two-day meeting on Wednesday with an announcement that suggested it's looking at an even wider range of potential threats to the recovery, including the renewed weakness in Europe. So even though it dropped waiting "a considerable time" before raising interest rates, there are signs that the slowing global economy and plunging oil prices could delay any action to September from June.
The key to some Fed watchers was the addition to the statement that policymakers were including "international developments" to their list of considerations.
"It's a huge step," said Mark Zandi, chief economist of Moody's Analytics. "It gives them another degree of freedom. By introducing that variable, they became more likely to delay."
Of course, not everyone agreed.
"They've been watching Europe all along," said Richard Moody, chief economist at Regions Financial. "If they truly believe decelerating inflation is transitory, they are still on course for the midyear liftoff many Fed officials have implied."
The backdrop is that the collapse in oil prices since June has all but assured that the U.S. will be reporting negative inflation rates in the first quarter of this year, even on a year-to-year basis, said Morgan Stanley economist Vincent Reinhart. That makes it even more apparent that the Fed doesn't need to raise rates to fight inflation.
And the weakness in Europe, along with the collapse in oil prices, threatens to create weakness in exports and investment that may offset some of the accelerating growth that had fed expectations that the Fed would begin raising rates as soon as June.
 The "and international" language is new since the Fed's December meeting, and appears to address the weakness in the European economy, which has led the European Central Bank to follow the Fed into a policy of large-scale bond purchases to push interest rates lower and fight deflation. It suggests that U.S. central bankers now see at least some part of their role as helping to manage the broader world economy where U.S. companies work nearly seamlessly across borders.
The Fed also kept language from December's statement saying that it can be "patient" about when to raise rates.
Indeed, it's not hard to find economists who think the Fed will wait even longer than September to begin pushing rates higher. Sterne Agee's Lindsey Piegza and Reinhart both think the first move may not come until next year.
"The longer the Fed maintains the ..."patient" wording, the longer the expected timeline for eventual higher rates becomes," Piegza said. "Only a narrow majority of economists expects the  Fed will raise rates at midyear" of 2015.
The risk is that the economy will hit a soft spot in investment and exports by mid-year after a burst of early-2015 consumption spurred by cheaper has, Reinhart said. The combination of low inflation and the threat to investment will prod the Fed to be cautious before beginning to raise rates, he said. 

The way to square the circle -- as usual -- is to wait for more data.
The next key piece is the employment cost index in Friday's report on fourth-quarter gross domestic product, Zandi said. It's easy to see why: If wages are still not rising any faster than output, that suggests that any wage gains can be matched by productivity -- so the Fed won't have to worry about it.
If employee costs keep pointing to moderate inflation, the odds just got better that the Fed will wait on rates. Again.
This article is commentary by an independent contributor.