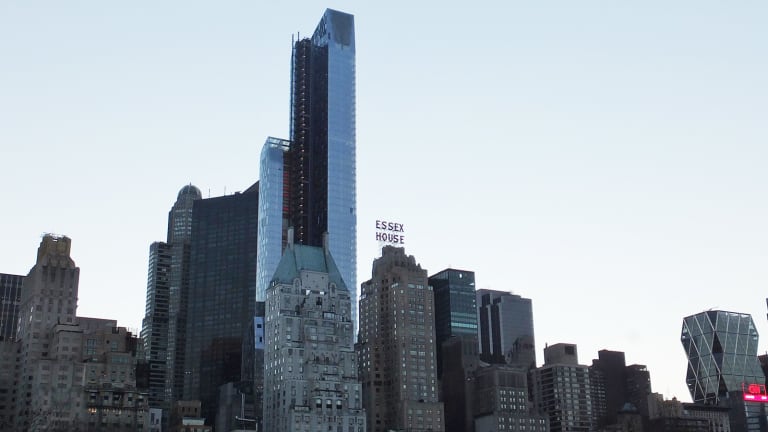 Fed Raising Interest Rates? Not the Problem We're Worried About, Say New York Developers
A decade-old tax program set to expire in June has investors and developers hesitant to jump in the mix.
NEW YORK (TheStreet) -- A policy change is threatening to slow New York City's current luxury real estate boom -- but it's not the one you think. The specter of the Federal Reserve raising interest rates isn't scaring away new investments, developers say, it's reform of a tax break meant to ensure that affordable housing is built along with luxury apartments. 
"Interest rates aren't the real immediate issue," said Michael Stern of JDS Development, one of the most active developers in the country. "What we're really concerned about is the uncertainty of what will happen to the 421-a tax abatement."
The 421-a tax abatement is a program widely used by New York City developers. By building a number of affordable housing units in new residential buildings, developers get significant tax breaks, saving them roughly $1.1 billion a year. The tax abatement is set to expire in June, leaving developers less eager to jump and more on the observing side.
As the June tax abatement ruling looms closer, developer activity has seen a dramatic decline as new development permit applications fell to a new low last month.
According to the figures from the Department of Buildings (DOB), April's applications included only 781 of qualifying units compared to 6,700 in December and a whopping 11,500 future in September, good for a 93% decrease.
"Unpredictability in this environment isn't a good thing," Stern said. "Developers cannot effectively underwrite to a moving target."
With increasing tax levels for developers, The Real Estate Board of New York, a real estate trade group, argues that 421-a helps keep costs under control.
"Given that many multi-family rental housing developments now pay more than 30% of their gross revenue to taxes, the partial and temporary tax relief provided by the 421-a program continues to be critical to alleviate the high tax burden and allow new housing to be built," REBNY said in a March report.
Without the reinstatement, REBNY said, "over 5,484 affordable rental units would likely never be built, along with the 13,801 market rate rental units associated with the same projects."
While the 421-a profit incentive has led to a number of affordable housing units, controversy surrounding the program led to corruption charges and the May 4 arrest of New York State Senate Majority Leader Dean Skelos.
New York City Mayor Bill De Blasio, a long-time affordable housing advocate, released a statement shortly after the news Skelos' arrest, calling for a 421-a reform.
"No more tax breaks without building affordable housing in return," DeBlasio said in a statement May 7. "This can't be a city of just penthouses and luxury condos. We are turning the page, and making sure the same pressures that have pushed New Yorkers out of their neighborhoods are harnessed to build the next generation of affordable housing."
Extell Development, the developers of luxury tower One57 -- the home of the $100.4 million record-setting penthouse -- received $35 million in tax breaks, housing policy analyst at the Community Service Society Thomas Waters told a local New York Web site.
This led to a protest earlier this year outside the One57 with calls to end the program, though a renewal of the 421-a could end up being a vital component of DeBlasio's ambitious project to create 200,000 new affordable housing units.
"If the 421-a affordable housing production program does get reinstated, it will certainly benefit neighborhoods bordering Manhattan, where projects with a 20% affordable housing component will bring great new product to areas where it is much needed," said Halstead Property's Louise Phillips Forbes, a veteran New York City luxury broker.
The uncertainty surrounding the 421-a tax breaks is impacting investors as well.
Without the tax abatement in place, the capitalization rate, or "cap rate," as it's known in the business, could suffer. Cap rate, a vital metric for investment buyers looking to generate income on their purchase, is the net operating income of a property divided by its market value.
"Tax abatements push up cap rates, but when a building doesn't have an abatement, the cap rate or net yield is average or even low," said Douglas Elliman's Sarah Williams, who brokers New York deals with foreign investors. "Buyers from Asia, whether ultra high-end or investors find the combination of common charges and taxes to be high, when there's an abatement it's far more attractive for these buyers."
To be sure, part of the current luxury building boom, experts speculate, comes from the cash-out period facing investors now that interest rates are at a record low.
The interest rate has been at near-zero since 2008, which has helped "super charge" the investment sales market, Cushman & Wakefield's Bob Knakal said. Economists have pegged an interest rate increase as early as this summer.
But even if the interest rate was to jump, the real estate investment market might not be impacted.
"People are going to be buying strongly even if there's a 50 basis points increase in interest rates," said Forbes. "In 2015, the interest rates are absolutely not going to impact the sales numbers."
This article is commentary by an independent contributor. At the time of publication, the author held no positions in the stocks mentioned.