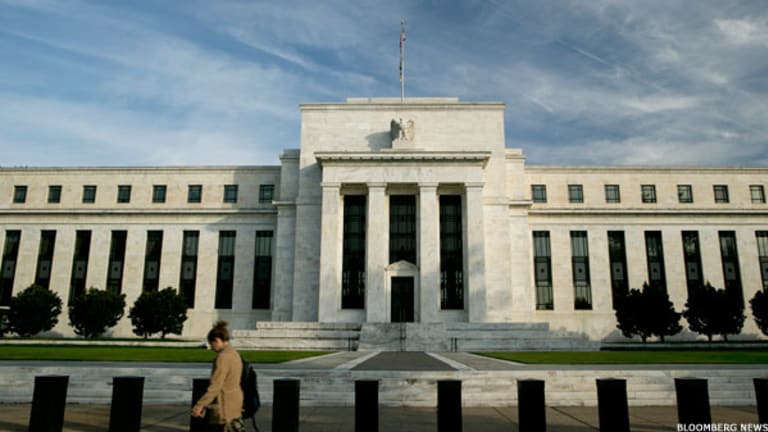 Fed May Be Ending Bond Buying, but Not Deficit Reduction
Since the Fed began buying Treasury bonds and mortgage-backed securities it has amassed a $4 trillion portfolio that goes into the general treasury, helping to lower the federal deficit.
NEW YORK (TheStreet) -- The Federal Reserve is expected to say Wednesday it's ending its five-year-old bond-buying program, known as quantitative easing, this month. But something else won't be ending: the central bank's key role in helping to reduce the federal deficit.
Since the Fed began buying Treasury bonds and mortgage-backed securities to help stimulate the economy it has amassed a $4 trillion portfolio, which rakes in billions of dollars of interest. After the Fed pays its expenses, including operating expenses and interest paid to banks on their reserves, anything left over goes into the Treasury's general fund.
And there has been plenty left over. Between 2009 and 2013, the central bank gave Treasury $350 billion, roughly what it had transferred during the 18 years before 2009.
The record was $88.4 billion in 2012, triple the $20 billion to $30 billion range of annual payments before the purchase program started.
Deutsche Bank Securities Chief Economist Peter Hooper told TheStreet he estimates the figure will rise to $100 billion next year. The figures won't slow down radically any time soon because the Fed is expected to reinvest holdings when they mature, rather than shrink the portfolio, until it is sure the economy is on strong footing.
About 58% of the assets are Treasuries, with the rest mortgage-backed securities and government-sponsored enterprise securities, according to a Brookings Institution report. When the Fed stops reinvesting, Treasuries will go first and higher yielding mortgage-backed securities will stay on the books. Their interest rates are about a percentage point higher than Treasuries.
When the Fed is convinced the economy no longer is fragile, perhaps next year, it will raise what are now rock-bottom interest rates. It will have to pay banks more on their reserves, reducing what it will fork over to Treasury. Rate increases bode poorly for the deficit in other ways.
David Wessel, director of the Hutchins Center on Fiscal and Monetary Policy at the Brookings Institution, told TheStreet that the fraction of the federal budget going to interest on the debt is expected to rise from 6% to 12% over the next five years. It's low now because Treasury is paying less than 2.5% interest on 10-year bonds as it keeps rate low to spur the economy.
In general, rates reflect the Fed's main mission: keeping inflation low and employment high. "The Fed is not the U.S. government hedge fund," Wessel says. "It's not a profit-making bank." 
The Fed's recent deficit help is a product of its stimulus efforts. The shift to higher rates will come when consumer and business spending strengthen, labor markets tighten, and wage and price pressures emerge. Then the central bank will be more worried about inflation. At that point, "the Fed certainly will not want to keep rates at this historically and unusually low rate," Hooper says.
In the meantime, the federal deficit is heading toward 2% of gross domestic product, a historically low rate. That may be why politicians aren't talking about it much these days. The Fed has played, and will continue, to play a role in that healthy trend.
This article is commentary by an independent contributor, separate from TheStreet's regular news coverage.