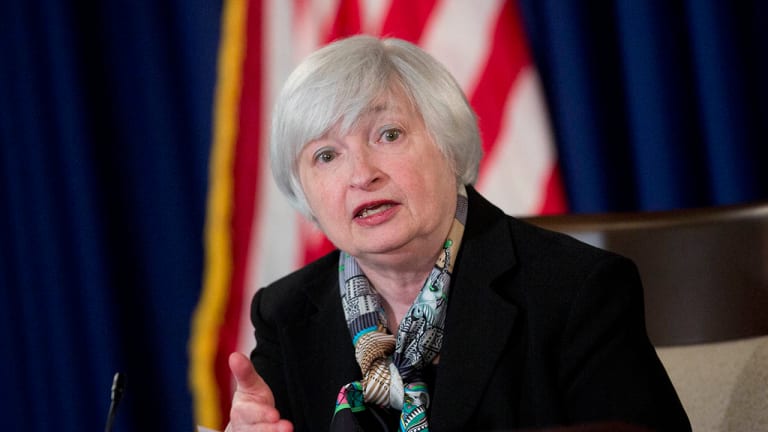 Fed Gets Green Light for December Rate Hike
Friday's blockbuster jobs report appears to have cleared the way for the Federal Reserve to increase rates next month for the first time in nearly a decade.
So maybe interest rates are going up in December after all.
Friday's blockbuster jobs report appears to have cleared the way for the Federal Reserve to increase rates next month for the first time in nearly a decade. It also blew away the widely held belief among investors that a rate hike was more likely next year.   
Not surprisingly, markets weren't sure whether this was good news or bad news. So stocks spent much of the morning bouncing between positive and negative.
It wasn't just the 271,000 jobs created in October or the 5% unemployment rate, the lowest since February 2008. So many of the employment numbers were solid, and point eloquently to the idea that the economy has finally moved beyond 2008's financial panic and the housing bust that sparked it.
The U.S. economy still has plenty of challenges. But as Pres. Gerald Ford once said after pardoning Richard Nixon: "Our long national nightmare is over."
Consider:
Wages rose 0.4%, for a 2.5% jump over the last 12 months. Wage growth has been one of Federal Reserve Chair Janet Yellen's criteria for raising interest rates, and the wage figures in the monthly jobs report have been lagging behind other measures of income growth from the Census Bureau and the Labor Department. If the wage picture is getting clearer, it's a sign that the pressures that kept family incomes declining for nearly two years after the recession ended are just about lifted.
Construction employment rose by 31,000, the most since February. With new single-family home sales up 18% so far this year, and housing starts (including apartments) up 13%, the bounce in housing that many economists expected in 2014 is arriving now. Neither housing starts nor construction employment is anywhere near pre-recession peaks, but in this economy they don't really need to be.
The sum of unemployment and under-employment rates also dropped. The so-called U-6 rate, which includes discouraged workers who have stopped seeking employment, and workers who are in part-time jobs but want full-time slots, fell to 9.8% in October. That's down from 17% at the peak and barely above the 9.5% rate when the Fed began to boost interest rates in 2004, coming out of the last recession. The U-6 rate, which many argue is the truest measure of the labor market's health, was last this low in May 2008 and has dropped 2.7 percentage points in the last year.
You could see some of this last month in what was taken as a disappointing jobs report for September. But now it's clear.

In this context, it's possible to look at issues like the cracks in China's stock market and the wobbles in its real economy, and the rising dollar, for what they are - relatively normal challenges that an imperfect but reasonably healthy economy faces.
In fact, the trade reports don't show a big drop in exports yet, though many economists do think it's coming, and key manufacturing exporters such as Caterpillar (CAT) - Get Caterpillar Inc. Report and Deere (DE) - Get Deere & Company Report have reported disappointing overseas revenues. That' offset, in part, by surging auto sales at companies like GM (GM) - Get General Motors Company Report and Ford (F) - Get Ford Motor Company Report that reflect the very confident consumer.
But overall, third-quarter earnings reports are coming in about three percentage points better than expected -- S&P Capital IQ says profits have been down a little more than 2%, compared with the 5% drop forecast coming into reporting season. Taking out energy companies such as Exxon Mobil (XOM) - Get Exxon Mobil Corporation Report  and profits are up about 6.1%, Capital IQ says.
The economy has a few weak spots -- manufacturing is the most obvious. Ideally, some of the money from the new federal budget bill's relaxation of spending caps would make its way into public works and other programs that would boost demand for manufactured goods a little bit, said Moody's Analytics budget expert Dan White.
Super-low inflation gives the Fed room to wait if it wants, putting off an interest rate hike until March or later, as the International Monetary Fund and some Fed officials have urged. Nothing would get hurt if the Fed did wait.
But the 3.6% jump in the rate on the 10-year Treasury bond tells you what the market thinks of the data. The economy -- the U.S. economy -- can afford to see interest rates move off the near-zero space they have occupied since 2008.
It really was a nightmare. And it really is over. Finally.
This article is commentary by an independent contributor. At the time of publication, the author held no positions in the stocks mentioned.