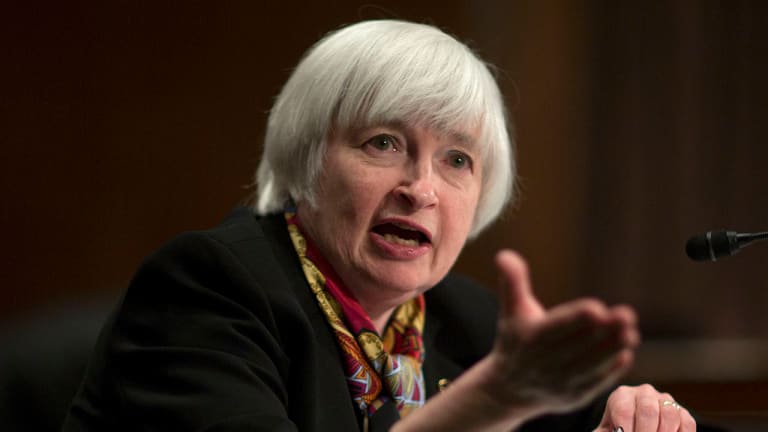 Fed Chief: Expect Rate Hike Later This Year
Federal Reserve Chair Janet Yellen said interest rates will likely move upward later this year as part of efforts to keep the economy healthy.
NEW YORK (TheStreet) -- Federal Reserve Chair Janet Yellen said Thursday that the U.S. central bank will likely raise its benchmark federal funds rate, and start raising short-term interest rates, in the coming months. She suggested that waiting too long to do so could have detrimental effects on the nation's economy.
Yellen discussed inflation and other economic matters in an address at the University of Massachusetts Amherst, a week after the Fed said it would hold its key interest rates near zero.
At that time, the Fed said too much uncertainty over how the American economy might be affected by any volatility in the financial markets weighed heavily on its interest rate decision. Major U.S. and overseas stock markets have experienced strong volatility in recent weeks.
Yellen said raising both the federal funds rate and short-term interest rates at a gradual pace would become more appropriate "as the labor market improves further and inflation moves back to our 2% objective."
The central bank continues to perform a delicate balancing act when it comes to making changes in the nation's interest rates, Yellen said, noting that the Federal Reserve needs to be ready to increase interest rates soon in order to have a positive effect on the U.S. economy in the months ahead. But if it holds off on such a move for too long, a sudden rate increase implemented in order to cool the economy may backfire and send the nation into recession.
"The Fed has less room to ease monetary policy when inflation is very low," Yellen said. It's a "potentially serious problem, as recessions may (then) require pushing interest rates far below zero for a length of time in order to stimulate hiring and reduce unemployment."
Yellen said that inflation has been more predictable over the last 20 years, and the U.S. has maintained relatively low inflation since the financial crisis of 2008.
She added that, while inflation may being pressuring the economy in a few years, it isn't right now because a strong dollar and declines in oil and import prices are helping to keep consumer prices low. Yellen said that when those things slow down, inflation will begin to creep up, thus leading the Fed to take steps in order to keep inflation near the central bank's preferred 2% level.
A lack of enthusiasm for what Yellen was going to say helped send U.S. stocks into negative territory Thursday, the third straight day of declines. The Dow Jones Industrial Average fell almost 79 points to close at 16,201.32, while the Nasdaq Composite Index gave up 18 points to end the day at 4,734.48. The S&P 500 Index shed 6.5 points to close at 1,932.
This article is commentary by an independent contributor. At the time of publication, the author held no positions in the stocks mentioned.