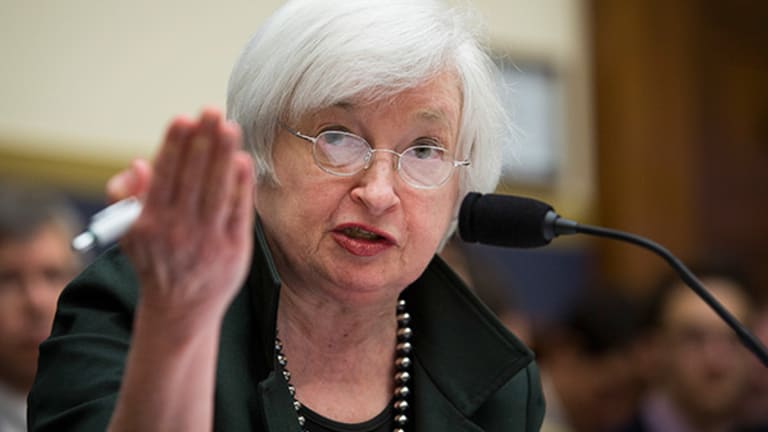 Fed Chair Janet Yellen Is Still Looking at Rate Hike This Year
The central bank chief didn't back down from her previous view that the economic slump was only temporary, increasing the odds that rates could start rising as soon as September.
NEW YORK (TheStreet) -- In case there was any doubt, Janet Yellen still intends to raise interest rates this year.
Of course, the Federal Reserve chair was cautious in her speech Friday, saying the economy remains weak and that any rate hikes will be gradual. But she didn't back down from her previous view that the economic slump this past winter was only temporary. That increases the odds that the central bank could start raising rates as soon as September.
"If the economy continues to improve as I expect, I think it will be appropriate at some point this year to take the initial step to raise the federal funds rate target and begin the process of normalizing monetary policy," Yellen said. "However, I will need to see continued improvement in labor market conditions, and I will need to be reasonably confident that inflation will move back to 2 percent over the medium term."
The market seemed to take Yellen's remarks remarks to the Greater Providence (R.I.) Chamber of Commerce in stride. Stocks were little changed and yields on 10-year Treasurys gave back some of their intraday gains.
The speech slightly narrows the range of possibilities for when the Fed might hike interest rates for the first time since 2006. Some economists have speculated that the Fed could hold off until 2016. In minutes of the April meeting of the Fed's OPen Market Committee that were released Wednesday, the central bank all but ruled out a June rate hike that was widely predicted before growth nearly stalled out in the first quarter.
The most notable way in which Yellen's much-anticipated speech differed from other recent communication by the Fed was its renewed emphasis on the longer-term weakness of U.S. growth.  In particular, the 68-year old economist focused on weak investment in the economy, which will persist even after rates begin to rise. The Fed has protected the recovery in its early stages, she implied -- but private businesses and elected officials have to take the next steps to boost sustainable growth.
"The Federal Reserve's objectives of maximum employment and price stability do not, by themselves, ensure a strong pace of economic growth or an improvement in living standards," Yellen said. "The most important factor determining living standards is productivity growth, defined as increases in how much can be produced in an hour of work. Over time, sustained increases in productivity are necessary to support rising incomes."
By that standard, the U.S. is doing a bad job, Yellen argued. Productivity growth has fallen by more than half since 2007 from pre-recession levels, which she said may be causing the weak wage gains that have caused the Fed to exercise short-term caution in the form of keeping interest rates near zero. Critics have argued that the expansion of the Fed's balance sheet may be causing asset bubbles in both stock and bond markets, a view that has led to pressure on the central bank to boost rates even though inflation remains well below the Fed's target of a 2% annual gain in prices.
"As a nation, we should be pursuing policies to support longer-run growth in productivity. Policies to strengthen education, to encourage entrepreneurship and innovation, and to promote capital investment, both public and private, can all be of great benefit," Yellen said. "A portion of the relatively weak productivity growth we have seen recently may be the result of the recession itself. Firms slashed their capital expenditures during the recession, and as I noted earlier, the increases in investment during the recovery have been modest. In particular, investment in research and development has been relatively weak."
As she has before, Yellen emphasized that the economy is still weak enough that the Fed will raise rates only gradually, with each hike coming after review of incoming data about growth and improvement in the job market.
"The various headwinds that are still restraining the economy, as I said, will likely take some time to fully abate, and the pace of that improvement is highly uncertain," Yellen said. "If conditions develop as my colleagues and I expect, then the [Fed's] objectives of maximum employment and price stability would best be achieved by proceeding cautiously, which I expect would mean that it will be several years before the federal funds rate would be back to its normal, longer-run level.