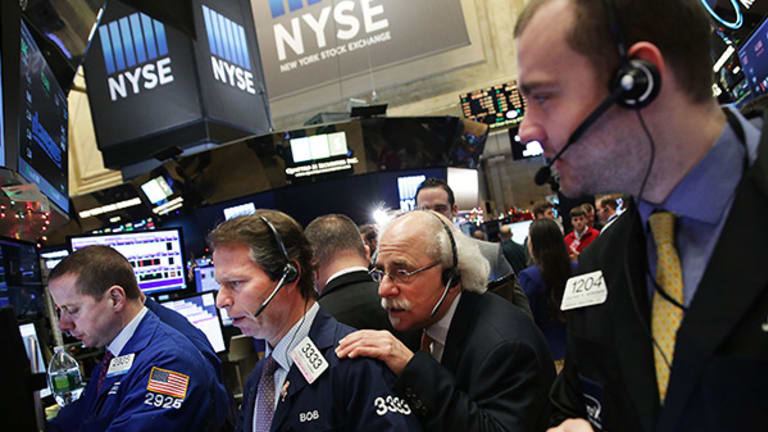 Fears About Stock Market and Economy Are Receding, This Chart Shows
Spreads on junk bonds don't lie. Right now they're showing that investor sentiment about the stock market -- and the economy -- is improving dramatically.
Although global equity markets are still not on firm footing, it looks as if risk sentiment is improving. The yield spread between junk bonds and Treasury bonds is contracting after racing higher to extreme levels.
This spread is the additional yield that investors demand for taking on the risk of high-yield, or junk, bonds vs. the security of rock-solid U.S. government securities. During periods of uncertainty or economic trouble, investors demand higher yields for the junk bonds because they perceive that the relative risk of these bonds has increased.
The chart below plots the iShares Barclays 3-7 Year Treasury Bond Fund (IEI) - Get iShares 3-7 Year Treasury Bond ETF Report , an exchange-traded fund that tracks Treasuries, against the SPDR Barclays Capital High Yield Bond ETF (JNK) - Get SPDR Bloomberg High Yield Bond ETF Report , a fund that tracks junk bonds. This chart serves as a good indicator of junk bond spreads. When it increases, it signals rising fear among investors and generally coincides with market selloffs.
In mid-2014, the yield spread began to spike higher amid falling energy prices and general waning enthusiasm for the bull market in global equities. Spreads continued to advance higher, culminating in a peak during the broad market selloff in early 2016.
It looks as though investor sentiment is beginning to improve, however, with the indicator declining significantly from previous highs. There are a few important reasons why investors are beginning to show less fear about the market.
For one, energy prices have begun to rise again. A lot of high-risk borrowers come from the commodities sector, meaning that falling metals and energy prices can have damaging effects on companies' ability to service debt payments. With rising energy prices, many firms are feeling less squeezed by their debt loads, leading investors to buy back bonds at depressed levels.
Additionally, the overall economy looks to be improving. While there are still structural problems with the global economy, the labor market and overall growth are showing signs of improvement from 2009 levels.
The improving economy is pushing the Federal Reserve to consider a rate hike in the next few months, which traditionally is bad for commodities and bonds, but such assets look to be shaking off higher rate speculation, so far.
With improvements in risk sentiment, the market has rallied in recent days. While a large downside risk remains for asset markets, improving high-yield spreads are signaling investors are content with the current trading environment.
An interesting asset to consider when playing improving sentiment in the junk bond space is BlackRock Debt Strategies Fund (DSU) - Get BlackRock Debt Strategies Fund Inc. Report . The fund invests in lower-quality bonds but is showing a nice reversal pattern and has an annual dividend yield of 6.8%. 
This article is commentary by an independent contributor. At the time of publication, the author held no positions in the stocks mentioned.