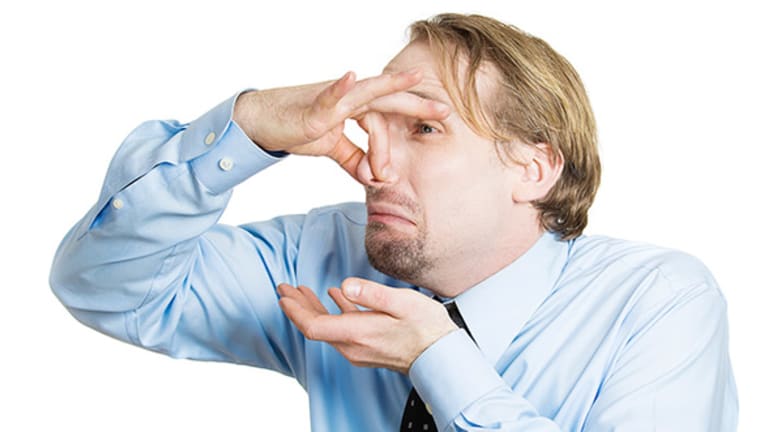 Fat Cats, Here's Your Shot at Fame: 2015's Most Shameful Award-Winners
2015 was a winner for brokerage firms and other businesses that hoarded tax breaks and sought to reduce their obligations to the public. We honor the dubious achievers.
Editors' Pick: Originally published Dec. 28.
It was, to put it mildly, not a banner year for the Little Guy.
As 2015 was winding down, fat cats snuck language into a federal spending bill that would protect $1 billion in tax savings for the casino and other industries.
The securities industry tried to persuade the public that a proposal for brokers to act in clients' best interest was not in clients' best interest. And some people actually believed them.
Joe Average, in the meantime, racked up 12 months' worth of lumps of coal.
Consumers and workers had the courthouse doors slammed in their faces as corporate lawyers who hadn't already jumped on the trend cranked out mandatory arbitration agreements.
Interest rates went up, but savings rates paid to customers didn't.
All in all, business this year often came out a winner at the public's expense. Which isn't all bad, because it gives us an excuse to pause and recognize the dubious accomplishments of the victors:
1. Hands-down winner of this year's Whiner's Award is JPMorgan Chase CEO Jamie Dimon, the man who can't complain enough about how hard it is to put up with regulations after his company breaks the law.
Dimon started the year grousing about banks being "under assault" during a call with reporters in January.
"It's a hard thing to deal with" when you have five or six regulators coming after you on different issues, he told his audience. "You all should ask the question about how American that is. And how fair that is."
I figure it's at least as fair as rigging currency and municipal bond markets and engaging in mortgage fraud, all of which the bank has been accused of by regulators. Does Dimon read those settlement agreements before he or his lieutenants sign them?

2.The Chutzpah Award goes to management of the Kansas City medical records software company Cerner, which gave its employees a non-choice choice this fall: Agree never to sue the company, or we will no longer consider you for performance-based pay raises.
A television reporter at Kansas City's KSHBbroke the news that Cerner was strong-arming workers to accept mandatory arbitration and forego access to the public courts. The Kansas City Starsaid later that, given the choice, 93% of employees had agreed to give up their Seventh Amendment rights.
3. The Alternate Reality Award belongs to Andrew Heath, chief compliance officer at the Shrewsbury, N.J., brokerage firm Buckman, Buckman & Reid.
Heath was all in a huff that Finra, the self-regulatory organization that watches over stockbrokers, was proposing that brokerage firms supply direct links to their brokers' regulatory histories on company Web pages.
He said in a June 3, 2014, letter to Finra, that "there are many unscrupulous investors out in the marketplace who will stop at nothing to extort money from brokers or their employer firms." (Yes, unscrupulous investors.)
Six months later, Finra fined the firm $200,000 and suspended its chairman and CEO from working in a principal capacity for a month after a litany of failures in its supervisory procedures and anti-money laundering program.
The firm did not admit or deny wrongdoing in that settlement or in the one it signed with Finra on Oct. 16, when it was hit with another fine and censure. The latter related to findings that Buckman had executed trades in its own account at better prices than customers got.
Who's calling whom unscrupulous?

4. The Clueless in Menlo Park Award goes to Michael Moritz, chairman of the venture capital firm Sequoia Capital.
When Bloomberg TV's Emily Chang inquired about Sequoia's dearth of women investing partners in an early December interview, he went all 1960s on her. Moritz said Sequoia was working "very hard" to find women, but "what we're not prepared to do is to lower our standards."
Commenters on Twitter were not kind.
"OMG just heard Michael Moritz blame women for not studying 'the sciences,'" wrote @JasonCoombsCEO. "He studied HISTORY!"
The day after her interview, reporter Chang tweeted that Moritz had been in touch with an e-mail clarification. "I know there are many remarkable women who would flourish in the venture business," he said. "We need to do better."
Uh, yes, Mr. History Major. You really do.

5, And finally, for some happy news, the Good Riddance Award goes to J.P. Turner Associates, the Atlanta-based brokerage firm that said in July that it was winding down its operations.
Turner, which has 41 fines, censures, arbitrations and injunctions on its regulatory records, was a menace to some of its aggrieved customers.
One supervisor at the firm was suspended from acting as a principal for two months after regulators learned that a broker under his charge had done 335 unsuitable mutual fund switches in the accounts of 54 customers.
Turner was part of RCS Capital's Cetera network of brokerage firms, which said in the summer that it would move half of Turner's 300 brokers to its Boca Raton-based Summit Brokerage and let the rest find work elsewhere.
You don't want to be a client of one of those "elsewhere" brokers. That's reason 1,001 that you need to check a broker's regulatory records or be prepared for unpleasant surprises in your account.
I'm a broken record on this, but you can check that stuff here. Bad brokers hope you don't.