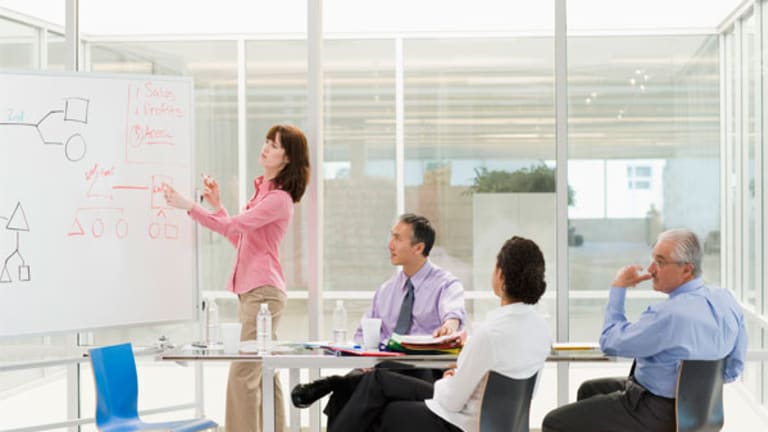 Faster, Cheaper, Dumber: Street Whispers
A NYSE to bring high frequency trading to retail investors is likely to be a next step a the march toward instability.
NEW YORK (
) -- Despite the hand wringing over
Knight Capital's
(KCG)
$440 million in losses that also led to wild trading in at least 10 stocks, Wall Street is continues to fall over itself to make sure "smart money' high-frequency wolves can continue to slaughter the retail "dumb money" sheep.
Last week
BATS Global Markets
-- a high frequency trading exchange that
which nearly went down in flames because of its own flash crash
- said it will tie into
NYSE Euronext's
(NYX)
new Retail Liquidity Program (RLP).
What is the RLP? It's a so-called "Dark Pool" where high frequency traders enjoy a refreshing and profitable swim. It also happens to be the pool where Knight Capital nearly drowned after a bad bit of computer programming went haywire while it attempted to tie into the system.
NYSE Euronext launched the RLP on August 1 in an effort to bring retail stock trading back to the "Big Board" by offering the ability to trade anonymously -- and in fractions of pennies -- on its exchange. After losing market share to other dark pools where traders can operate with little disclosure, NYSE Euronext is essentially creating its own dark pool, but with what it argues are investor protections of public data feeds and increased regulation.
In a lobbying effort for the RLP, Duncan Niederauer, the chief executive of NYSE Euronext took to the
to note that the program would return stock trading from opaque outfits to more trustworthy exchanges, citing figures like the 50 "dark pool" exchanges across the U.S. and the 40% of overall market trading that is channeled to them.
In the Op/Ed Niederauer highlighted a "two-tiered" equity market of transparent exchanges and opaque off-exchange venues that is harming ordinary investor confidence and the quality of markets.
His solution? Bring an opaque, two-tiered system with fast-money trading incentives to the "Big Board."
In the NYSE's proposed RLP system, retail orders would be executed at fractions of pennies - 100
IBM
(IBM) - Get International Business Machines (IBM) Report
shares at say $200.001 instead of $200.01. That's exactly the kind of pricing that high frequency traders enjoy since it allows they to move in and out of positions in milliseconds and at subpenny prices. With access to NYSEs retail order flow, robotic and sophisticated traders will have a whole new menu of liquidity on which to feast.
That is why the new Wall Street war for clients isn't about serving retail giants
E-Trade
(ETCF)
,
Charles Schwab
(SCHW) - Get Charles Schwab Corporation Report
and
TD Ameritrade
(AMTD) - Get TD Ameritrade Holding Corporation Report
with lower prices, but instead about serving up ordinary trades to a shark tank of fast-money traders who've plugged directly into exchanges.
As ordinary equity investors flee stocks because of a loss of confidence in markets after flash crashes have led the likes of
Apple
(AAPL) - Get Apple Inc. (AAPL) Report
above $100,000.00 and
Accenture
(ACN) - Get Accenture Plc Class A Report
,
Hewlett Packard
(HPQ) - Get HP Inc. (HPQ) Report
and
Boston Beer Company
(SAM) - Get Boston Beer Company, Inc. Class A Report
to pennies, stock market trading is increasingly the domain of quick buck artists.
As a result, exchanges and trading outfits are now focused on gaining the remaining retail or institutional orders to lure in exponentially larger sized HFT trades.
While exchanges, regulators and high frequency trading outfits frame new developments in the structure of stock trading on improvements in pricing, speed and execution, there seems to be little recognition that markets remain on a crash course towards instability and speculation, at the detriment of long-term retail and institutional investors who used to be the fabric of stock trading.
In order to take back market position from ominous dark pools and high frequency exchanges where trading largely goes unregulated, NYSE Euronext's seemingly well-intentioned efforts to bring those trading practices to retail investors - backed on a "trial basis" by the
Securities and Exchange Commission
-- are likely to be overwhelmed by benefits to speculators.
For more on high frequency trading see why high frequency traders are ready to
and why they
.
-- Written by Antoine Gara in New York