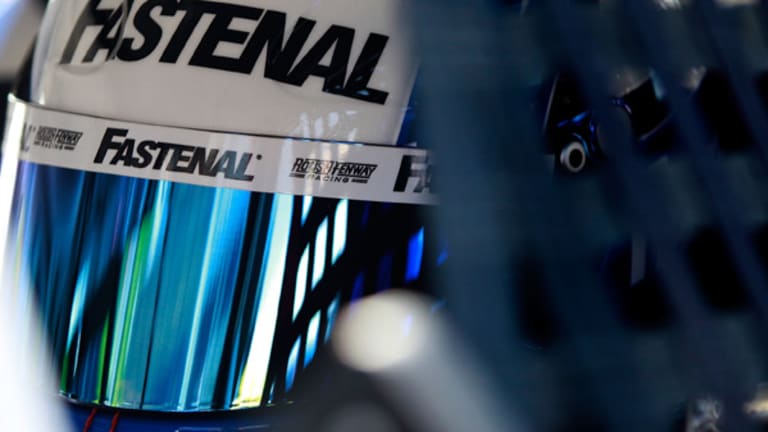 Fastenal Quietly Locks Up Profits
Fastenal may never fascinate investors with exciting products or technologies, but its consistency makes it a strong candidate to consider in a covered option strategy.
NEW YORK (TheStreet) -- Fastenal (FAST) is not so fascinating but it's a solid company.
In a previous life, I flew into a New England city on a weekly basis. On a lonely back road, I would pass a Fastenal store. I never thought twice about it.
For seven years I passed that solitary Fastenal store -- in the dot-com era so many businesses that opened with great expectations quickly closed with great disappointment. Nothing fancy or ostentatious about the store; just a utilitarian building. But the parking lot was often full.
Back then I had no idea what Fastenal did, nor whether it was publicly traded. My assumption was it had something to do with fasteners. I envisioned the ad campaign: "Fastenal: We fasten everything." I'm smart that way.
Little did I know that there were many more of those unobtrusive Fastenal stores, and that they had lots more than hardware and fasteners. The company sells industrial equipment, construction tools, safety materials and a lot more.
Years later, after I devoted myself to full-time portfolio management, I learned about Fastenal. It's not one of those companies that you hear about much, but it has a deep footprint among those taken-for-granted people who do physical labor, such as building and improving things.
Eventually, like a "channel checker," I wanted to find out the inside scoop on the business. I followed the shares for six months, looking at a potential investment from the perspective of a covered option writer. I bought in June 2013 and am currently on my fifth lot of shares.

The average purchase price for those five lots was $47.27 with the average strike price of the lots being $47.80. Based on today's closing price of $46.41, the average price of all shares, including those of previously assigned positions is $47.45. If somehow I could magically close the book on the positions today the cumulative return would be 23.6% when shares themselves are actually trading at a loss compared to the average cost. During that same time frame the S&P 500 has advanced approximately 8.5%.
Why am I telling you this? Because of the future opportunities reflected in Fastenal's chart over the past five weeks.
The banality of variation during that time is exactly what excites a covered option strategist. While a consistent flat line wouldn't do very much to encourage option buyers to ante up the premiums, the occasional paroxysms of price, up or down, make selling Fastenal call options an appealing complement to an overall strategy of trying to optimize share returns and dividends.
More important, the setting of a strike price at which options are sold establishes discipline by creating an exit point and doing what is often left undone -- taking profits.
Fastenal may be staid, and its stock may not reflect broad market averages or big changes to GDP.  But as a component of a covered option strategy, the stock could lead comfortable profits.
At the time of publication, the author was long Fastenal.
This article is commentary by an independent contributor, separate from TheStreet's regular news coverage.