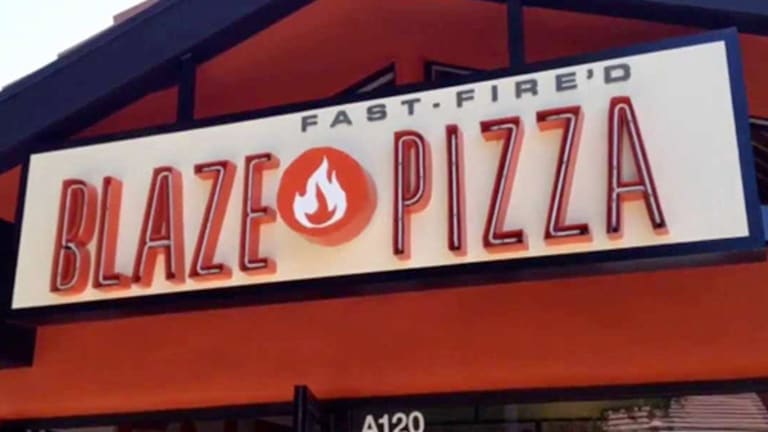 Fast-Growing Blaze Pizza Not Planning an IPO Just Yet
The popular pizza chain, which counts NBA star LeBron James as an investor, has a host of plans for 2016 but says an IPO is not among them.
Updated to include details from Blaze's investor presentation at ICR.
Despite sales growth that would whet the appetite of any investor, one of the newest restaurant concepts in the U.S. is in no hurry to be a public company.
"We are still two to three years out from an initial public offering (IPO)", said Blaze Pizza president and COO Jim Mizes in an interview. Blaze Pizza is a restaurant concept that allows people to make their own pizza and prides itself on its ingredient quality. The company has quickly grown to 105 locations since its founding in 2011.  
On Monday, Blaze Pizza will be presenting for the first time at the ICR investment conference. Although a presentation in front of Wall Street analysts would typically be a sign of an impending IPO, Mizes says the forum will be more to get the company's "story out there."
And it's a story that may have prospective investors nudging Blaze Pizza to move up its timeline for an IPO.
Sales last year reached $105 million, up from about $33 million in 2014. Same-store sales, or sales from stores open longer than a year, increased 7%. The company turned net income and cash flow positive in the third quarter, according to a spokesman at Blaze Pizza.
Seeing sales growth from older restaurants and already being profitable is no small achievement given Blaze Pizza's relative infancy and the intense competition in the pizza category, where bigger delivery-focused players such as Domino's Pizza (DPZ) - Get Report , Papa John's (PZZA) - Get Report and Pizza Hut (owned by Yum! Brands (YUM) - Get Report ) offer aggressive discounts and trumpet their digital ordering capabilities.
Unlike its more mature pizza rivals, Blaze Pizza does not currently deliver. But in its presentation, Mizes said Blaze Pizza has begun testing delivery in certain markets with third-party delivery companies Postmates and Doordash.
The company is also doing battle with fellow up-and-coming fast casual pizza companies such as MOD Pizza and PieFive. Blaze Pizza estimates there are about 75 players in the relatively new fast casual pizza space.
Nevertheless, the privately held Blaze Pizza has another busy year ahead.
The company plans to open 70 to 80 new restaurants in 2016. Two of those locations will be high-profile flagships inside of Disney World and Universal Studios.
This month the company will unveil its first mobile ordering app, which will include a loyalty program that gives customers a free pizza after ten trips to the restaurant.
Loyalty programs have proven very popular in the fast food pizza industry. Papa John's launched its "Papa Rewards" platform in 2010, with users scoring a free large pizza after they spend $100. The program has helped Papa John's sales that are made online or on a mobile device to reach a whopping 50% of its business.
In September, Domino's Pizza launched its "Piece of the Pie" rewards program. For every digital order of $10 or more, a user is given 10 points. After amassing 60 points, the points can be redeemed for a free medium pizza.
Meantime, Blaze Pizza plans to ink two to four agreements this year to open locations overseas. Further, it expects to have a completely "clean" ingredient list by the first quarter of this year, or one free of artificial colors, ingredients, and preservatives.
In total, Blaze Pizza sees sales this year north of $180 million, with same-store sales increasing about 4% to 6%.
As for how Blaze Pizza plans to use basketball star Lebron James, who is an original investor in the company and just parted ways with former sponsor McDonald's (MCD) - Get Report , don't expect any McDonald's-like TV commercials featuring James, said Mizes. James will instead publish multiple Blaze Pizza-related tweets monthly to his over 26 million followers. He may also make random appearances at Blaze Pizza restaurants, hinted Mizes.
Ultimately, the biggest hurdle for Blaze Pizza this year won't be finding ways to capitalize on the star power of James to sell more pizza. Rather, it's finding the right real estate, says Mizes, as the company competes for prime locations with fellow fast-growing restaurant chains such as Chipotle.
Locking down good locations will be key for Blaze Pizza as it pursues its ambitious goal of reaching 500 locations by 2020.