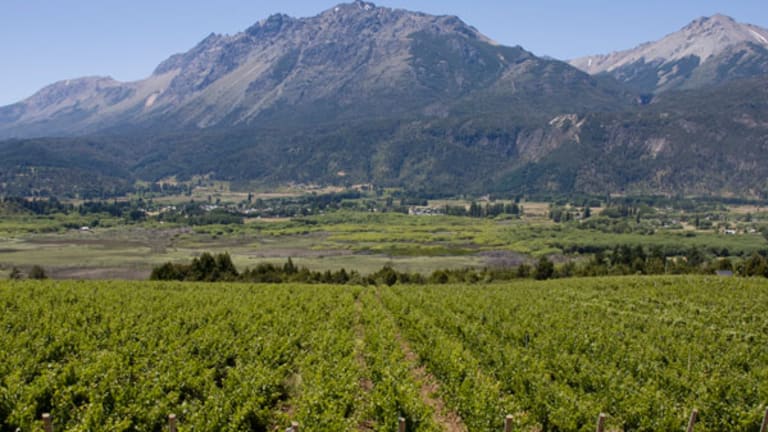 Farmland, South American Style
Investing in Argentine farmland company Cresud can provide great portfolio diversification, although it's certainly not for the faint of heart.
NEW YORK (
) -- Last week, I made the case that farmland is an asset class, and one that I consider to be an important piece of my portfolio.
Even though there aren't many publicly traded agriculture plays, over the years, I've discovered and purchased a handful. A conversation with a colleague yesterday, who buys and manages farms in the western U.S. as investments, was a great reminder of why farmland can be such an important part of a portfolio: diversification benefits.
Historically farmland has been positively correlated with inflation, so it is an inflation hedge, but over long periods of time it has been negatively correlated with equities. In other words, the diversification benefits can be huge, in an era when correlations among many asset classes are very high.
Of course, owning publicly traded companies that own farmland still exposes you to the equity markets, but short of going out and buying land, these companies are as close as many investors can get -- at this point, anyway -- to farmland exposure.
One of the more interesting farmland plays that I own is Argentine company
Cresud
(CRESY)
. As of March 31, the company managed 34 farms with a total of more than 2.3 million acres of land. For perspective, that's the equivalent of 3,700 square miles, an area that is roughly two-thirds the size of Connecticut. Nearly two-thirds of the land is located in Argentina, with 19% in Brazil, 13% in Paraguay, and 2% in Bolivia.
data by
Cresud's market cap is just $431 million, but the company has about $1 billion in debt, for a total enterprise value of about $1.3 billion. Considering the company's assets, that is a small enterprise value.
In addition to its other assets, Cresud also owns 64.5% of Argentine real estate company
IRSA
(IRS)
, which currently has a market cap of $540 million.
That puts the value of Cresud's IRS stake at $348 million. The company also owns 40% of
BrasilAgro
(LND)
, worth about $100 million.
The natural question is why a company with such a vast array of assets has such a small market cap, and the answer is location.
Cresud operates within a country that has suffered massive inflation over the years, whose government is not exactly friendly to business. In my view, three "events" in recent years have helped to send shares from the $20 range in late 2011, to the current $8.68 level.
First, the Argentine government nationalized the oil and gas industry in 2012. Second, the government enacted price controls in early 2013, an ill-informed attempt to stem inflation. Third, Cresud's 50.4-cent dividend, which was supposed to have been paid to ADR shareholders on Nov. 27, 2012, was not actually paid until June. This appears to be caused by the company's trouble in getting the Argentina's central bank to allow it to purchase dollars in order to pay shareholders. Argentina certainly is not the U.S.
Argentina Economic Freedom Index
data by
Due to these events, Cresud has not been your typical buy-and-hold value play. I've been in and out of the stock several times, as Argentine economic events or government control issues have unfolded. My most recent stake was taken after the November dividend was finally paid, and shares are up about 11% since then.
Owning South American farmland via Cresud is certainly not for the faint of heart, but it is another way to gain portfolio diversification.
At the time of publication, Heller owned shares of CRESY
.
This article is commentary by an independent contributor, separate from TheStreet's regular news coverage.
Jonathan Heller, CFA, is president of KEJ Financial Advisors, his fee-only financial planning company. Jon spent 17 years at Bloomberg Financial Markets in various roles, from 1989 until 2005. He ran Bloomberg's Equity Fundamental Research Department from 1994 until 1998, when he assumed responsibility for Bloomberg's Equity Data Research Department. In 2001, he joined Bloomberg's Publishing group as senior markets editor and writer for Bloomberg Personal Finance Magazine, and an associate editor and contributor for Bloomberg Markets Magazine. In 2005, he joined SEI Investments as director of investment communications within SEI's Investment Management Unit.
Jon is also the founder of the
, a site dedicated to deep-value investing. He has an undergraduate degree from Grove City College and an MBA from Rider University, where he has also served on the adjunct faculty; he is also a CFA charter holder.