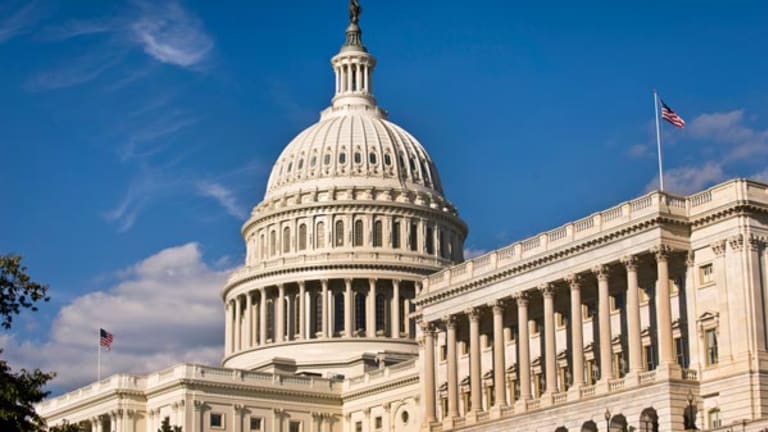 Fannie Mae: Too Many Risks
Truth be told, Fannie Mae is a risky long-term investment but great for traders.
NEW YORK (TheStreet) -- Fannie Mae (FNMA) shares are up more than 2,400% since March, boosted by headlines and anticipation that the government-sponsored enterprise will return to more normal operations. That rally is on a baseline low of about 20 cents a share 2010 through 2012.
However, a more detailed look into Fannie's financials, congressional disapproval of Fannie and actions taken by the Treasury with regard to the revised Preferred Stock Purchase Agreement with the Federal Housing Finance Agency of August 2012 should leave common shareholders much less optimistic that FNMA will make a return from here.
Fannie's Financials Are Not Kosher
Starting with Fannie's financials and lack of generally accepted accounting principles as they relate to its third-quarter income statement, investors are presented with a false profit statement of $120 million.
And, of course, with only a scant number of traders bothering to wait for a clear explanation of the financials, headlines about a Fannie revival triggered and a predictable rush into the stock.
But is Fannie really a wonderful turnaround story?
Behind FNMA's miraculous levitation from the dead, investors will discover an important accounting discrepancy regarding loan reserves -- a falsification of data that can only survive Securities and Exchange Commission scrutiny via special government-sanctioned rule changes specifically to maintain the illusion of a Fannie solvency.
Reviewing Page 5 of Fannie's third quarter 10Q, we see a table that breaks down delinquent mortgages by year of acquisition. It's titled, Table 1: Selected Credit Characteristics of Single-Family Conventional Loans Held, by Acquisition Period. But the language preceding the table is a clever spin on some of the data.
It reads:
"Table 1 below displays information regarding the credit characteristics of the loans in our single-family conventional guaranty book of business as of September 30, 2013 by acquisition period, which illustrates the improvement in the credit risk profile of loans we acquired beginning in 2009 compared with loans we acquired in 2005 through 2008." (emphasis added)
Although Fannie is spinning the "improvement" of its "serious delinquency" rate of mortgages originated after the pre-Lehman 2005 to 2008 period, investors should realize that the 2005 to 2008 delinquent mortgages still represent a whopping 73.2% (exhibit A) of the total mortgages in default.
Instead of feeling warm inside about the improvement in delinquency rates among Fannie's new mortgage originations, the question investors should be asking is: Why are these mortgages still on Fannie's books?
Exhibit A
Post 2008: 75% x 0.32% = 0.24%
2005-208: 16% x 9.58% = 1.53%
2004 and prior: 09% x 3.55% = 0.32%
Total = 2.09%
1.53%/2.09% = 73.2%
And with Fannie reporting $126 billion worth of delinquent loans, of which $75 billion are those 2005 to 2008 mortgages delinquent more than 90 days (Page 100), Fannie will most likely have to dip into its loan loss reserve of $45 billion, and then some.
Of the $75 billion, FNMA can only hope to recover approximately 50% to 60% (or 40% to 50% loss) (1) of the unpaid mortgages. The remaining $51 billion may only reach approximately half that amount (or $25.5 billion) (2) which eventually moves into the seriously delinquent mortgages category.
So, doing the math to determine likely aggregate default amounts, losses of $34 billion and $11 billion incurred from seriously delinquent loans and delinquent loans, respectively, total approximately $45 billion of losses, or just enough to wipe out Fannie's loan loss reserve.
In addition, Fannie would need to recapitalize its loan loss reserve for future charge offs from its remaining $3.0 trillion notional value of mortgages on its books. Let's say, 1.5% (3) should be set aside to cover mortgages in default. That's another $45 billion that needs to be taken off Fannie's bottom line to adequately capitalize for future mortgage defaults.
So, it seems Fannie needs to add an additional $45 billion in loan loss reserves to adequately cover future mortgage defaults.
Taken off Fannie's bottom line, an increase of loan loss reserves of $45 billion would require additional funding by Treasury. That's not likely to happen, as Fannie has been the focus of attention among members of Capitol Hill, who have no stomach for voting for another bailout of Fannie.
Congress Is Not Your Friend
In fact, The Protecting American Taxpayers & Homeowners Act, or PATH, drafted by the House Financial Services Committee, chaired by Rep. Jeb Hensarling (R, Texas), expresses the outrage of the majority of the American people.
"Hardworking taxpayers must never again be asked to bail out banks and corrupt government enterprises like Fannie Mae and Freddie Mac," reads, in part, the PATH press release.
Under Hensarling's plan, Fannie would no longer exist as a GSE, but, instead, would be privatized and sold to Wall Street.
And on the Senate side, Bob Corker (R., Tenn.) and Mark Warner (D., Va.) have teamed up in a bipartisan effort to wind down Fannie in five years to create a new entity, Federal Mortgage Insurance Corp.
Under FMIC, mortgages would be covered 100% through a public-private capital cushion, with the first 10% portfolio loss taken by private-capital MBS insurers before the remaining 90% made up of by public capital is drawn down.
What effect these two proposals would have on common stock shareholders is unclear, but considering Fannie's true financial condition, common stockholders may not fare well. The outlook for Fannie in Washington is too uncertain at the moment.
But, for now, it appears the message from Congress is: Taxpayers are our only concern.
Incidentally, Friday, long-time civil activist and former presidential candidate Ralph Nader told reporters in a conference call, "Hearing after hearing, there's no mention of the owners of Fannie Mae, as if they committed some sort of crime."
Nader, too, noticed the lack of concern for shareholders.
And if bogus accounting and a callous Congress don't get you down, the executive branch and its appointed leadership of the Treasury may.
Treasury Cash Grab
As I wrote earlier in the month, Treasury, too, has demonstrated a total disregard for the common shareholder (junior preferred stockholder, as well), as it muscles in on Fannie's cash.
In my article, titled, Fannie Mae: This Dog Is For Traders Only, I cover the Treasury cash grab in some detail.
The following is the excerpt of my brief take on Treasury's revised Preferred Stock Purchase Agreements (PSPA) between the FHFA and Treasury, as well as my observation of Fannie's August 10Q.
As a GSE under the conservatership of the Federal Housing Finance Agency (FHFA), Fannie is subject to the whims of the primary stockholders of the GSE's 10-percent preferred dividend shares, Treasury.
For approximately three years, Fannie continued to hemorrhage from the collapse of the U.S. housing market, precipitated by the bankruptcy of Lehman Brothers in 2008.
However, just when Fannie began to throw off some meaningful cash due to the U.S. housing "recovery" of 2012, the original Preferred Stock Purchase Agreements (PSPA) between the FHFA and Treasury of Feb. 2012 was revised in Aug. 2012 (referred to as the Full-Income Sweep Agreement) to include an increase dividend paid to Treasury in an amount of, literally, "every dollar of profit," up from the original agreement of a 10-percent dividend rate paid to Treasury.
"The agreements will replace the 10 percent dividend payments made to Treasury on its preferred stock investments in Fannie Mae and Freddie Mac with a quarterly sweep of every dollar of profit that each firm earns going forward," according to a Treasury press release of Aug. 17, 2012.
Under the Full-Income Sweep Agreement, the only beneficiary since Fannie's 2008/9 bankruptcy has been Treasury. No investor of Fannie's common shares (or junior preferred shares) has received one dime from the GSE's recent profitable streak, but Treasury has received approximately $60 billion in the second quarter (ending Jun. 30).
Carefully note the language found in piece of the guidance section of Fannie's latest quarterly statement. "We are focused on paying Treasury for taxpayers' investment in Fannie Mae, which can be accomplished by supporting the housing recovery, helping struggling homeowners and laying the foundation for a better housing finance system going forward," according to Fannie's 10-Q of Aug. 8, 2013.
"Taxpayers" are Fannie's primary concern (of course), with homeowners coming in second as management's apparent 'constituency'. There is no mention of "common shares," "stockholders," "shareholders" or "investors" anywhere in the latest abbreviated 10-Q.
Shareholders should get the hint.
Conclusion
Not only is Fannie truly unprofitable, but the Congress and Treasury have acted only on behalf of taxpayers, with no mention of shareholders of Fannie's common. The issue of Fannie Mae as an ongoing GSE presently has no support on Capitol Hill. Though, it's not likely that any meaningful action will be taken regarding Fannie before the 2014 elections, the tone in Washington has already tipped off investors that making a return on FNMA's common stock will remain an uphill battle for years. 
Aside from other pressing risks, like the dubious outlook of the U.S. economy, Treasury's apparent self-serving intentions (79.9% owner of Fannie), and rising risks of elevated interest rates (both concerns not covered here) in 2014 and beyond, Fannie's burdening political risk appears to be as serious as a mining operation trying to make a living in Venezuela.
Lawsuits, politics and underhanded accounting nonsense are just too much to juggle for the typical mom-and-pop investor. Fannie is a gamble in every sense of the word. The question, then, becomes: Isn't there a better place to invest your capital?
At the time of publication, the author held no positions in any of the stocks mentioned, although positions may change at any time.This article is commentary by an independent contributor, separate from TheStreet's regular news coverage.
Jason Bond is an American stock trader, entrepreneur, and small cap expert. Jason teaches small cap swing trading at Jason Bond Picks. He is best known for his 2013 swing trading performance tripling the S&P 500 in the portfolio he manages. Jason's small cap swing trading ideas are widely published on numerous financial sites and blogs. Prior to teaching small cap swing trading in 2011, Jason taught for the Webster Central School District in NYS from 2001 - 2011. Jason's trading strategy attempts to capture gains in a stock within one to four days. He uses technical analysis to look for stocks with short-term price momentum. Jason is interested in the fundamental value of stocks but puts emphasis on price trends and patterns.