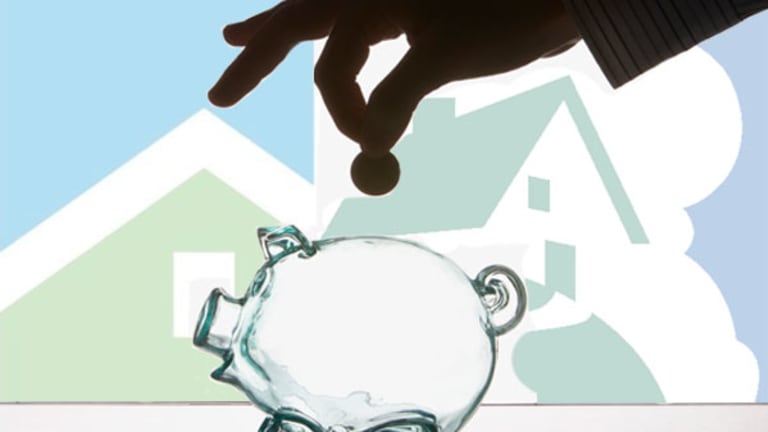 Fannie, Freddie Still Have Enormous Potential
Junior preferred shares of the GSEs could quadruple when dividends are restored, but the common shares could reward investors even more.
NEW YORK (
) -- There's no doubt that the extreme volatility will continue for shares of
Fannie Mae
(FNMA)
and
Freddie Mac
(FMCC)
, but despite the run-up this year, investors still see the potential for enormous additional gains.
Fannie Mae's common shares closed at $2.53 Monday, gaining 873% from their closing price of 26 cents at the end of 2012. Freddie Mac's common shares closed at $2.45 Monday and were up 842% from the end of last year when they also closed at 26 cents.
Junior preferred shares of Fannie and Freddie have also risen considerably this year, and since they have a potential to rise to par value if investors become convinced the dividends will be reinstated, they have been seen as a safer play. The junior preferreds are indeed the more conservative play for investors, based on the potential dividends and preference over the common shareholder in the event the GSEs were "broken up" by the government.
But the eventual gains on the preferred shares are limited by their (hopefully reinstated) dividend yields relative to the market. The common shares are more risky but also appear to have more potential for investors, based on a very low valuation to operating earnings.
Background
Fannie and Freddie, known as the government-sponsored enterprises, or GSEs, together hold roughly $5.2 trillion in mortgage loans and mortgage-backed securities, and remain crucial to the U.S housing market, as they purchase about 90% of newly originated mortgage loans in the United States.
The two companies were taken under government conservatorship at the height of the financial crisis in 2008.
Also see: Fannie and Freddie Keep Flying High: Financial Winners >>
The U.S. Treasury holds $117.1 billion in Fannie Mae senior preferred shares and $72.3 billion in Freddie Mac senior preferred shares, in lieu of bailout funds provided to the GSEs. Both GSEs returned to profitability last year, and have been making very significant dividend payments on the senior preferred shares, while dividends on junior preferred shares have remained suspended since September 2008.
Per their amended bailout agreements, Fannie and Freddie are required to pay dividends to the government equal to all of their earnings, less $3 billion apiece in retained earnings to provide a minimal equity buffer.
As a further sweetener, the government holds warrants to purchase common shares in Fannie and Freddie in sufficient quantities to give the Treasury a 79.9% stake in each GSE, at a very low price of $0.00001 a share.
Fannie Mae announced on May 9 it would pay the Treasury a second-quarter dividend of $59.5 billion, after determining it could recapture most of its valuation allowance for deferred tax assets (DTA) at the end of the first quarter. Freddie Mac announced on May 8 that it would pay a dividend of $7 billion to the Treasury in June.
Following the June dividend payments from Fannie and Freddie, the government will have received dividends totaling $131.6 billion on its combined GSE preferred investment of $189.4 billion. That is quite a solid return to U.S. taxpayers, especially considering that a few years ago, the GSEs were all but given up for dead.
But no matter how much Fannie and Freddie can now earn, there is no mechanism in place allowing either Fannie or Freddie to repurchase any government-held preferred stock.
High-Profile Investors Fight for Private Shareholders
Two recent statements by high-profile investors in Fannie Mae and Freddie Mac have huge political significance.
Ralph Nader in an op-ed piece published in the
Wall Street Journal
on May 24 said he was a shareholder in both GSEs and that common shareholders of Fannie and Freddie should fight against the federal government's "great Fannie and Freddie rip-off."
Also see: Berkowitz's Fairholme Discloses $2.4B Stake in Fannie, Freddie Preferreds >>
"The zombie common shareholders have no rights or remedies against Fannie and Freddie, both operationally active companies, or their regulator -- the Federal Housing Finance Agency," Nader wrote, adding that "FHFA ordered the Fannie and Freddie boards and executives to suspend communications with shareholders and abolish the annual stockholders meeting."
Despite the continued cries to "break up Fannie and Freddie" from some politicians and pundits, President Obama and Congress have been in no hurry to come to an agreement on a way forward for home financing in the U.S. During an economic recovery that has included a slow increase in employment, there has been understandable hesitation to radically transform the largest segment of the economy.
Looking ahead to an eventual political settlement, Nader wrote "the common shareholders of Fannie and Freddie need to organize and make their voices heard in Washington. Clearly, they should have a say in how Fannie and Freddie are managed -- in the board room and in Congress -- from here onward."
Bruce Berkowitz's
Fairholme Capital Management
on Monday said that its clients, including shareholders including shareholders of
The Fairholme Fund
(FAIRX) - Get The Fairholme Fund Report
and
The Fairholme Allocation Fund
(FAAFX) - Get The Fairholme Allocation Fund Report
, "own approximately $2.4 billion par value of Fannie Mae and Freddie Mac Preferred Stock and are ready to help with a restructuring that accelerates the return of meaningful investment to the secondary mortgage market."
That equates to investments with market values totaling roughly $580 million, as the most liquid preferred issues of Fannie and Freddie trade for about 24 cents on the dollar.
Fannie Mae Series S junior preferred shares (FNMAS), with a $25 par value closed at $6.00 Monday. Freddie Mac's Series Z junior preferred shares (FMCKJ), with a $25 par value, closed Monday at $6.03.
Investors going into these junior preferred issues at Monday's closing prices have an opportunity to quadruple their investments if the dividends are restored, which would push the shares right back to par value, with market adjustments depending on how the shares' floating dividend rates compare to overall market rates when and if the dividends are restored. The shares could also jump right to par as soon as investors
believe
the dividends will be restored.
Also see: Ralph Nader, Wounded Shareholder of Fannie Mae Freddie Mac >>
You may be shaking your head at how unlikely it might be for the junior preferred dividends to be restored, but the junior preferred shareholders could be "made whole" in another way.
Fairholme's letter
on Monday contained some very interesting comments.
Fairholme (and therefore Berkowitz) said "there are no substitutes. Fannie and Freddie currently purchase or insure 6 out of every 10 home mortgages in America. Today, they are stronger than ever -- enabling the United States Treasury to rapidly recoup its temporary emergency investments in both entities."
Of course, those who wish to see Fannie and Freddie, with $5.2 trillion in assets, simply "go away," may forget that even if the GSEs were to be broken up, all that mortgage paper would still exist, and shareholders would have claims on those assets.
Moving on, Fairholme made its demand: "Taxpayer dollars expended by the government during a time of national crisis will be fully repaid. And equitable treatment of taxpaying shareholders, including community banks, insurance companies, and mutual funds holding Preferred Stock, must be restored with dividends reinstated. Repaying taxpayer investments, restructuring government guarantees, and restoring shareholder property are not mutually exclusive. This is the American way."
Then after calling for the immediate restructuring of Fannie and Freddie, Fairholme made its most interesting comment: "On behalf of the hundreds of thousands of Fairholme Funds shareholders who helped to rebuild
American International Group
(AIG) - Get American International Group, Inc. Report
,
Bank of America
,
CIT Group
(CIT) - Get CIT Group Inc. Report
,
General Growth Properties
(GGP)
,
MBIA Inc.
, and others after the Great Recession -- we stand ready to do our part."
Also see: Fannie Mae, Freddie Mac Help Uncle Sam Shrink Deficit: CBO >>
Fairholme made it pretty clear that hundreds of thousands of investors --
voters
-- would be displeased if the president and Congress were to force the GSEs to continue paying outsized dividends to the Treasury while not allowing Fannie or Freddie to repurchase any of the government's senior preferred shares.
Fairholme also neatly tied its offer of assistance to the government's conversion of senior preferred shares in American International Group to common shares, which enabled AIG to move past its bailout, with the Treasury and the
Federal Reserve
.
Such a move could raise the junior preferred shares to par value and would also enable Fannie and Freddie to begin rebuilding their capital levels, since they would no longer be paying all of their earnings to the government. Then, like AIG, the GSEs could repurchase government-held common shares, thus lowering the share count, increasing earnings-per-share, and possibly setting up huge gains for the common stockholders.
Anticipating the expected negotiations between President Obama and Congress over the GSEs future, Nader wrote that "the common shareholders of Fannie and Freddie need to organize and make their voices heard in Washington. Clearly, they should have a say in how Fannie and Freddie are managed -- in the board room and in Congress -- from here onward."
The Common Shares are Cheap
A quick back-of-the-envelope calculation shows the potential for very large gains for Fannie Mae's common shareholders, because the shares trade at a very low valuation to the company's potential annual operating earnings.
The government has warrants to purchase up to 79.9% of Fannie Mae's shares at a price of $0.00001 per share. During the first quarter, Fannie had 5.762 billion in common shares outstanding, including the government's potential stake, according the company's most recent 10-Q filing with the Securities and Exchange Commission. That would make for a market capitalization for the common shares of $14.578 billion, based on Monday's closing share price.
At this point, Fannie's earnings are being swallowed up by the government, because of the revised bailout agreement, but if the company no longer had to pay that dividend, its earnings available to common shareholders would be substantial.
Fannie's pretax income during the first quarter was $8.114 billion. The company's outsized first-quarter results and its dividend to the government reflected an income tax benefit of $50.6 billion, because of the DTA recapture. If we applied, say the top corporate tax rate of 35% to the $8.114 billion in pretax earnings, we would be left with earnings of $5.274 billion. If we then paid dividends on the junior preferred shares of $419 million -- which was roughly the amount of preferred dividends Fannie accrued during the third quarter of 2008 -- we would be left with earnings available to common shareholders of $4.885 billion for the first quarter.
That implies annual earnings power of about $19.4 billion for Fannie Mae. So one can argue that Fannie Mae's common shares are trading for considerably less than one year's earnings.
A bigger question for investors holding the common shares will be just how much additional equity Fannie and Freddie will need to be recapitalized, if and when the GSEs are allowed to repay Uncle Sam. But there's a whole lot of dilution that could be absorbed, considering the GSEs' earnings power.
But the "AIG model," of conversion of government-preferred shares to common shares, as implied by Fairholme Capital Management, could mean a fantastic, albeit limited, return for the junior preferred shareholders, and an even greater return for the common shareholders.
-- Written by Philip van Doorn in Jupiter, Fla.
>Contact by
.
Philip W. van Doorn is a member of TheStreet's banking and finance team, commenting on industry and regulatory trends. He previously served as the senior analyst for TheStreet.com Ratings, responsible for assigning financial strength ratings to banks and savings and loan institutions. Mr. van Doorn previously served as a loan operations officer at Riverside National Bank in Fort Pierce, Fla., and as a credit analyst at the Federal Home Loan Bank of New York, where he monitored banks in New York, New Jersey and Puerto Rico. Mr. van Doorn has additional experience in the mutual fund and computer software industries. He holds a bachelor of science in business administration from Long Island University.