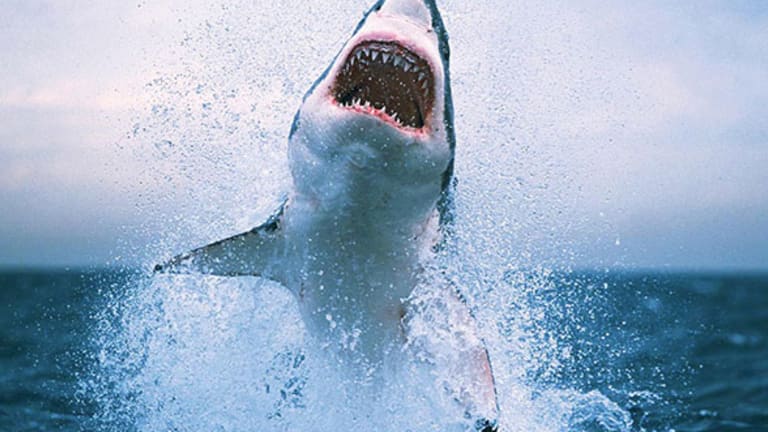 Editors' pick: Originally published Jan. 19.
Time to be clinical about FANG -- Facebook (FB) - Get Facebook, Inc. Class A Report , Amazon (AMZN) - Get Amazon.com, Inc. Report , Netflix (NFLX) - Get Netflix, Inc. (NFLX) Report and Google, now Alphabet (GOOGL) - Get Alphabet Inc. Class A Report -- so we know what awaits us.
First a note on these stocks. I picked them largely because over the years they have become anointed by a group of go-go managers, meaning managers who like to be affiliated with the stocks of companies with the most momentum. I by no means have said "buy these stocks" because they represent great value. What I have been saying is that because of the scarcity of actual high-growth stocks these have become default names that managers naturally gravitate to.
You can always tell what I like by looking at the portfolio that is my charitable trust, Action Alerts PLUS, to see if I actually own some of these stocks for the trust. Right now, AAP owns Facebook and Alphabet because they can be justified on an earnings basis vs. their growth rate.
So let's dive right in.
First is Facebook which reports Jan. 27. Facebook has a monopoly -- a monopoly on you. Along with subsidiary Instagram, Facebook has become the biggest source for native advertising in the world and as advertising goes digital you need to understand that means it is going to Facebook and, to a lesser extent, Google. I deal with a great number of executives as part of my job and when they say they are trying to reach people digitally that usually means either Facebook or Google. (They have not had much luck using Twitter to date, which is why that stock is a perennial loser).
We own Facebook because the stock is actually not expensive on earnings in what is known as the out years. You have to look at Facebook that way, instead of just 2016, because it is growing so fast. Right now Facebook is expected to earn around $3 for 2016. Given that the company is growing in excess of 30%, well above the average S&P stock, the $94 price tag is not outrageous. If the S&P 500 sells at about 17x earnings -- gee, I wish that were cheaper -- then you can see it selling at about twice the multiple without it being expensive. That means right now it is $8 below where it is already inexpensive.
But take it a step further. I think the company can earn $4 in 2017. That makes it at 27x earnings. I believe it should sell closer to 30x that $4 number. Now you have a stock that is $26 below fair value. That makes the stock of Facebook a buy.
Now, some stats after this selloff. Facebook peaked at $110 back on Nov. 5 2015. It is off $16 since then, or roughly 15% from its high. That's a pretty big discount. But you would have to see Facebook at $86 before it has declined as much as the average stock. If you owned no Facebook, that's where you would want to start buying.
How about Amazon? Oh, this is a very rough stock to value because traditional price-to-earnings analysis doesn't matter. You simply need to see it beat certain numbers, namely $2.73 per share when it reports on the Jan. 28. You need it to guide higher, but Amazon doesn't like to guide. That means you have to wait until the commentary to formulate some new level of growth rate. The company's stock has shed $126 from its high reached Dec. 29. Now that's a very big decline: 18%. But the stock was seriously marked up at the end of the year, justified by it rumored to have a very strong holiday.
Here's the issue: what do we know beyond that it is down 18%? A few percentage points down and you can argue it is down about the same amount from the percentage high as the average stock, but it is by no means average. Still, the reason why my charitable trust does not own it is because I do not know what the growth managers want to see before they buy more. I am a huge believer in Amazon Prime and I think that Amazon remains an incredible share-taker, but my inability to put a price on what Amazon is worth beyond that it has great momentum has made it impossible for my trust to own.
(Amazon is owned by TheStreet's model portfolio Growth Seeker. Find out more about their latest moves.)
Netflix suffers from a similar problem: What the heck is it worth? The stock's fallen $29 from its high of $133, about 22% and when it reports this week, on Tuesday, Jan. 19, people will say that if its growth rate in the U.S. is back on track -- it had a weak last quarter because of a credit card glitch -- I think it can run. That said, Netflix has a particularly broken chart. It's one to be careful of.
While we don't own Netflix for my charitable trust, it does seem that its $44 billion market cap is too small for its worldwide opportunity, and its success at picking fabulous shows. That does matter because when your hit ratio is as strong as Netflix's (it has never done a production without demand for a sequel), so you have a better gross margin than a typical network.
I wanted Apple  (AAPL) - Get Apple Inc. (AAPL) Report to buy Netflix when it was at $10 billion and again at $25 billion because I believe it provides a recurring revenue stream that Apple needs to offset the obvious cellphone slowdown. It was not considered a serious target, from what I can tell. However, if the stock were to lose 20% of its value from here, it could be on the radar screen. Given how hard it is to value, the idea of $80 as a "cheap" level intrigues me.
Finally there's Alphabet, and this is the only stock in FANG that makes sense to buy right now. It is down $88 from its high of $798 and when it reports on Feb. 1, I expect to hear a strong story. Not all every FANG member needs China to "make its numbers." But Alphabet in particular has forsaken China, so you don't have to fret about what happens there.
Alphabet is projected to earn $35 a share next year, so you are talking about a stock that sells at slightly more than a market multiple even though it is growing far faster at 19%. You could easily be paying 30x earnings for those estimates -- that would put the $710 stock north of $1,000 before it would be absurd, which is why the charitable trust feels so confident about it.
All of these stocks are tainted because they have been up so much and because of a perception that they must be slaughtered before the market can advance. The advance is predicated on many things going right, namely an improving China, oil stabilizing at about $25, a more benign Fed and better tech earnings surprises.
Right now, all these seem insurmountable. When nothing good is on the horizon, the charts tend to come to the fore as a way to value these stocks, and the stocks are horrible, so that most likely means more downside. The oscillator at extremes -- like the -7 reading on the one from S&P that I use -- could be a mitigating factor, but not a savior, given how these were last year's stalwarts.
So, I am presuming a continued decline until we get good news on several of these fronts -- although I would not hesitate to buy some Alphabet as it falls.
Exclusive Look Inside:
You see Jim Cramer on TV. Now, see where he invests his money and why Alphabet, Appleand Facebook are core holdings of his multi-million dollar portfolio.
Want to be alerted before Jim Cramer buys or sells GOOGL, AAPL or FB? Learn more now.