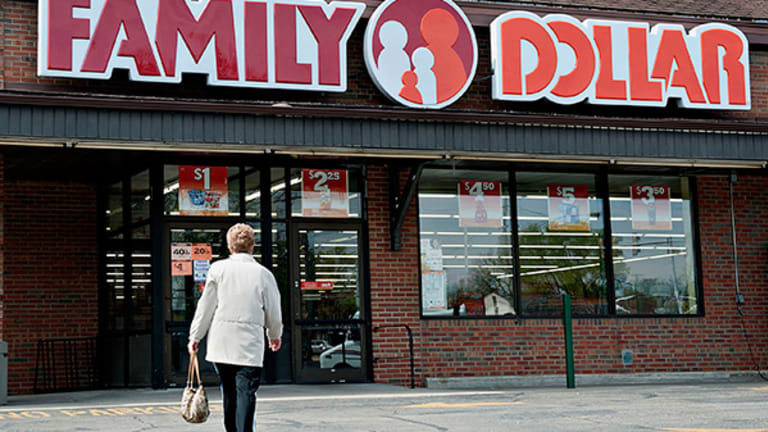 Family Dollar's Lost Way Leads Levine into Hands of Peltz, Icahn
Family Dollar's embattled CEO must turn his company around while facing challenges from activist investors, including Carl Icahn and Nelson Peltz.
Updated from Wednesday, July 9, with Family Dollar's fiscal third-quarter earnings and sales and fourth-quarter forecast, which were released early Thursday.
NEW YORK (TheStreet) -- "[W]e lost our way,... [W]e lost our core focus."
That was the confession of Family Dollar (FDO) CEO Howard Levine at an investor conference in late April. Roughly one month later, Carl Icahn disclosed he'd taken an over 9% stake in Family Dollar's shares and wanted the company put up for sale.
Family Dollar's crisis is profound enough that Levine, son of founder Leon Levine, may soon be ousted from the discount retailer, which has been family-run for more than a half century as the company expanded from a single Charlotte, N.C.-based storefront in 1959 to over 8,000 locations nationwide as of 2013. He has already fought for control with other large hedge funds, but Icahn presents Levine's biggest challenge yet.
Walgreen's US Fate Could Be Sealed By Labor Day
Hedge Funder Sees KKR's Next Deal In Washington Mutual's Shell
TheStreet's Top 5 Dealmakers
To retain his grip on Family Dollar, Levine will quickly need to figure out how to reverse the company's declining sales and tumbling profits. Levine will also have to begin closing a wide performance gap between Family Dollar and its closest competitor, Dollar General (DG) - Get Dollar General Corporation Report. Stockholders may need to see evidence of significant progress on both of those fronts in the next 12-months.
Levine has pulled off similar feats in his many decades at Family Dollar, a tenure that includes nearly 16-years as CEO. After a tumultuous spell working under his father in the 1980s that culminated with a public split between the two, Levine returned to Family Dollar in the mid-1990s to head its merchandising efforts and pulled the company from a bout of underperformance and into an era of unprecedented expansion.
Levine dealt with WalMart's (WMT) - Get Walmart Inc. Report encroachment on Family Dollar's turf through its Neighborhood Market store concept and the rise of e-commerce during his first years as CEO. In a single decade running Family Dollar, he managed to grow the discount retailer through the most pronounced boom-and-bust economic cycle since the 1920s.
Family Dollar nearly tripled it stores and increased revenue and profits more than fourfold since Levine took over from his father in August 1998. The company's shares have more than tripled the return of the S&P 500 Index during Levine's tenure.
Today, however, Levine may be no match for the challenges facing Family Dollar and it is unclear how much longer he can count on the support of his board.
In what has become a familiar scenario, a powerful set of hedge fund investors including Icahn and Nelson Peltz of Trian Management now stand ready to pounce at the first sign of further financial missteps. Already Icahn has supplanted Levine as the company's largest shareholder, after exercising about $600 million worth of option contracts on July 2.
Activist hedge funds have used their growing clout to take on companies as large as Apple (AAPL) - Get Apple Inc. Report, Procter & Gamble (PG) - Get Procter & Gamble Company Report, Microsoft (MSFT) - Get Microsoft Corporation Report, Pepsico (PEP) - Get PepsiCo, Inc. Report and Walgreens (WAG) , in recent years. They've also instigated dramatic change at Hess (HES) - Get Hess Corporation Report, Kraft Foods (KRFT) , Fortune Brands (FBHS) - Get Fortune Brands Home & Security, Inc. Report, Motorola (MSI) - Get Motorola Solutions, Inc. Report, Yahoo! (YHOO) and Safeway (SWY) .
In light of those conquests, Family Dollar could be the next chapter in a hostile battle between Wall Street and Main Street corporations.
Earnings continue to drop at Family Dollar. The company posted fiscal third-quarter earnings on Thursday of $81.1 million, or 71 cents a share, down over 30% from a year earlier and missing Wall Street forecasts.
Third-quarter revenue rose 3.3% to $2.66 billion; analysts were looking for sales of $2.61 billion. Same-store sales fell for a third straight quarter, down 1.8%. Family Dollar expects flat same-store sales in the coming quarter.

Wall Street Gets Rich From Dollar Stores
Dollar General, like Family Dollar, traces its roots to a single store in the South in the 1950s and it went through rough patches in a near-four decade run on public stock markets. Dollar General's founding family, however, is no longer involved with day-to-day operations. 
From 1968 to 2002, Dollar General operated with family management. It survived only five years independently once third generation CEO, Cal Turner Jr., ceded the company's reins amid an accounting scandal.
In came Wall Street.
KKR, an expert private equity firm in the business of turning around underperforming retailers, was in the process of expanding its retail portfolio when Dollar General hit hard times in the 2000s. According to Jason Kelly's The New Tycoons, KKR saw the deal also as helping insulate it from a U.S. economic downturn.
Mike Calbert, an executive at the firm, used Dollar General's falling stock price in 2006 to make an offer for the company. The parties agreed to a $6.9 billion takeover in March 2007.
Dollar stores struggled during the mid-2000s, in part, because consumers could afford to trade up to higher-cost retailers. In more troubled times, KKR believed Dollar General would win new customers. Further, Calbert and KKR's team had a plan in place to fix operational issues plaguing Dollar General, such as poor inventory management, weak zone pricing and inefficient store layouts.
Dollar General proved to be such a well-conceived investment by KKR it was one of the first large pre-crisis buyouts to go public in the wake of the 2008 financial crisis. By the time KKR exited Dollar General in late 2013, the fund had made over five times its money, according to calculations by Oppenheimer analysts.
Family Dollar Draws Copycats
As KKR's success with Dollar General became evident and sales kept growing across low-cost retailers, large hedge funds looked to copy KKR's playbook with Family Dollar. In February 2011, Trian Management took about an 8% stake in Family Dollar and proposed to buy the company for $7.6 billion.
Bill Ackman of Pershing Square Management was briefly also a player. He took a large stake in Family Dollar with the hope that a PE firm would look to replicate what KKR pulled off with Dollar General. Within a year, however, Ackman sold his Family Dollar shares at a loss. 
Analysts and investors contacted by TheStreet believe Trian never intended to buy Family Dollar. Instead, they think the fund was hoping to drum up a bid from PE players, or a competitor like Dollar General or Walmart.
Trian settled with Family Dollar in September 2011 by installing Edward Garden, a longtime executive of the fund, as an independent director to the company's board.
Levine Enters Wall Street's Wilderness
Family Dollar's settlement with Trian coincided with the retirement of COO James 'Jim' Kelly, a long-tenured executive who was brought to the company just as Levine became CEO in the late 1990s. Kelly's retirement appears to be the moment when things went wrong for Levine and Family Dollar.
Levine's relationship with Kelly was personal and significant to the company's fortunes. Replacing him turned out to be more painful than anyone expected.
"[Kelly] was a finance guy. You are going to say, well what does he know about customers? Well he got it, because he grew up poor," Levine noted, trying to explain to a room of skeptical investors and analysts why Kelly's replacement, Mike Bloom, a well-respected executive from CVS Caremark (CVS) - Get CVS Health Corporation Report had unexpectedly resigned from Family Dollar after just two years with the company. Levine had earlier commented that "Mike and I were not aligned on our merchandising strategy."
Bloom was hired by Family Dollar on Sept. 27, 2011. Two days later, Family Dollar and Trian Management publicly disclosed their settlement after months of talks. Trian even gave its support to a confident growth plan put forward by Family Dollar for the upcoming year.
"We share their view that the strategic initiatives Family Dollar has implemented have significantly improved the Company's operating performance and future financial prospects," Trian said in September 2011.
In 2010, Family Dollar planned to increase overall store square footage up to 7% by 2013. By 2011, the company said it would push that goal forward by a year, accelerating store openings to between 450-to-500 stores in its fiscal 2012, a 50% increase. The company also planned to renovate over 1,000 store locations annually, while expanding its assortment of consumable goods.
Bloom cut his teeth modernizing CVS's merchandise and supply chain, and he came to Family Dollar with a plan to drive store visits through added renovations, expanded product offerings and promotion-based pricing strategies. Financially, the expansion plan and pricing strategy proved to be disastrous.
Same store sales at Family Dollar have fallen for two consecutive quarters, as they continue to rise at Dollar General. In Family Dollar's most recent quarter, same store sales fell 3.8% and profits tumbled over 40%. Inventory is forecast by Family Dollar to rise for the fifth consecutive year in the third quarter.
Blame All Around
With perfect hindsight, Levine now says Bloom's hiring was a mistake, as was the company's decision to shift its focus onto promotions and dramatically expanded its stores and product offerings. Levine even suggested on a recent earnings call that Bloom has tried too hard to bring in outside talent to Family Dollar.
Within about two years' time of Bloom's hiring, he and a handful of other new executives to Family Dollar such as former McKinsey partner Dorlisa Flur, chief marketing officer Paul While, supply chain heads Jeffrey Macak and Charles Gibson, all left the company.
Perhaps, Levine is out of ideas and can't let go. He is still looking for another James Kelly.
There is one financial metric, analysts covering Family Dollar have long puzzled over, that points to something fundamentally wrong with the company. Family Dollar earned $46.70 per square foot among the company's 8,138 stores as of its most recent quarter. Dollar General, by contrast, earned $54.60 per square foot among its 11,132 stores, nearly 17% more than Family Dollar. That gap represents the fortune everyone sees in Family Dollar.
Brian Yarbrough, an Edward Jones analyst, told TheStreet that the operating disparity between Family Dollar and Dollar General would make a merger of the two companies unlikely.
Howard Levine has articulated his return-to-the roots plan, and Yarbrough gives him 12-months, at most, to show evidence of success. 
To turn things around, Family Dollar is pulling back on the promotions started by Bloom and the company is working to close underperforming stores, while also slowing new store openings.
In the second half of 2014, Family Dollar will close 370 stores, and the company now plans to open 525 new stores this year and just 340-to-400 new stores in 2015. Family Dollar also laid off 10% of its corporate overhead.
Levine recently said he has personally gone through Family Dollar's entire product assortment and decided the company will invest $50 million this year to improve price points on about 1,000 basic SKUs.
Family Dollar is also retrofitting its distribution centers with palletization capabilities that will allow the company to package like-items in bulk, easing the shelving process for store managers.
Analysts generally think it may cost more than Family Dollar expects to fix its stores, pricing and infrastructure. Some still believe in Levine's leadership, but they question whether time is on his side.
"I think this board gives Howard Levine a year for his turnaround play," Yarbrough said, in a July telephone interview. While Yarbrough believes Levine is making the right moves, he also said "I think the cards are stacked against Howard."
Bernard Sosnick, an analyst at Gilford Securities, notes that dollar stores have all gone through bad spells. "Dollar General is now the darling of the dollar stores but both of these companies have had their problems at times and have corrected them," he said in a July 8 telephone interview.
"They have been able to get through difficult times because they satisfy a need in retail," Sosnick concluded. He thinks Levine will pull through.
"In my many years with Family Dollar, I've been through difficult times before. Family Dollar has a long track record of success. We have experienced challenges, and we have always worked effectively to reposition the company for the next phase of growth," Levine said in January.
Family Dollar, Carl Icahn, Trian Management and KKR declined to comment.
-- Written by Antoine Gara in New York